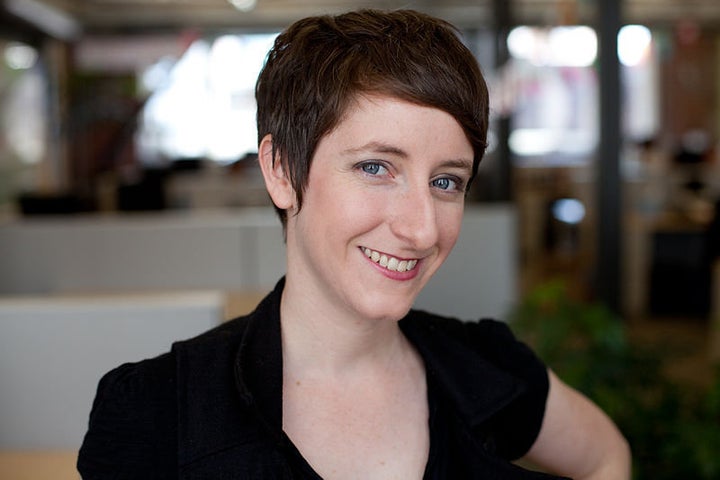 Sarah Stierch just spent a year trying to get more women involved in Wikipedia.
The site's male-female split is cringeworthy: only 9 percent of Wikipedia editors were female at the end of 2011, the free Internet encyclopedia has disclosed. That's a ratio that Stierch says she hoped to change with a year of work as a fellow at the Wikimedia Foundation. Stierch recently spoke to The Huffington Post and answered some of our most pressing questions about women's involvement in Wikipedia.
Why do you believe the gender imbalance in Wikipedia editing is a problem?
Our mission with Wikipedia is to provide the world, for free, the sum of all the world's knowledge. How can we provide all that knowledge? If only about 9 percent of half of the population is writing it, that automatically lends the website itself to having a systemic bias related to content.
While we can stereotype what we think women like to talk about or read about, there are subject areas that just happen to be popular with women that are severely lacking on the website. For example, women's films. If you look at the article on the movie "Bridesmaids" versus the first Rambo film, it's a very different story. Maybe it's changed since I've talked about it a few times on the radio, but it's a very different thing. Fashion articles are terrible. The article on brassiere has been written by majority-male writers. So are articles on pregnancy, abortion.
Whether small things like women's movies, fashion, makeup, or things that are extremely critical to women's lives, like abortion, pregnancy, feminism, motherhood, these [articles] are being written by majority men. The arguments taking place on the talk pages are being dominated by men. So the content, the images, etc. are coming from a primary male point of view. That automatically causes a systemic bias, even if all these editors are working in good faith and aiming to be neutral in their contributions.
What makes it challenging to be a female editor on Wikipedia?
After talking to women, surveying women, they said, one, it's an attitude problem. It's the Internet, people are jerks. We have a motto at Wikipedia, "Don't be a dick." There's a lot of dick, pun intended, on the Internet. It's a culture problem, so that's one thing, and people need a lesson in manners. Two, the help system on how to edit Wikipedia is really complex. When you have a bunch of guys, computer guys who created Wikipedia, writing the rules on Wikipedia, it tends to get a little wordy and expansive and anal-retentive. And it gets a little overwhelming.
What have you done so far to make Wikipedia more welcoming to women?
We thought of how to have a culture change, a little bit, and create a safe space for new editors. Where, one, they can have a sense of community, and two, maybe have a little social atmosphere involved in it ... So we created a space [an online community called the Teahouse] where you can meet other people, you can make a small profile about yourself, upload an image, share some information about yourself, why you're editing Wikipedia, share your interests. And you can ask questions and get a really easy, friendly response about whatever you need on editing.
[During] the second half of my fellowship I was exploring ways to create community. Specifically for women, to find support, help, meet each other. A social environment we don't necessarily find in Wikipedia. So I created the WikiWomen's Collaborative, a social media experiment. We have a Facebook page, a Twitter account, we also have a page on Meta, one of our websites related to Wikipedia. It's basically a one-stop shop for women in Wikipedia.
We keep an updated list of women in the media who edit, women share their stories, we have a blog on Wikimedia where we keep people updated on what women are doing in the world of Wikipedia. We do Twitter events, "Ask A Wikiwoman," where anyone can ask anything about Wikipedia to a woman who edits. It's shown success. A survey showed the majority of editors who've been contributing have edited more since the project launched in September.
Have you seen a boost in the numbers yet?
I haven't seen them yet. I'm waiting. I know they'll have a new editor survey soon, breaking it down. I'd love to see it, even if it's just a tiny percentage, anything would make me happy.
This interview has been condensed and edited for clarity and length.
Calling all HuffPost superfans!
Sign up for membership to become a founding member and help shape HuffPost's next chapter
BEFORE YOU GO
PHOTO GALLERY
Women In Tech: Analysts To Watch