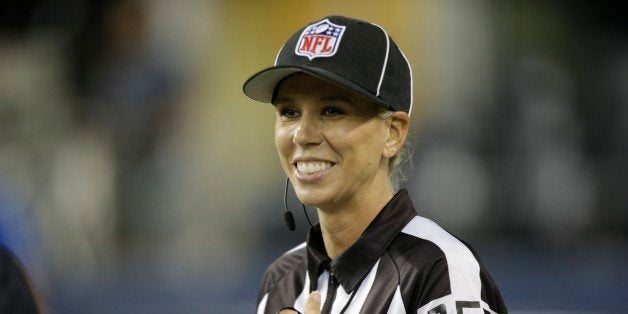 "I don't feel that way," she said when asked about her pioneering path, saying she does the work "truly just because I love it."
Thomas is one of nine officials who joining the NFL next season, but the only woman. When asked about her new gig, Thomas, who who has had to tuck her hair under her cap as she rose through the ranks of football officiating, she said, "I think my hair is the least of my concerns."
Thomas grew up with two brothers, both of whom are also officials at the college level. A softball and basketball player (she earned a scholarship for the latter), Thomas said her background as an athlete eventually spurred her determination to continue advancing her officiating career.
"The competitive side of me -- I didn't just want to stop there," Thomas said of her journey, which began in Mississippi varsity games in the 1990s before she was hired in 2007 by Conference USA to officiate on the college level.
And it didn't stop there. NFL Vice President of Officiating Dean Blandino explained Thomas came up through the league's Officiating Development Program, after she was spotted by a scout. Under the program, officials are given the opportunity to work NFL training and mini camps as well as work pre-season games.
He added there are other women at different levels of the same program.
"Obviously the timing of it -- we feel she's ready to come into the league," he continued. "Regardless of everything else that's happening."
And while the NFL says Thomas's hiring has nothing to do with its recent struggles, Thomas, too, said she doesn't want her gender to be a factor.
"I know that I will probably stand out," Thomas said about what possible backlash she could face from coaches, players and fans. But Thomas added that she's "been around for a good little while" and the other officials don't see her as a female, but rather, as just another official on the line.
She admits the work schedule might be tough for her. Thomas, in addition to her officiating, said she is the mother of three children and works as a pharmaceuticals sales representative during the week.
"I'm human and I have a job; I'm a wife, mother and [I] try to balance it it all," she said.
As for the influence her hiring will have in the sports world, Thomas said she's "not certain" it will have much of an impact or "open up the doors" for other women. She just hopes are officials are hired based on merit, "regardless of race and gender."
Wanted or not, gender ultimately will be a continuous point of focus on Thomas's position in the league. In addition to being asked to tuck her hair in a cap early in her career (Thomas said it was because all officials "want to go unnoticed as much as possible"), it was also at one point suggested that she not wear make up.
Thomas, however, said that was "crossing the line."
"Hopefully I can still wear a little bit of makeup," she said.

Support HuffPost
The Stakes Have Never Been Higher
Related
Popular in the Community