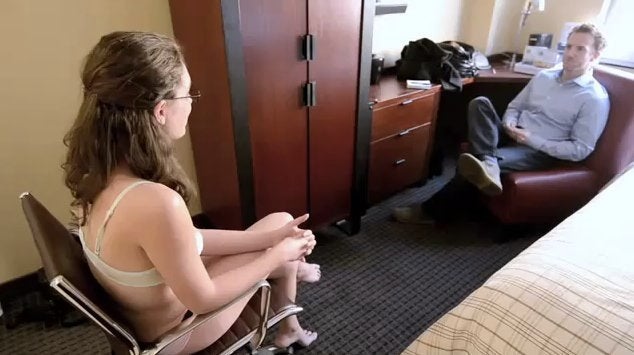 Traditional therapy is apparently too limiting.
Naked therapy, on the other hand, allows for people to open up, or at least that's what Sarah White, New York's naked therapist feels.
"The goal is to show patients I have nothing to hide, and to encourage them to be more honest," White told The Daily. "For men in particular, seeing a naked woman can really help them focus, look deeply into themselves and speak their minds openly."
During her sessions, the 24-year-old therapist slowly peels away layers of clothing in her New York office, according to the Mail Online. This innovative approach to therapy has attracted a lot of interest, though most of her clients are men.
However, she doesn't just cut right to the stripping. Each initial session costs $150 and starts as a one-way video and text chat, reports the Mail. From there clients move to a two-way video chat, and in some cases live consultations, which dramatically increase in price.
So far, she has around 30 clients which are an eclectic mix of college students with sexual issues, middle-aged men with relationship problems and even some women who enjoy a chat with a nude peer.
There is no physical contact between White and her patients as any contact at all would be an ethics violation. "It's not like I'm having relationships with any of my patients," she told The Daily.
Check out the video below for White's own take on the sessions.
Popular in the Community