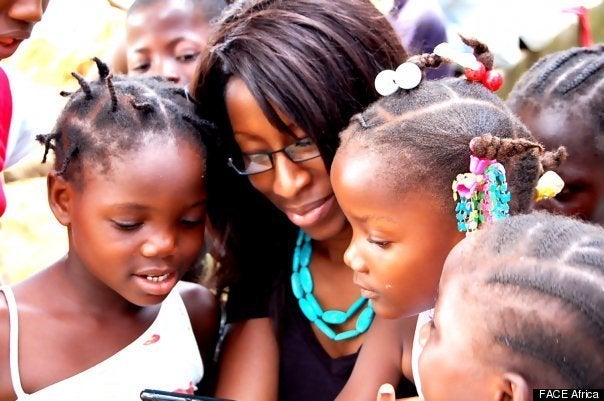 "Clean water is not just a matter of life, it's a matter of dignity."
This edict guides the work of Saran Kaba Jones, 28, the founder and director of FACE Africa, a nonprofit organization providing clean, safe drinking water to the people of Liberia.
Raised in Liberia until she was 8 years old, when her family fled just before the country's 14-year-long civil war, Saran always knew she wanted to go back to the country to help. She ended up in America in 1999 to study in Boston.
"I always knew growing up I wanted to do something to help with rebuilding efforts in the country," she said. "I was so fortunate, unlike a lot of other young people, to leave before the war started. I always knew I wanted to do something to help others who didn't have the type of opportunities that I did."
Saran went back to Liberia in 2008, for the first time in 20 years. She knew she wanted to improve the country's educational programs, and in 2005, had already started sending money to a young Liberian man to help him get through school -- a small act that eventually grew into FACE Africa.
Once on the ground however, Saran confronted issues far different than she had imagined.
"I had seen a lot of footage on television and read a lot of newspapers and articles but I hadn't witnessed it firsthand. When I went there I was exposed to a level of poverty and devastation that I just wasn't ready for," she said. "There were no health clinics, the roads were damaged, there was no electricity, no running water or sewage system."
Though Saran's initial plan had been educationally focused, she couldn't ignore the more immediate needs facing the country. Only 61 percent of Liberians have access to clean drinking water, compared to 100 percent of Americans.
"I visited communities and households where I wanted to go and see what their needs were," she said. "But when I visited these places a lot of times I saw there were young kids and children that were so sick from diarrhea and other waterborn illnesses, like cholera and typhoid, that focusing on education wasn't enough because they weren't well enough to go to school."
So when Saran went back to the U.S., she had a better idea of what FACE Africa could do to help Liberia. In early 2009, she incorporated FACE Africa into a 501c3, and began efforts to fundraise and raise awareness. When the Davis Projects for Peace gave the group a $10,000 grant, they were able to begin work on their first project to bring clean water to a Liberian community.
"Things started to pick up," she said. "We sort of just grew into this grassroots organnization that people really resonated with."
Their first project was in a Barnersville, Liberia, a small community of about 600 people. By working with local organizations, FACE Africa helped to build wells, install handpumps, construct latrines and educate the community in hygiene and sanitation. That first project currently supplies 20,000 liters of clean drinking water each day.
"Liberia has a lot of rural areas that have been around for decades and have never had any kind of access to clean drinking water," Saran said. "They literally fetch their water from a contaminated creek that gets more contaminated during the dry season when the water dries up."
FACE Africa's plays a role in the fight to provide clean water to Liberia by helping the organizations on the ground with the funds they need, as well as scoping out the areas that are most in need. In 2009, they raised about $20,000. In 2010, $100,000. This year, they're hoping to double that amount, as well as complete another 10 projects in the country. Noticing that women played a critical role in their communities, FACE Africa has also begun an initiative for female empowerment.
"I want to focus on empowering women and providing economic opportunities for them and more opportunities for communities to be self-sufficient," Saran said. "One of the ways that I'm hoping to do that is to launch some kind of economic center that will help bring financial independence and skills to these disadvantaged women and hope that we can empower them to become agents of change."
FACE Africa has started to work with the Liberian Women's Sewing Project, a group that employs women at fair trade factories to make t-shirts. They are also launching SHOP FACE Africa, a marketplace of goods handmade by women from communities in need, who would otherwise have no way sell their products.
This past August, Saran left her job at the Singapore Government's Economic Development Board to focus on FACE Africa full time. Since then, she's been back to Liberia twice, with plans to visit every three months.
"We visit the communities we've worked in and speak to the members and residents there and see how things are going," she said. "Every time we go back they are extremely thankful and grateful. They always say it's the best drinking water they've ever had."
After only two years, FACE Africa has hugely expanded their initiatives and Saran is just getting started.
"I strongly believe that we can all make the world a better place," Saran said. "I've started to do that in my own small way."
REAL LIFE. REAL NEWS. REAL VOICES.
Help us tell more of the stories that matter from voices that too often remain unheard.