Barely halfway through its month-long run, the TV serial Saraya Abdeen had already ruffled Egyptian feathers, irked historians, and upset the surviving son of Egypt's ousted King Farouk whose forebears occupied the palace after which the show is named.
"The serial is replete with historical and geographical errors, and the mixing of characters, which stems from great ignorance about the family's members and the nation's history during one of its brightest periods," wrote King Ahmed Fouad, whose father abdicated in July 1952 in favor of the baby prince following a coup led by army officers who later turned Egypt into a republic.
The former king said charges of murder, conspiracy, corruption and immorality against Khideve Ismail Pacha (who ruled Egypt in the 1800s) and his wives -- as depicted in the show -- were a distortion of facts in a cheap commercial production aimed at raking profits at the expense of those who can't defend themselves.

"I had accused the author of having taken the story from me...but after watching (some episodes), thank God, realized she hadn't. Basically, there's no script," said Egyptian director Inas El Deghedi.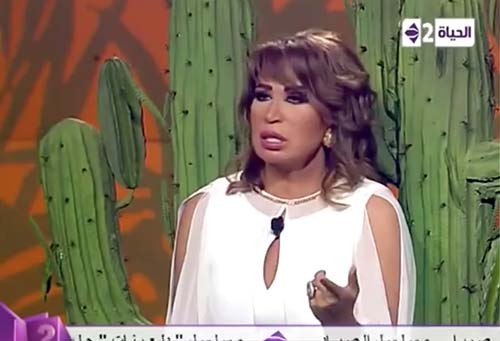 Screen shot of director Inas El Deghedi blasting Saraya Abdeen's scriptwriter
She told Lebanese TV personality Nishan that the serial's producers had spent money -- reportedly in the multi-millions -- on the elaborate set and fancy clothes, but had fallen short of creating a credible entertainment vehicle.
"Even the actors aren't good," she said, adding that TV productions lacking good scripts fail whereas movies with questionable screenplays can get away with it if the acting is outstanding.
She and others alleged the serial was a poor imitation of a very popular Turkish production called The Sultan's Harem that aired with Arabic dubbing a few years ago and secured a sizeable segment of the Arab viewing public.
"They should call it the sexual history of the khideve," cracked Egyptian talk show host Amr Adib about recurring scenes of love conquests with four wives and countless concubines.
Khideve Ismail is credited with the building of the Suez Canal linking the Mediterranean and Red Seas, the founding of schools, and of turning his country into a mini Europe alongside a renaissance of the Arabic language and flowering of publishing houses.
"All he did in the serial was have massages, or spend his time hopping from one of his women to the other, marrying one, divorcing another," ribbed Adib. "Very amusing, but that's another khideve, he's not ours."
Critics particularly found fault with the selection of Hiba Mashari, a Kuwaiti woman, to write the script, noting that given Egypt's rich history, heritage and plethora of wordsmiths, an Egyptian would have been a better and more appropriate choice.
Adding insult to injury, viewers disparaged the contrived performances, as well as the mixing of Turkish and Circassian traditions, and, the inconsistent cocktail of accents and dialects used by the actors who included Egyptians and Syrians in the leading roles.
The royal family traces its lineage to Mohamad Ali Pacha, founder of contemporary Egypt and one-time military officer from a town in modern-day Greece bordering Albania. His descendants were considered Albanians but married into Turkish families, then part of Egypt's elite.
After much fanfare and anticipation, the Saudi-owned MBC Group of satellite channels rolled out Saraya Abdeen as part of its entertainment bouquet marking the Muslim holy fasting month of Ramadan.
But no sooner was the show featuring key stars from the Arab world broadcast, when critics began shredding it. From the first episode, there was talk of Saraya Abdeen being historically inaccurate.
According to Lebanese daily Annahar:
The palace built in 1872 was the scene of Khideve Ismail's 30th birthday in 1860 (in the show). Back then Ismail wasn't called a "khideve." He acquired the title in 1876, and when he did, he was referred to as "His Greatness the Khideve," not "His Majesty the Khideve," since majesty was not conferred until 1922 when Egypt was declared a kingdom. Prince Fouad (later King Fouad I, King Farouk's father) appeared in the first episode dated 1860, while he was born in 1868, eight years after that episode.
Prince Fouad was killed off in one episode.
Unfair attacks, said MBC spokesman Mazen Hayek, noting that a disclaimer at the beginning of each episode labels the serial as a drama inspired by a true story.
"I assure you Saraya Abdeen is purely a social drama whose events occur in a hypothetical, fictional setting that in no way attempts to document the khideval period," he told CNN Arabic, adding that the serial was never promoted as a documentary or historical work.
The TV story includes a series of palace intrigues and goings-on in the servants' quarters with their own sub-plots.
Entangled tales of courtesans, ladies-in-waiting, personal attendants and other minions also dot the royal landscape.
Calling all HuffPost superfans!
Sign up for membership to become a founding member and help shape HuffPost's next chapter