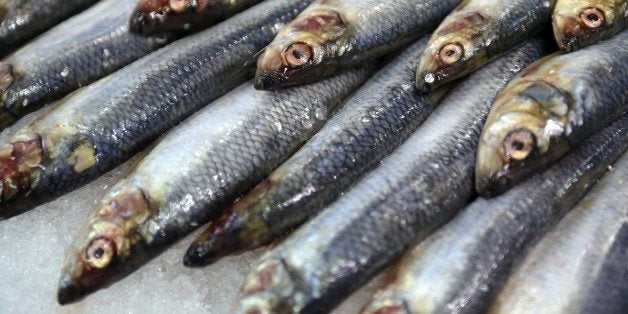 PORTLAND, Ore., April 7 (Reuters) - Plummeting sardine populations could lead to a complete ban on harvesting the small oily fish off the U.S. West Coast starting later this year, officials with the Pacific Fishery Management Council said on Tuesday.
Decimated by overfishing, sardine numbers in U.S. waters have dropped by about 90 percent in less than a decade, estimates the council, which regulates fishing within 200 miles of the California, Oregon and Washington coasts.
The decline has harmed predators that feed on sardines, contributing to mass starvation of sea lions, which have washed ashore by the thousand in southern California.
It has also led to starvation deaths of brown pelicans and other fish-eating birds, said Ben Enticknap of Portland-based environmental advocacy group Oceana, which is urging regulators to adopt a long-term plan for boosting sardine populations.
The council is due to meet on Sunday, and not everyone wants the limits on fishing that Enticknap would like to see.
Ed Johnstone of the Quinault Indian Nation in Washington state has submitted testimony to council members asserting his tribe's treaty-backed rights, and stating its plans to fish for 1,000 metric tons of sardines in the upcoming fishing season, which begins on July 1.
Regulators estimate that fewer than 150,000 metric tons of the fish are present in U.S. waters, down from 840,000 metric tons as recently as 2007.
Restrictions could also pose challenges for fishermen, said Kerry Griffin, a staff officer with the Pacific Fishery Management Council.
"Most sardine fishermen also fish for other species such as mackerel, anchovy, or squid. But not having sardines available as one of their staples could be difficult," Griffin said.
It is also not clear if the globe's other major sources of sardines, off the west coasts of South America and southern Africa, will be able to meet global demand in the absence of a U.S. harvest, Griffin said. (Reporting by Courtney Sherwood; Editing by Daniel Wallis and Sandra Maler)
Calling all HuffPost superfans!
Sign up for membership to become a founding member and help shape HuffPost's next chapter