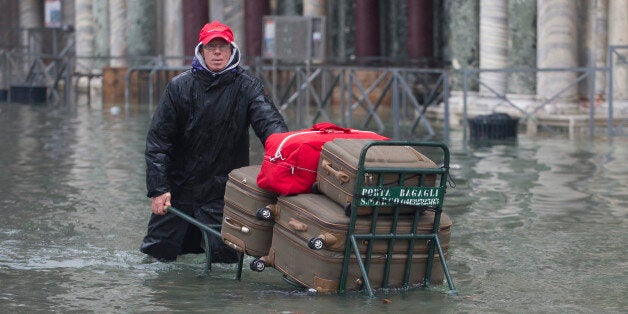 OLBIA, Nov 20 (Reuters) - Emergency services sifted through the devastation left by a cyclone that tore through the island of Sardinia as storms and floods continued to batter southern Italy on Wednesday.
Authorities said 16 people had been confirmed killed by Cyclone Cleopatra, revising an earlier death toll of 18, as extreme rainfall inundated houses, swept away cars and caused rivers to burst their banks late on Monday night. One person was still missing.
The bad weather moved across to mainland Italy overnight, with storms pummelling Rome and flooding vast areas of the southern province of Crotone, closing roads and railway lines.
Residents of Olbia, a town of 50,000 people that was among the worst hit areas of Sardinia, said the cyclone had left them with nothing, and that help was not coming fast enough.
"My boyfriend and I escaped by swimming through the window," Bruna Argiolas, 36, told Reuters.
"They say the army is here to help, but we have not seen anyone. My family and my neighbours, we all said the road was dangerous, we have a permanent risk of flooding. We told the mayor's office many times, and no one did anything."
Some roads collapsed in the storm, which uprooted trees and swept away bridges and left streets blocked with debris.
Among the dead were a father and his 3-year old son, swept away by a wave of water as relatives tried to save them.
"He was saying 'Granddad! Granddad!', and I couldn't do anything," Paolo Mazzoccu told the newspaper Corriere della Sera as he prepared to bury his son and grandson.
"We threw them a rope but they couldn't catch it, the force of the water was too great."
Authorities said the cyclone had displaced 1,700 people, many of whom had been put up in hotels and emergency reception centres, and that 46 people were injured, three of them critically.
Local residents of Sardinia used social media to offer spare beds to those who had to abandon flooded homes. (Writing by Naomi O'Leary; Editing by Kevin Liffey)
REAL LIFE. REAL NEWS. REAL VOICES.
Help us tell more of the stories that matter from voices that too often remain unheard.
BEFORE YOU GO
PHOTO GALLERY
Deadly Natural Disasters Of The Past Decade