A seemingly simple meeting can sometimes be the beginning of a life-changing journey. For the women who started Sari Bari, it was their encounter with a girl named Pinkie. Co-Founders Sarah Lance and Kristin Keen were in a red light area in Kolkata, India when they met her. "She was so young... with tears welling in her eyes," they recall. She had come to the sex trade in desperation, with siblings and a sick father to support.
Unfortunately, Pinkie's story is not uncommon: over 60,000 women work in more than 22 Red Light Districts in Kolkata, India, alone. Sarah and Kristin wanted to create an alternative for Pinkie, and for all of the women wanting to leave or were vulnerable to the sex industry. That's why they launched Sari Bari.
Sari Bari was founded in 2006 to work for freedom for these women and girls. In their mission statement, Sari Bari makes an important distinction: "Sari Bari does not rescue women, but rather seeks restoration for those who have been trafficked." Women are provided employment and education, not handouts, and work in a safe and nurturing environment. They are trained as artisans to make sustainable handcrafted goods in which they can take pride. Sari Bari takes a holistic approach, explaining, "We believe that Sari Bari must offer support to the whole person. We work to create an environment that restores the whole person to a whole life." Through these means, women get to "start new lives".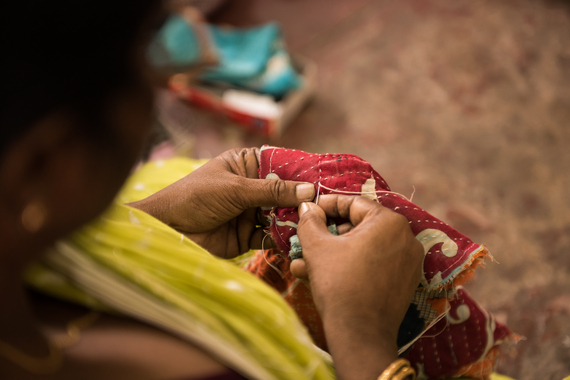 The reach of Sari Bari has spread significantly since 2006. Starting with just three women, they now employ more than 100. So far Sari Bari has opened four manufacturing units -- three in red light areas and one in a rural area particularly vulnerable to trafficking. Each woman's first day is celebrated with a birthday cake to commemorate her mukti (freedom) birthday and "as Sari Bari has grown, we celebrate a mukti birthday almost every month!"
This social enterprise's impact goes far beyond the lives of the women employed to use the traditional "kantha stitch" while creating Sari Bari's blankets, bags and baby items. TO THE MARKET had the fortune of visiting Sari Bari for the first time in the spring of 2013, seeing firsthand the pride and joy reflected in the eyes of the survivor turned artisans. It was that sense of purpose and peace that helped to inspire the idea for TO THE MARKET's mission. Returning back to Sari Bari in September of 2014, we had the opportunity to interview one of Sari Bari's founders, Sarah, and impart the ripple effect that Sarah and Kristen's chance meeting with Pinkie had had on the lives of TO THE MARKET's team.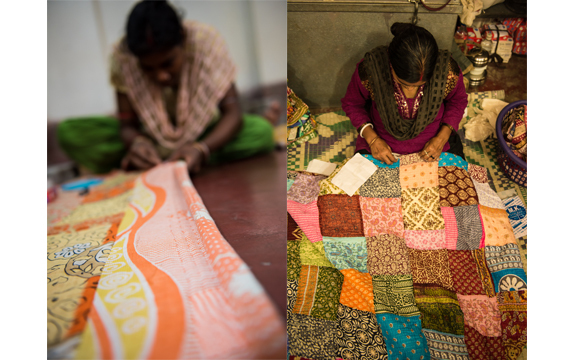 Images and video by Neil Ruskin.
Related
Popular in the Community