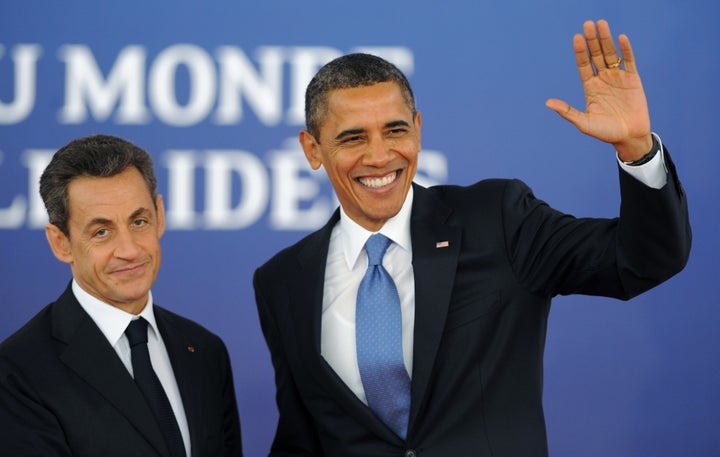 "I think we have a common analysis on how to get the world of finance to contribute to resolving today's crisis," Sarkozy told reporters.
Sarkozy's comments follow those of Microsoft-founder-turned-philanthropist Bill Gates, who endorsed the global transaction tax this week, saying that "it is very plausible that certain kinds of FTTs could work. ... This money could be well spent and make a difference."
Sarkozy is attending the G20 economic summit in Cannes, where he and leaders from other European Union countries are pressing President Barack Obama on creating the transactions tax, aimed at curbing risky speculation by financial giants. Several other nations have expressed an interest in the tax, but the U.S. has been reluctant.
According to economist Dean Baker, co-director of the Center for Economic Policy and Research, applying a tiny tax of less than one percent on every financial trade could raise up to $25 billion per year for the U.S. government alone, even if trading volumes declined 50 percent as a result of the tax. A financial transactions tax has long been regarded by financial reform advocates as a key method to curb Wall Street bonuses, by restricting the short-term profits banks can make on risky speculative maneuvers.
"We need the leadership of Barack Obama," Sarkozy said after a meeting with the U.S. president.
While President Obama continues to oppose the policy, he may be swimming against a growing current of anti-Wall Street resentment, with the Occupy protests at the source.
A domestic version of the transaction tax was introduced yesterday by Sen. Tom Harkin (D-Iowa) and Rep. Peter DeFazio (D-Ore.), who both invoked Occupy Wall Street as a reason for introducing the tax.
"We've been talking about fixes and talking about reining in speculation and they're basically giving a human voice to the policies and principles we've been advocating," DeFazio said in a press conference.
"The movement has changed the political discourse in this country and it has certainly made the climate more receptive to this kind of idea," said Costas Panayotakis, an associate professor of sociology at the New York City College of Technology at CUNY. "Protests of this nature do pay dividends and we saw that with Bank of America as well."
And while President Obama is against a global tax, his advisers said he supports countries that want to institute such laws at the domestic level.
"I think there is broad consensus between the Europeans that the president met with this morning and ourselves about the ability of each to pursue this in their own way, whatever way they see to be most effective," said Mike Froman, the Deputy National Security Adviser for international economic affairs.

Calling all HuffPost superfans!
Sign up for membership to become a founding member and help shape HuffPost's next chapter
BEFORE YOU GO