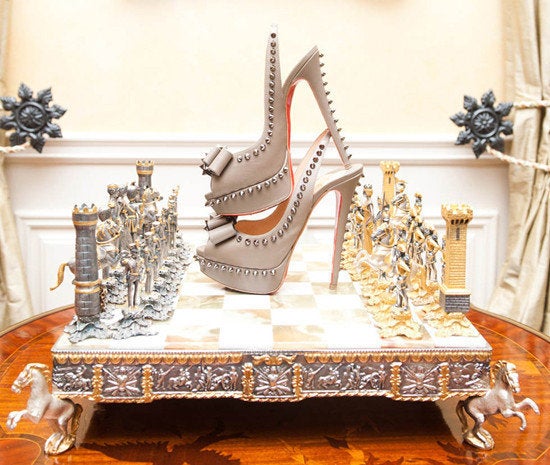 Since an 'aha!' moment while watching The Social Network, Stephanie Mark, Erin Kleinberg and Jake Rosenberg have transformed an ambitious fashion blog into a bonafide brand; their site The Coveteur has quickly become one of the most covetable spaces to be featured on and certainly one of the most enjoyable sites to spend time on.
It's been less than two years of dashing from one glamorous closet to another, styling and photographing the sartorial sanctums of the who's who of Toronto, New York, L.A. and Paris, and collaborating with the world's most venerated fashion publications but it's certainly become de rigeur for this enterprising, young trio.
Now it's time for The Coveteur 2.0.
In the fall, they will relaunch The Coveteur with a focus on video, mobile and Shop This Look, with the intent to monetize the site and deepen user experience -- no longer will the site simply be a collection of static vignettes. It's a bold move and one that was precipitated by reader demand and their own desire to offer more, challenge themselves and strengthen the brand. They admit that they've gone through an enormous amount of trial and error, gauging reader reaction and learning from other web companies.
Read on to find out how they were able to so swiftly and stylishly make their mark in the oversaturated world of fashion and street style blogs, who their absolute favorite Coveteurs are and what important lessons they've learned along the way.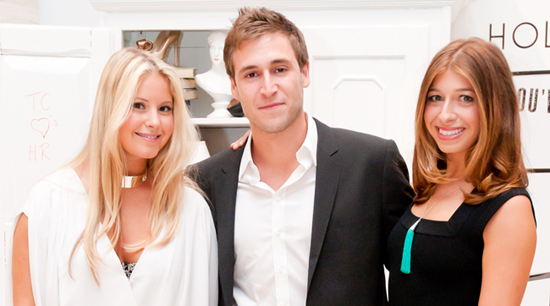 Erin Kleinberg, Jake Rosenberg and Stephanie Mark
As with all creative sites, there comes a time when it's important to monetize it. You don't have any advertising but you did start Shop This Look. How effective has that been?
Stephanie: What we realized is it acted as a resume for what we do. Through that we were contacted by different agencies and we shoot different campaigns that aren't on the site. We'll do something for Ann Taylor, Banana Republic and Yorkdale -- that doesn't get put on the site but it's one way we monetize in addition to Shop This Look.
Has Shop This Look caught on?
S: Right now it's a little bit hidden, it's not the main feature of the site, but we're playing with it and trying different things so that in the next couple months it will be at the forefront of the site. We're going to put a bigger emphasis on e-commerce.
Erin: When we started we weren't 100 percent aware of optimizing user experience and making sure it was so user friendly because we're from a fashion background, we're not from a tech background. So now we're surrounding ourselves with people from that background and we're growing and we're re-branding and we're growing into more of a global entity. This fall we're actually re-launching and you'll see a totally different, revamped, souped-up Coveteur 2.0.!
Up until now it's been like a museum, a beautiful place where you look at our images but we want to get our readers more engaged. We know we have such a loyal following, they're telling us constantly on Twitter and we haven't spent a dime on customer acquisition, so what's happened up until now has been organic.
We're kind of like the avatar that the members are living through. There's the average person on the internet, then there's celebrities, and we're kind of like in here [she motions to a middle ground] we have access but we're three normal kids. We've worked our way up and we've been humble, nice Canadians! People love the fact that we're Canadian.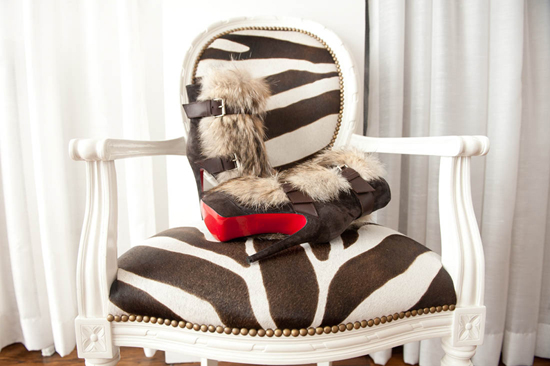 From the closet of Karla Martinez
Responsiveness to readers is obviously very important to you, what's the most common types of feedback you've been getting?
S: A lot of people email us telling us who they'd like to see on the site...
E: ... Like Michelle Obama! Uh huh!
S: We have a running list of people that we cast and that we want and we always take people's suggestions.
E: I find a lot that people want the mobile site to be better, they want the native app -- we're coming, we're coming -- but we need to research everything first!
So mobile will be part of the redesign this fall?
S: We're really pushing ourselves. We want to become a tech company and to have a great mobile app and a really well-functioning site -- that's the direction we're heading in.
What's been the most challenging aspect of your business so far?
S: Once we realized we needed to pivot, different things we need to integrate, once we found the right people to surround ourselves with... it's been really enjoyable because we get to learn about it too and it's so exciting.
E: Every day there's something new coming out! It's a competitive arena and we need to find exactly the right place for us to fit in.
Jake: I shoot all the images but I have a background in digital design so I manage all the web platforms, all the content management, run the CSS for the current site and oversee the development of the future site. For me, I have had to learn so much but it's really exciting. I think a big part of what we do is a lot of research! Seeing what other people are doing, seeing what's working, what's not working and seeing what's right for us. Our brand and what we've built is very important and we're so detail-oriented that we're not going to just throw something out there. It's really important that when we do unleash it [mobile] that it's perfect and right for our audience.
E: All the while having to maintain the casting, the shooting, the traveling... we travel a lot. When we do travel we try and be economical and shoot as many closets as we can. We'll literally try and shoot two to three closets a day, four hours each and then work at night.
What's been the easiest thing so far?
J: Seriously! I shot Erin's look-book, Stephanie styled it and the next day they were like, Jake do you want to do this project? We shot our first shoot and we just kept going. We're all in sync and it's only gotten better.
S: And the fashion community has been so welcoming to us! They let us into their homes, and now they're serving us meals and they wont let us leave! It's a good referral system. We've let a lot of the people see the pictures before they're posted and if someone said, 'I don't like what you did,' then we wouldn't put it up, because we're in their home. To some extent it's a collaborative effort.
Who are your favorite Coveteurs thus far?
E: Biggest celebrity fan craze moment was Simon Doonan. 100% That was like our moment. Have you seen The Cranky Elf? Oh my God you need to see it! He's with Jonathan Adler and their house together was absolutely insane, we were dying. We just shot Nevena Borissova from Curve [boutique] and she had the most extensive, archived collection. Valentino, pearl-encrusted booties that didn't get made -- she had a lot of things that didn't get made, which I find so cool. Jake Davis -- he had so much custom Supreme. We see so much custom stuff, it's cool.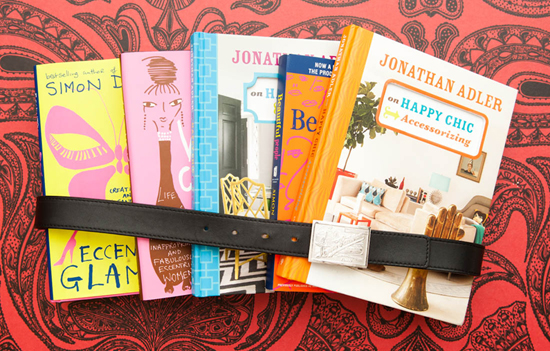 From the closet of Simon Doonan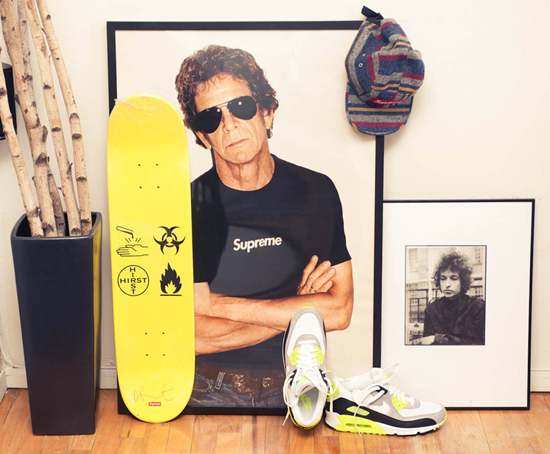 From the closet of Jake Davis
J: for me, Karla Martinez, she was one of the first people we shot and she was just an amazing person to spend time with. Tim Keading from Mother Denim, he had this beautiful 1920s estate in LA that was built during prohibition with secret passageways. Then Ben Watts, he's always been a huge inspiration to me as a photographer, I've wanted to meet him for a really long time. His vivid style is what has always attracted me to his work. His whole interior style was exactly like his whole life -- bright!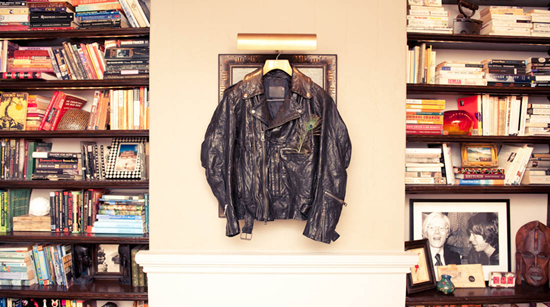 From the closet of Tim Kaeding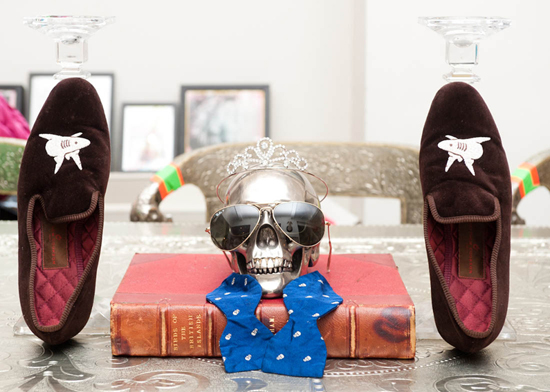 From the closet of Ben Watts
S: I think we all loved Brady Cunningham's house. She's so awesome. She owns TENOVERSIX and she's married to Jason Schwartzman. The interiors that we see are almost as exciting as the fashion.
We just shot Brad Goreski -- his house and how it was decorated, the interiors were so stunning -- that's what really got me about that one. My surprise favorite? We shot Adrienne Maloof from The Real Housewives and we didn't know what to expect -- she was the nicest, sweetest person who was so encouraging and so open. We were there in the afternoon and she was hosting an AIDS benefit in her backyard three hours later and taking care of her kids and she has tons of successful companies to run and I think we all found it really inspiring. She's a strong woman who does a lot and takes care of her family and is so classy, so warm and welcoming and encouraging to all of us.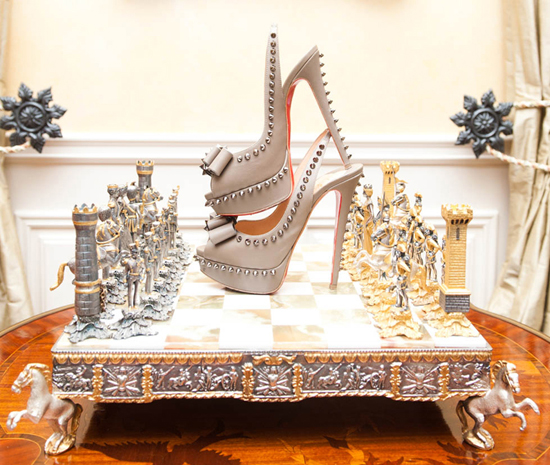 From the closet of Adrienne Maloof
E: I think that's what I love about all the different homes we go into. We have such a wide array of people and that's what out viewers love about us. We can shoot Adrienne Maloof then Annabelle Dexter Jones and they can all live in the same place.
Is everyone you shoot so positive?
S: It's so funny because our joke is, after we leave someone's house, we always say, 'Oh they were so nice, that was the best one, they were the nicest person.' Then we drive from that house to the next one and we say, 'Oh they were so nice, that was the best one... !' The site has a sense of community and that comes across in the shoots. By the end, people feel they're a part of something, and that's a really nice feeling. Everyone being comfortable is our number one priority. We're laid back, there's no pretension here.
E: Something that we're now doing with the expansion -- we're not just shooting curated vignettes, we're going to start shooting the person. We're styling them, we're shooting them all over their house, which is even more up our alley because it's just more exclusive content. The whole reason we do this is because it's exclusive, not everybody has the access that we have.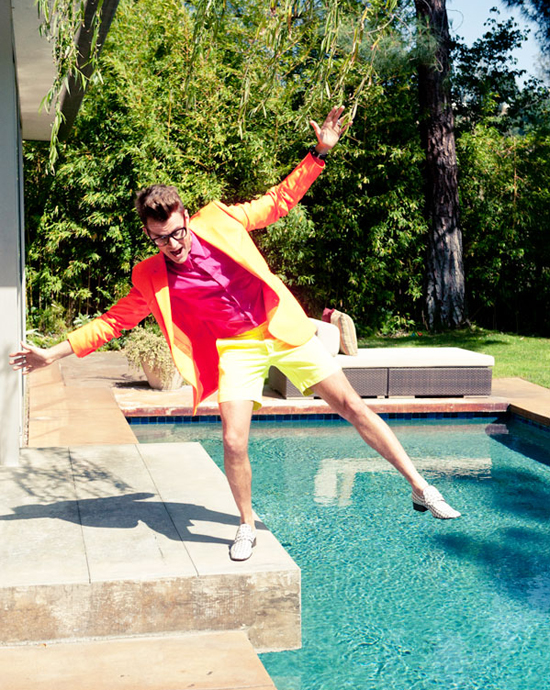 Brad Goreski at home in L.A.
Tell me more about the move to video.
J: With the move to video we've tried a lot of different things, this whole online world is about testing and seeing how people react to it. We want to give people an interview, or a behind the scenes video or a fun fashion editorial. That's the best way to learn and see what our audience requests. When we went to Paris for Chanel I got to shoot video and photos at the same time -- it was so much fun!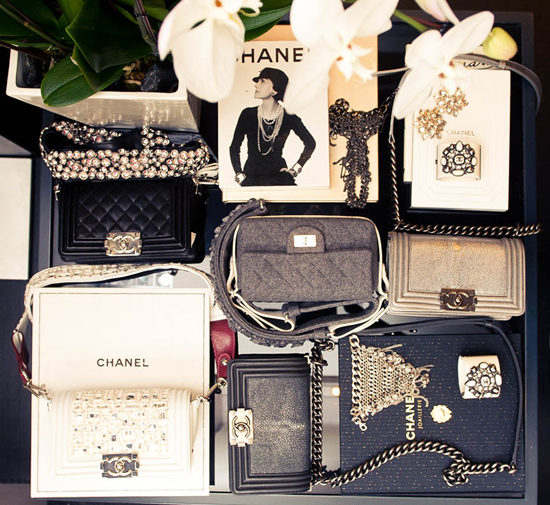 Chanel Paris Bombay Collection
Is video one of things that readers are constantly asking for?
S: We're constantly testing, trying lots of different things. We're pretty reactive! The minute we get one tweet that's not positive, we're like, 'Okay! We have to change that!' We do everything! We copy-edit, we shoot, we style, we do the PR, we do the marketing -- everything! We manage the interns, we're traveling... we've become so able to multitask.
How will you be evolving Shop This Look?
S: The best example would be, if you're looking at a pair of shoes on our site and you love them, they're the best stiletto you've ever seen, you click it and enter all of your info on our site then we would send that info to Aldo, let's say, and they would be the ones to ship it to you but your whole experience would be on The Coveteur.
J: We want to keep it as seamless as possible.
E: ... It'd be wrapped in Coveteur paper!
There has been a lot of discussion about whether bloggers deserve to be paid by various designers and brands in exchange for blogging. Have you encountered similar difficulties while collaborating with others?
S: When we're approached to do something, we want the relationship to work. It's really collaborative on both sides so we don't really have any problems. When people come to The Covetuer, they're coming for a reason.
Older, more traditional brands don't always have an online outlet. Cartier or Bulgari won't have a blog or a place to put their creative, digital content but I think that's why they come to us, we can act as the outlet.
J: They like the way that we tell their story. We tell such a strong visual story and we can tailor it to whatever project we're working on. It's very respectful, it's elegant. We're very particular. Every project we do, we put 110 percent in.
What do you see for The Coveteur in five years?
E: We want to keep growing and expanding and grow our member base and just keep testing and moving forward. As we move forward I think there will be a social community aspect that you'll see in the launch. We'll keep growing our design...
J: ... and our identity...
S: More and more we want to have a global reach. Japan, Berlin -- we want it to be a global brand and hopefully one day be recognized all over the world. Consulting, helping people navigate the digital space is a goal for us as well.
Read more from Marissa Bronfman here.