The pages of art history books are filled with images of the female nude, a trope that occupies the frames of masterpieces by Edouard Manet, Gustav Klimt, Willem do Kooning and many others. Reclining, reposing or standing proudly in the center of a canvas, the naked form of a woman has been used to convey allegory, pathos and pure beauty for some time.
Of course, if you take a magnifying glass to the art history timeline, it doesn't take long to find more than a handful of artists who, in separate eras and movements, turned their eye to the male nude as a source of inspiration and an objet d'art in itself. Painters like Michelangelo, John Singer Sargent and Egon Schiele surely did it, with varying degrees of sexualization and homoeroticism packaged within.
An upcoming exhibition at Leslie Lohman Museum of Gay and Lesbian Art is profiling another lesser known, but perhaps equally prolific artist who tackled the nude male form at the turn of the 20th century. A German artist by the name of Sascha Schneider, he created various paintings and lithographs of naked men that helped transform the eroticized male into an ubiquitous public image for a brief moment in Germany's history.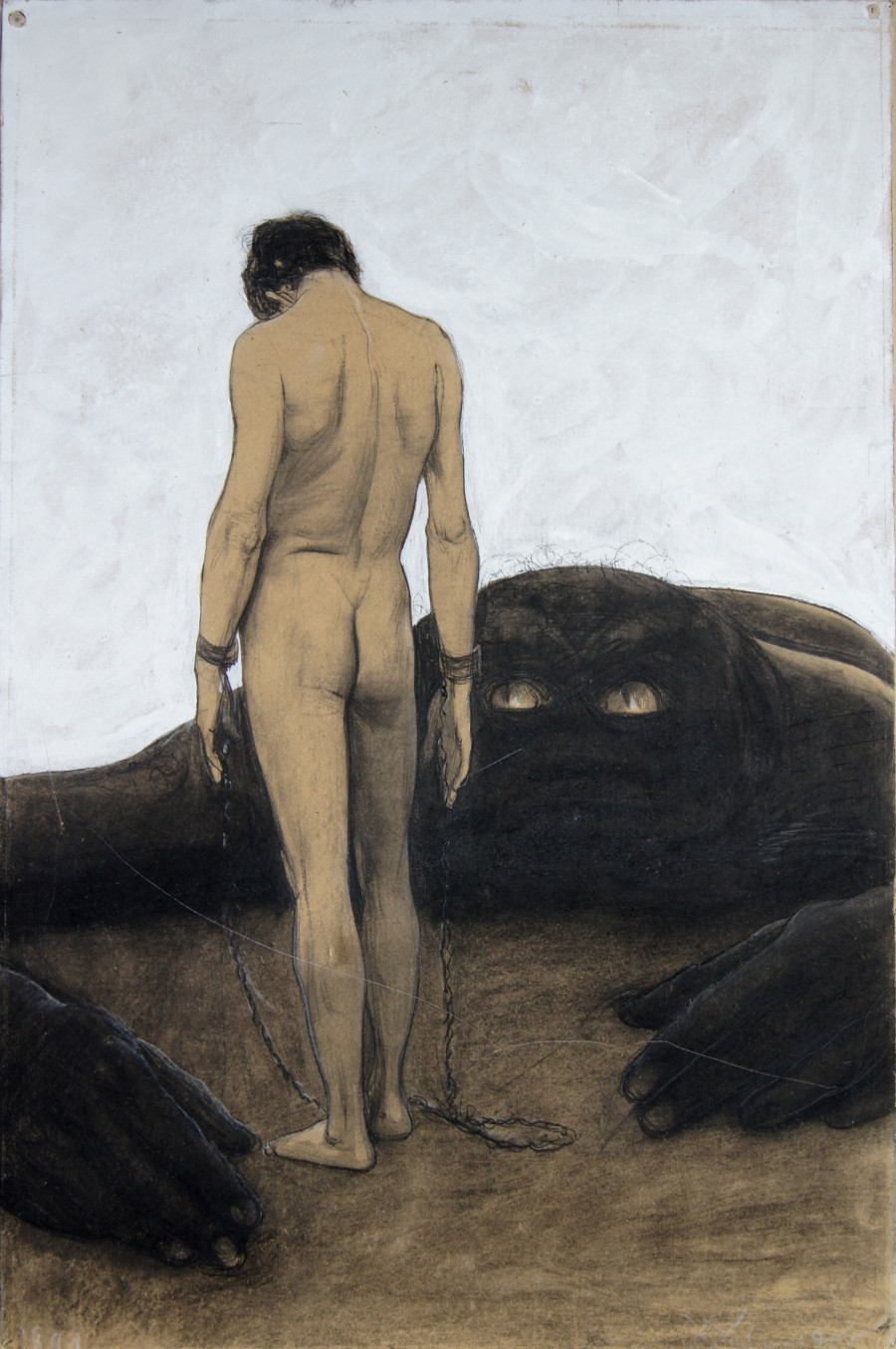 Sascha Schneider, Feeling of Dependency, 1894, chalk, charcoal and paints on cardboard, 27.55 x 19.09 in. Collection of Hans-Gerd Röder.
The exhibit, titled "Nude in Public: Sascha Schneider, Homoeroticism and the Male Form circa 1900," delves into the oeuvre of Schneider, who operated during an unusual period of German history known as the Health and Hygiene Movement, or Freikörperkultur. Seen as a response to the booming industrialization of the 18th and 19th centuries, the movement advocated for a return to traditional exercise and healthy living pursuits, involving a plethora of natural efforts and, among other things, nudity.
Not surprisingly, this mode of thinking opened the doors for artists to explore the public nude image through murals, paintings, photographs and sculptures. Schneider's charcoal and oil creations in particular captured striking muscular bodies and highly stylized male figures, projecting not only a new image, but a brand of unabashed homoeroticism and desire into the public sphere.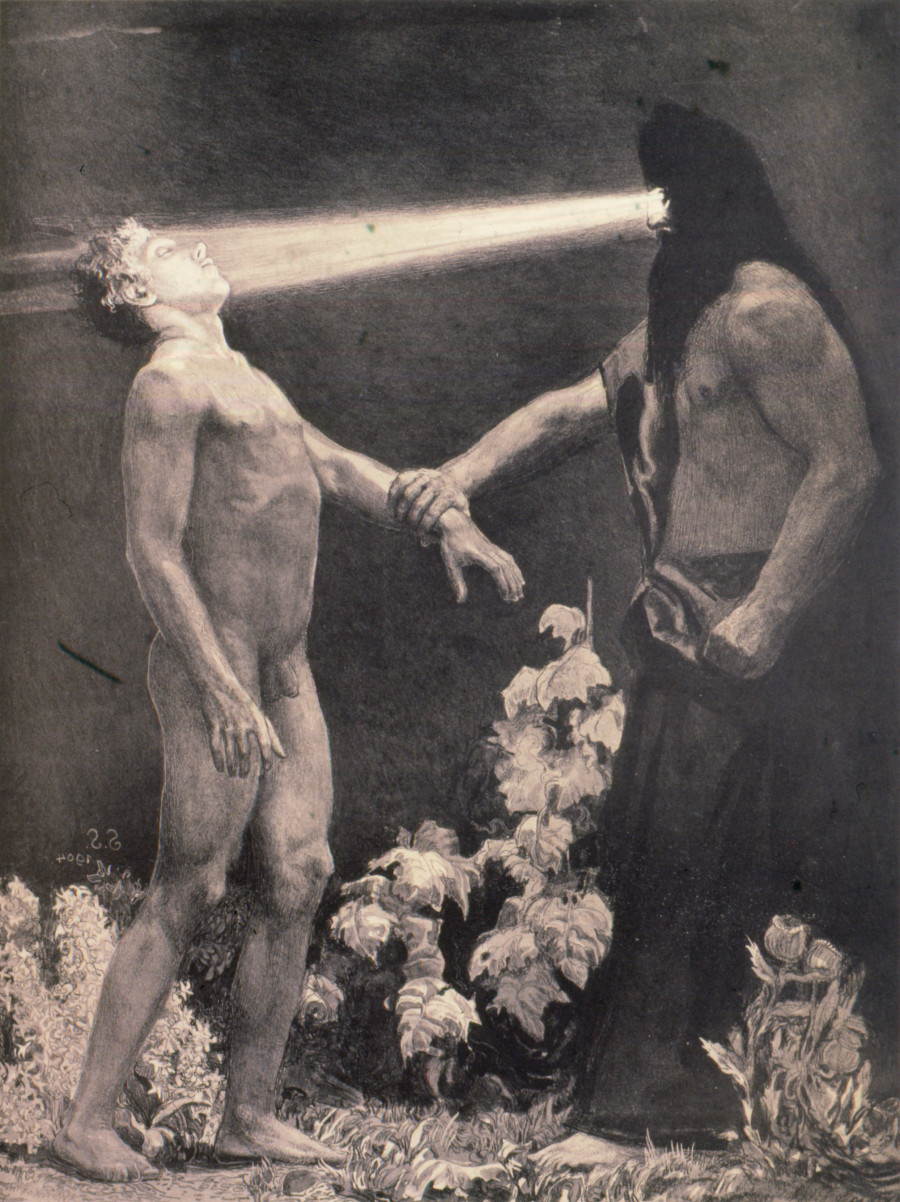 Sascha Schneider, Hypnotism, 1904, lithograph, published Breitkopf and Hartel, Leipzig, 19.68 x 15.74 in. Collection of Hans-Gerd Röder.
While the art movement was not centered on politics, the artists within it were responsible for crafting a gay aesthetic at a time when civil rights activists were gearing up to take on issues of same-sex relationships in Germany. However, as the momentum of art making collided with the trajectory of sexual politics at the time, the Freikörperkultur artist faded from the public eye. German society proved that, while it was willing to accept homoerotic imagery, it was not yet willing to confront and accept homosexuality. As a result, the eroticized works of artists like Mr. Schneider fell out of favor soon after.
"Schneider, who emblematized Freikörperkultur in almost every work he ever did, nonetheless came to understand the limits of a social world that accepted homoeroticism but not homosexuals," explains the exhibit press release. "He was forced to resign from his prestigious post at Weimar University and flee to Italy [in the early 1900s]."
"Nude in Public" will be on view at Leslie Lohman Museum from September 20 until December 8, 2013, courtesy of the German collector Hans-Gerd Röder and curator Jonathan David Katz, featuring an impressive selection of Schneider's once popular work. Scroll through the images below for a preview of the show and let us know your thoughts on the exhibit in the comments.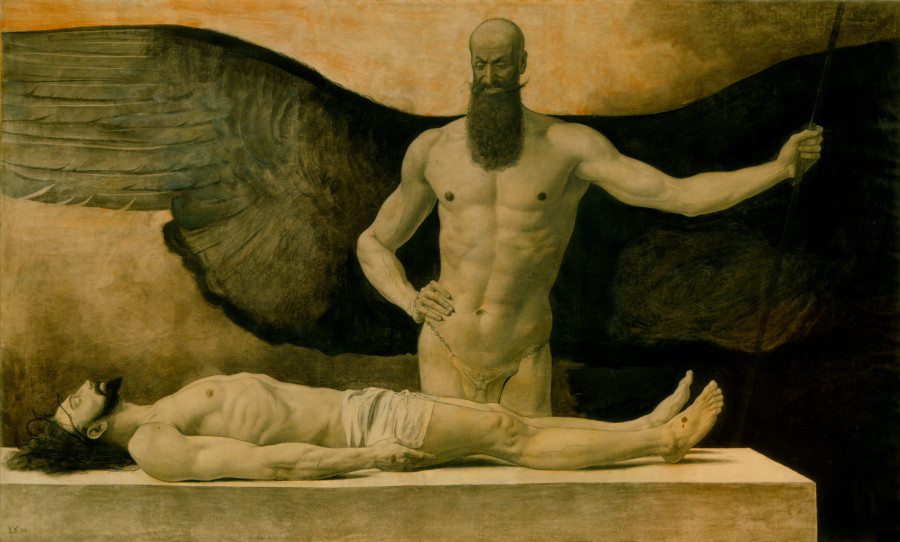 Sascha Schneider, Triumph of Darkness, 1896, mixed media, 62.99 x 106.29 in. Collection of Hans-Gerd Röder.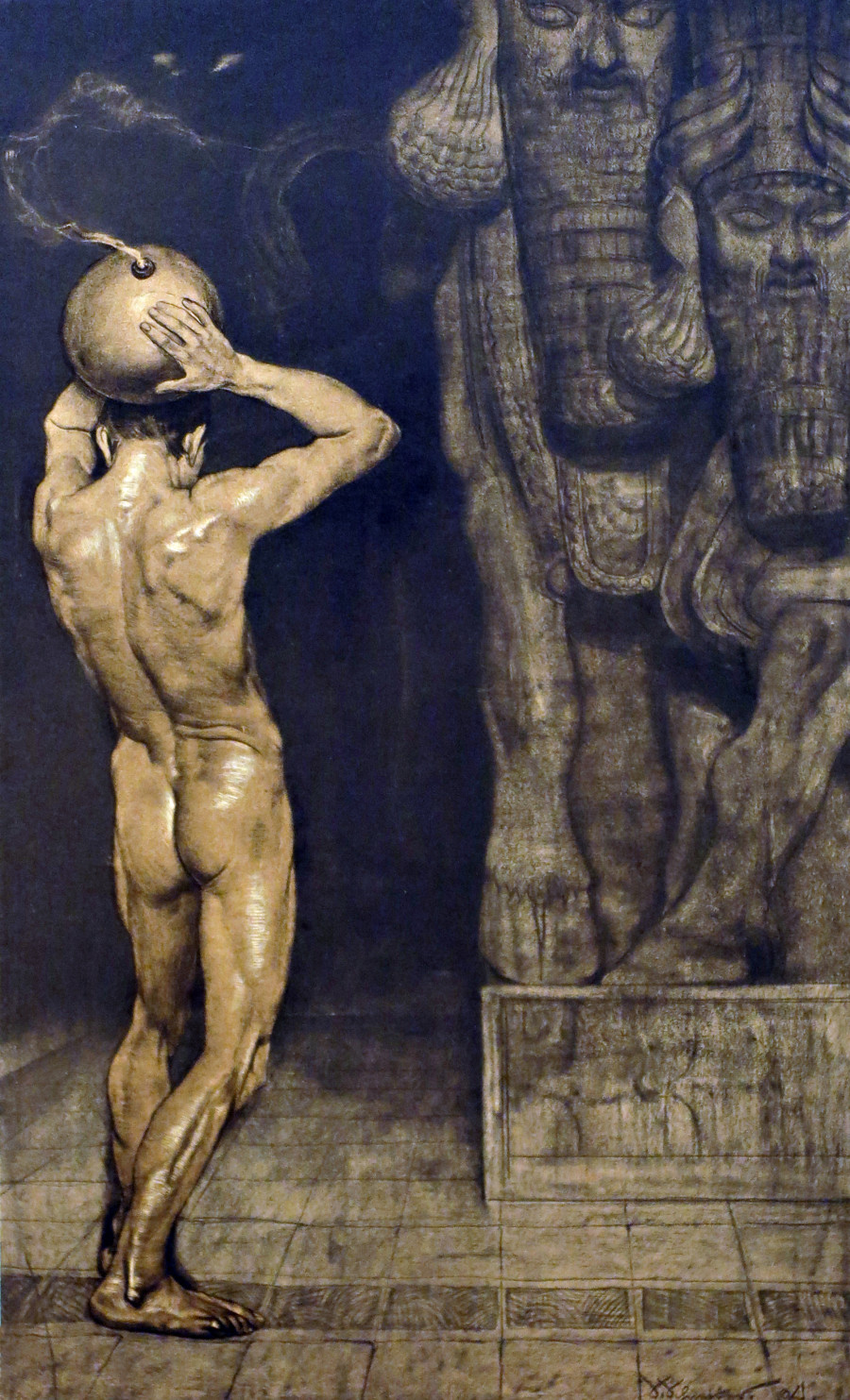 Sascha Schneider, The Anarchist, 1894, Lithograph on paper, 19.68 x 15.74 in. Collection of Hans-Gerd Röder.


Sascha Schneider, Rear View of Nude with Towel, c. 1920, oil on canvas, 40.15 x 14.56 in. Collection of Hans-Gerd Röder.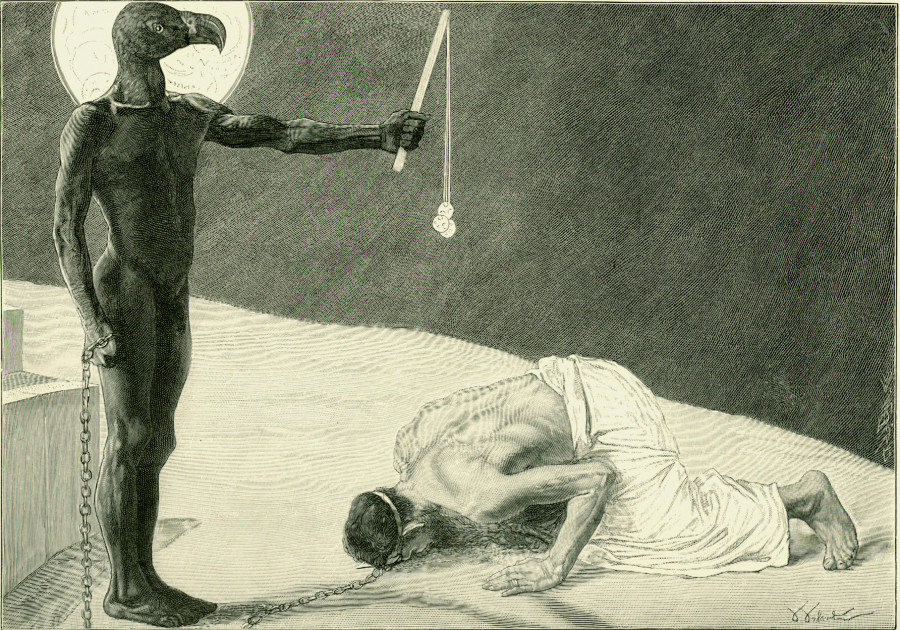 Sascha Schneider, Mammon and his Slave, c. 1896, wood engraving, published by J.J. Weber, Leipzig, 9.44 x 12.59 in. Collection of Hans-Gerd Röder.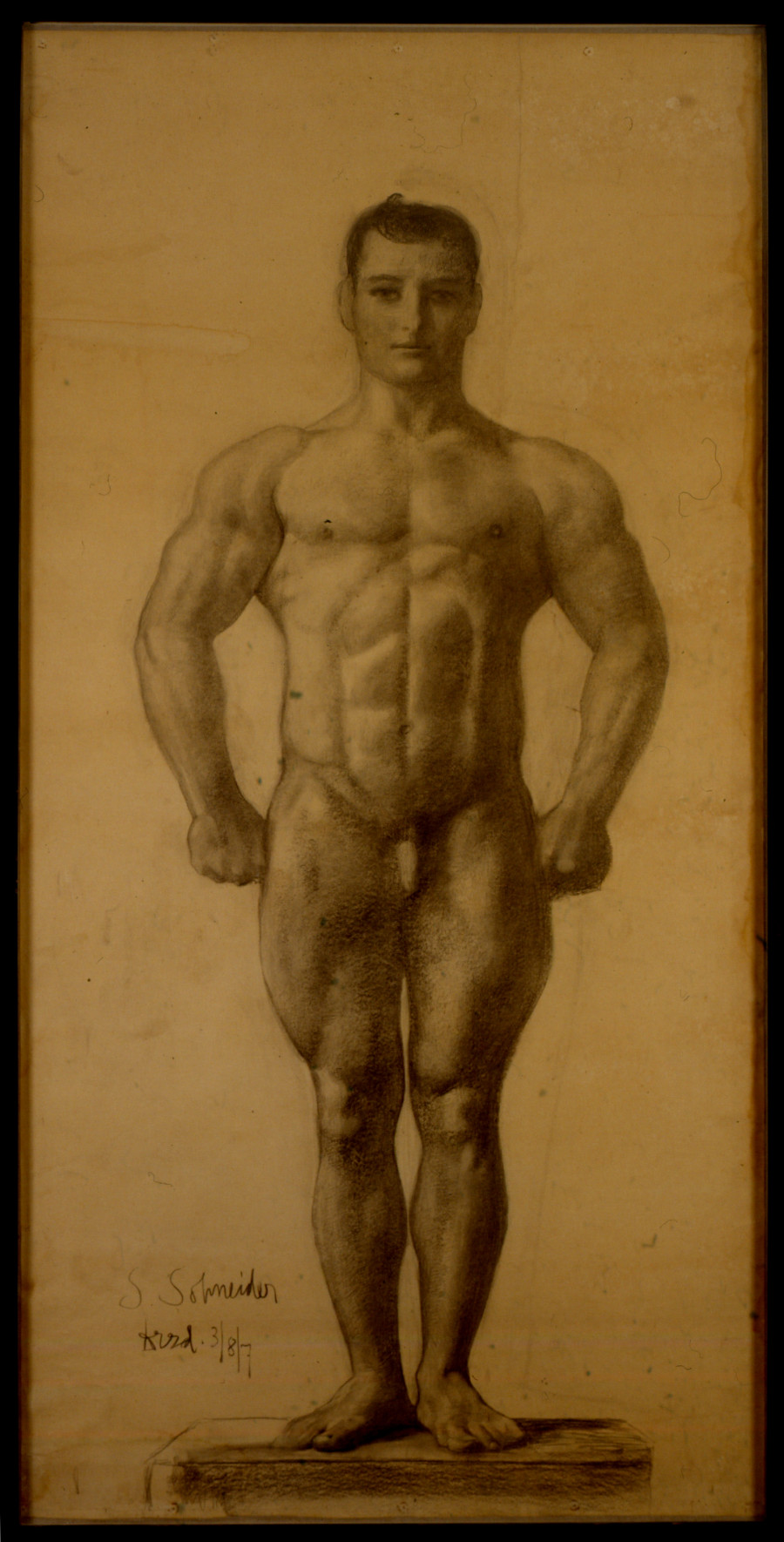 Sascha Schneider, Athlete in Basic Position, 1907, chalk on paper relined on canvas, 83.85 x 42.91 in. Collection of Hans-Gerd Röder.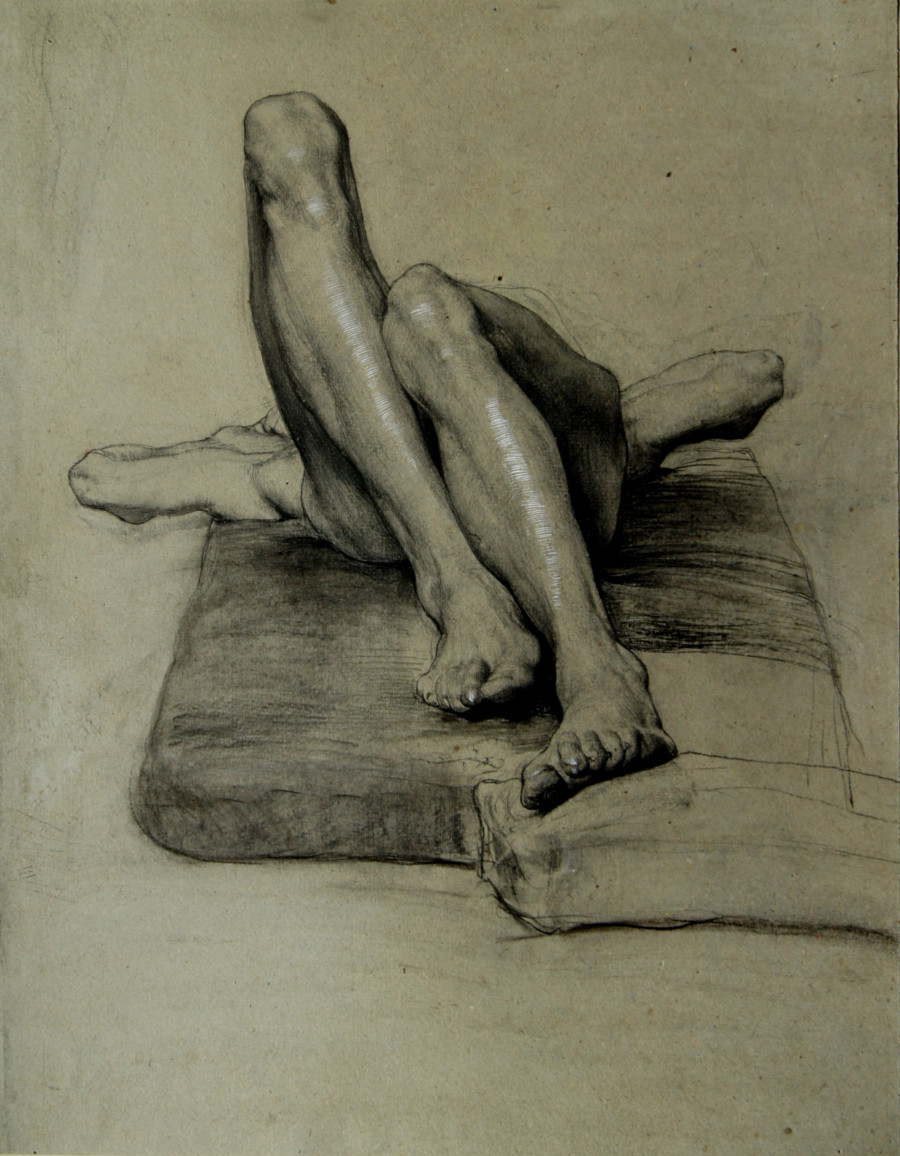 Sascha Schneider, Untitled (study of a reclining male nude with tucked up legs), 1894, pencil and charcoal with white highlights on grey paper, 20.07 x 15.74 in. Collection of Hans-Gerd Röder.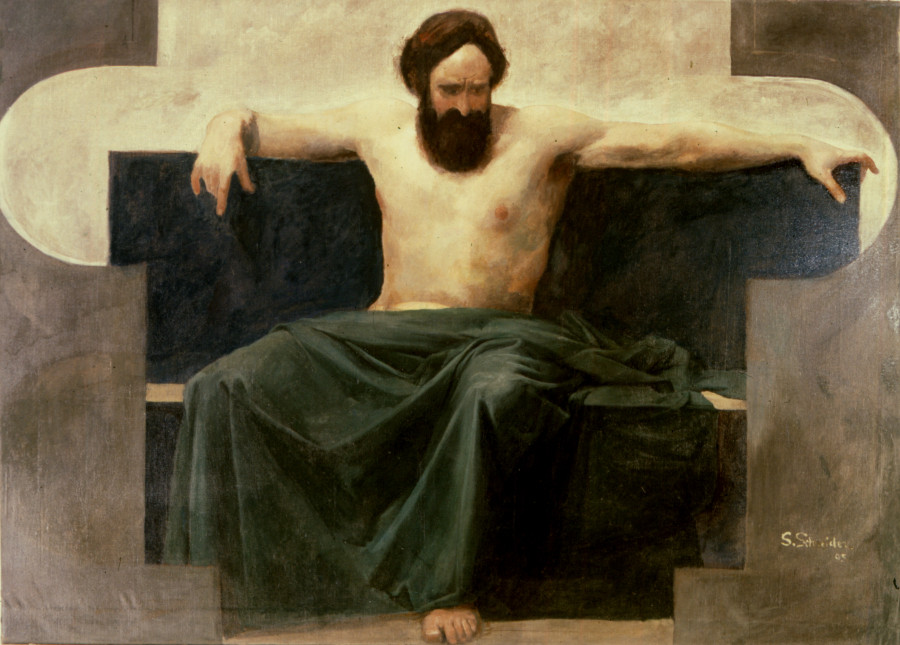 Sascha Schneider, Patriarch, 1895, oil on canvas, 40.15 x 58.26 in. Collection of Hans-Gerd Röder.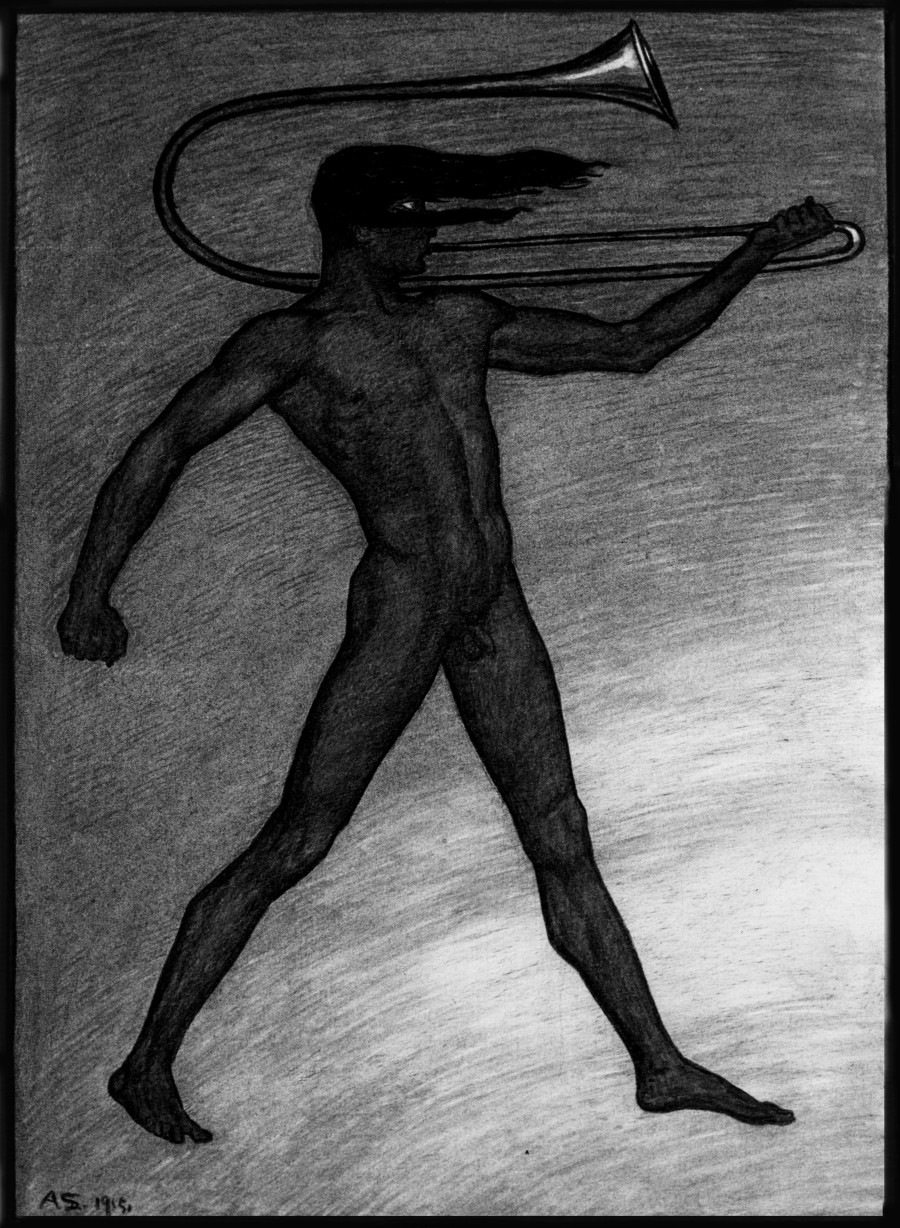 Sascha Schneider, War Cry, 1915, charcoal on paper, 19.68 x 17.17 in. Collection of Hans-Gerd Röder.
Popular in the Community