PETA has a new pro-animal birth-control ad campaign staring porn star/ actress Sasha Grey. She's photographed naked, glancing alluringly over her shoulder with the caption: "Too Much Sex Can Be a Bad Thing: Have your cats and dogs spayed or neutered."
Of course, PETA has a long history of photographing scantily clad women to promote animal rights (see our slideshow of a decade of scandalous PETA ads here). And though Jonathan Chait at The New Republic thought the excuse for nudity was "lame" the issues is pressing: just this morning authorities took in 35 cats that were crowded into a one bedroom apartment in Brooklyn. The AP reported: "their owner tried to care for them, but her pet population had spiraled out of control after her initial pair of cats began breeding. She ended up with 37 and is getting to keep two -- after they are spayed and neutered."
See the photograph and a behind-the-scenes video of Grey below: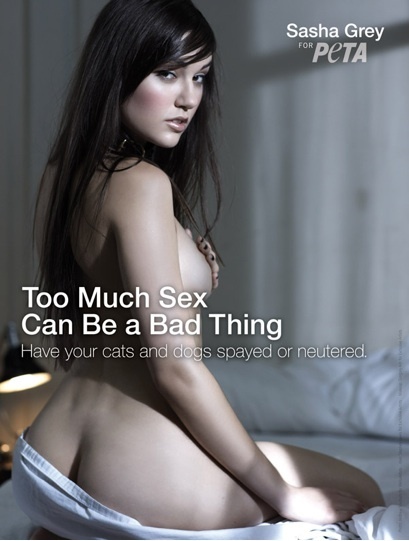 Calling all HuffPost superfans!
Sign up for membership to become a founding member and help shape HuffPost's next chapter