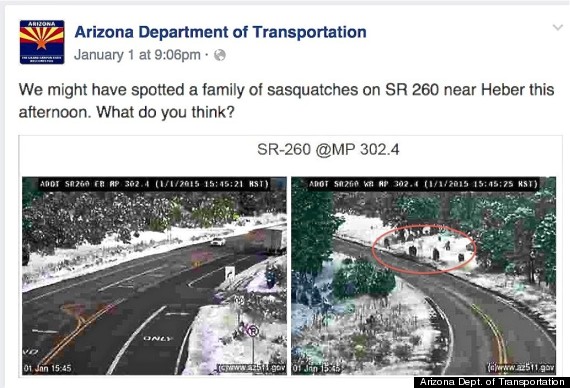 When the Arizona Department of Transportation (DOT) posted the above item on its Facebook page on Jan. 1, officials weren't prepared for the strong reaction over a bogus image of Sasquatches.
Here are some of the nearly 1,000 Facebook comments before the DOT admitted it was just a joke:
"I think it's a bunch of crazy valley folks who haven't seen snow before."

"Is that for real...wow..."

"Ha! You're all superstitious. Clearly they're Wookiees!"

"HAHAHAHAHA!"

"Leave them alone! They aren't bothering anyone!!!"

"Are they signed up for obamacare?"

"Comin back from their new years Cave party...Probably all hung over..."

"I think that Bigfoot is naturally blurry...its not the cameras. Lol"

A highway patrol traffic camera, aimed at a road near Heber, in northeast Arizona, seemed to show a group of large, dark objects standing in snow on the right side of the image.
"Our public information officer was stationed at the Traffic Operations Center in Phoenix, where highways are monitored around the state," said Arizona DOT spokesman Tim Tait.
"He was flipping through the cameras at a slow part of New Year's Day and this image just caught his eye, so he posted it," Tait told The Huffington Post. "The public reaction was almost immediate. It far surpassed our expectations, certainly, for just a picture that was designed to show some snow along the highway in northern Arizona."
The story grew bigger feet this week when Tait admitted they were only having some fun with the picture, and wanted the public to know that even government officials can be a little lighthearted.
"We definitely have a sense of humor here at ADOT. We try to really not push it too far and don't get snarky or mean, but we do try to have a little bit of fun with people on our Facebook and Twitter feeds."
"We've gotten 2,000 additional followers to our Facebook page, and the individual post has been shared about 4,000 times, and 3,000 likes. For a government agency that doesn't have a huge Facebook following, those are huge numbers for us. We try to communicate with people in a way that maybe they don't expect sometimes, and to just try to break down the barriers that exist between a government operation and people in the community."
Tait said it's apparent that the Sasquatches "are either bushes or stumps. And they're still there, in the same positions."
Between the time that the DOT posted the "Sasquatch" image on Facebook and today, many keen observers went to the actual public site of the traffic camera and discovered that the alleged beasties are still there and haven't moved an inch.
The image below shows the same stretch of road, two days apart, Jan. 1 to Jan. 3. The so-called Sasquatches are in both pictures, and remain there today.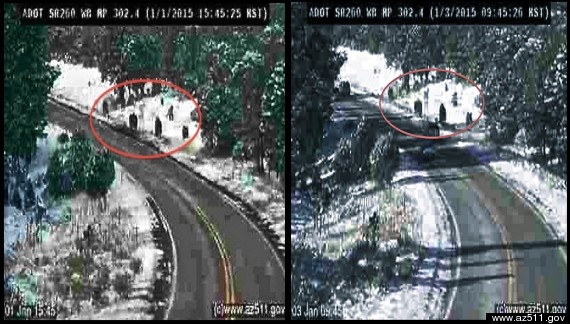 Tait added that DOT officials learned something from this little harmless "hairy" episode.
"We discovered that there are some very strong feelings about the potential existence of Sasquatches."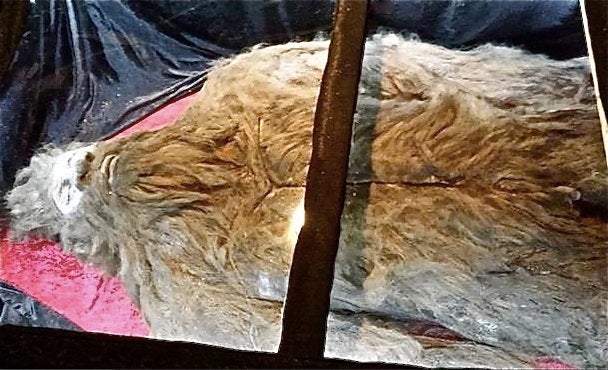 The Legend of Bigfoot Continues
Popular in the Community