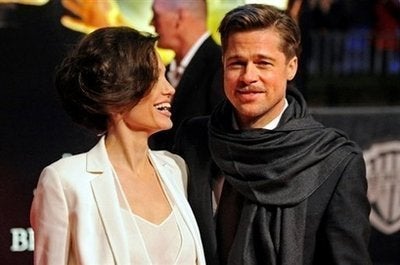 **SCROLL FOR PICTURE***
Brad Pitt and Angelina Jolie are rumored to be renting Long Island's "Sassafras" estate while Jolie films the CIA spy movie "Salt."
Angelina Jolie will film parts of an espionage thriller in March on Long Island.

Nassau County Executive Thomas Suozzi let slip Wednesday that the Hollywood actress would be on location at the former Grumman facility in Bethpage, filming a movie originally titled "Edwin A. Salt."

Suozzi wasn't supposed to divulge the news, a spokesman says, "but he wanted to add to the intrigue and help market the movie."
Bauer Griffin reports they've rented the $60 million property on the North Shore of Long Island and has photos:
The gorgeous couple and their flock of children are moving into a 48-acre waterfront estate named Sassafras. They'll be renting the $60 million Lloyd Neck harbor area estate while Angelina shoots the upcoming Salt (formerly called Edwin A. Salt, and formerly set to star a man-- Tom Cruise).

The estate includes a 22,000 square foot Tudor-style main house, two helipads (the kids love helicopters), a private dock, and an 11-bedroom staff house. Sleepover at Brangelina's!
Sassafras, the $60 Million Dollar Home - It's always pricey in New York but the latest estate to hit the market is creating a stir. Newsday reports that Sassafras, a 48-acre waterfront estate has hit the market for $60 million. The estate includes a Tudor-style mansion, two helipads, and a private dock. The home is located in the pricey area of Lloyd Neck which is the setting of several other of our favorite estates. The main house has 22,000 square feet that includes eight bedrooms. There is also a six-bedroom guest house and an 11-bedroom staff house. Yearly taxes alone are an astounding $195,000. According to Newsday, the unnamed seller has already turned down a bid of $50 million. Is it worth $60 million? Given the prices for other homes in the area and that this home offers a large amount of acreage and waterfront it may be in the right ballpark but I think the owner wouldn't have been remiss in taking the $50 mil offer.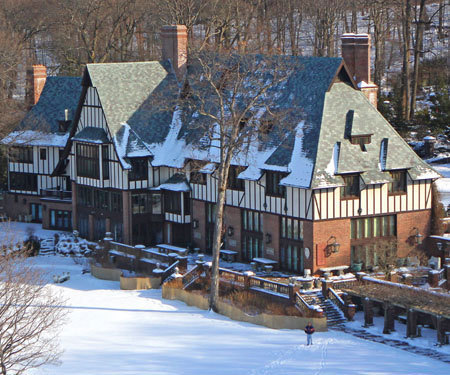 Popular in the Community