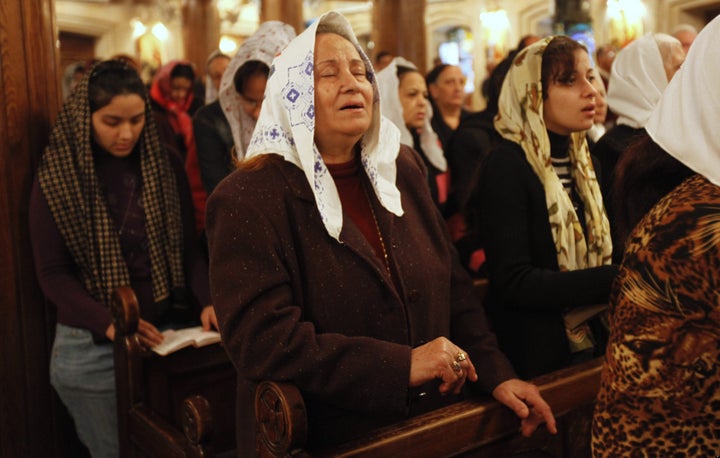 It may seem odd, but a Christian TV network for and by people of the Middle East/North Africa (MENA) region is expanding its footprint and making inroads despite regional turmoil and fears of rising Islamic fundamentalism.
"We don't attack Islam and present the Christian faith in a positive way, on women, disabilities, and other matters," said Terence Ascott, CEO of Sat-7. "We don't want to get into a debate, into a polemic, on the air."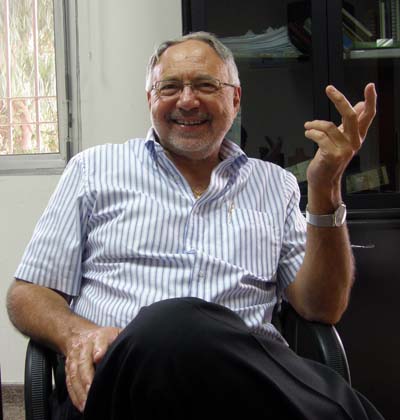 Sat-7 CEO Terence Ascott (Abu-Fadil)
In 15 years of existence Ascott and his associates have attracted over 15 million viewers in a region that's mostly Muslim -- not by converting Muslims, but by creating an environment that's less hostile towards Christians.
"It's a human right for everyone in the world to hear the Christian message and decide whether or not to embrace it. It's our right to propagate the truth of our faith," he added.
It may seem like a tall order for this transplanted Brit who has lived in the Middle East for decades and hops around from his Cyprus headquarters to run five satellite TV ministry channels, primarily in Arabic, but more recently in Farsi (Persian) and Turkish.
One way to avoid issues that divide Christians where so many denominations and sects exist, is not covering the sacraments, though some programs about how different churches define the sacraments may be aired.
On a recent visit to Lebanon, Ascott described the challenges he faced operating five channels on a shoestring budget of $13 million.
The network includes Sat-7 Arabic, Sat-7 Kids, Sat-7 Pars, Sat-7 Turk, and Sat-7 Plus.
Sat-7 Kids is the first and only 24-hour Christian channel exclusively for Arab children, and provides programs at different time slots for three age groups.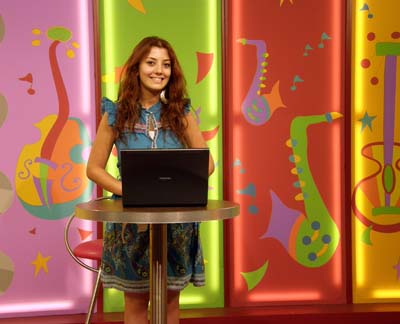 Sat-7 Kids' 19-year-old presenter Marianne Awaraji (Abu-Fadil)
Sat-7 Plus groups the best of Sat-7 Arabic and Sat-7 Kids shows to air via the Hotbird satellite that reaches as far as North Africa and parts of Europe.
The Arabic, Kids, Pars and Turk channels broadcast over the Egypt-based Nilesat platform.
The network's international office is in Nicosia, Cyprus, from where the master control room acts as a programming traffic cop, with a new booster in Slovenia, but its studios are in Cyprus, Lebanon, Egypt, Turkey and the UK.
"We're largely funded by Protestants and get a significant amount from Catholics," Ascott said, siting in a rented squat two-story building with two of several studios scattered around Beirut and its suburbs.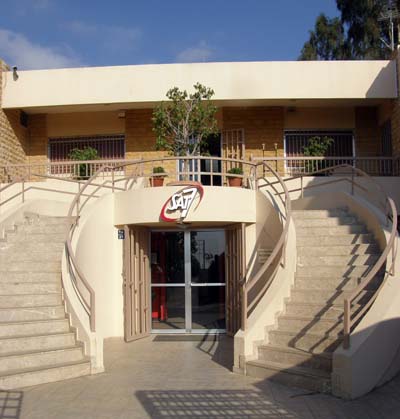 Sat-7 Lebanon headquarters above Beirut (Abu-Fadil)
Broadcast trucks can also up-link from the field but present conditions provide little elbow room.
The tight squeeze has given rise to endless creative endeavors by the dedicated Lebanese staff of 25 full-timers and 50-60 freelancers (including camera crews, technicians, producers and directors).
Executive producers and editors are full-timers but presenters are freelancers. The management plans on hiring a social media manager.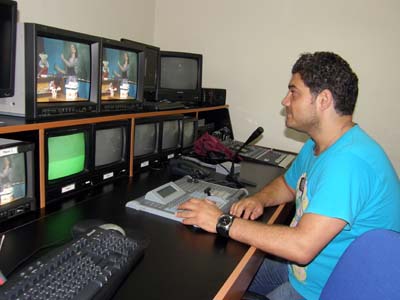 Archivist Fares Al Rayyes in the control room (Abu-Fadil)

Tania Nahhas, a paraplegic presenter of social programs on people with disabilities and shows for female-headed households, doubles as a receptionist at the station.
Many staffers seem to wear multiple hats.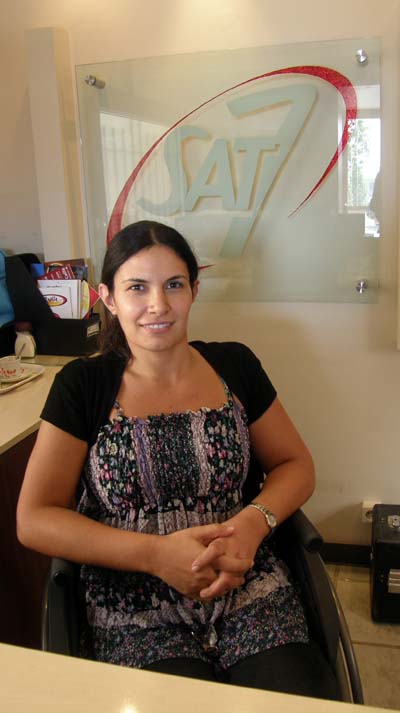 Paraplegic presenter Tania Nahhas (Abu-Fadil)
Naji Daoud, Sat-7's affable Lebanon executive director has been with the station for 12 years. He also appears on the air to promote the Christian message.
"We're pan-Arab," Daoud explained. "Sat-7 Arabic is the first religious Arab Christian satellite broadcaster with indigenous Arabic-speaking people, with programs made by Arab people for Arabs."
Framing the message in the proper cultural and geographic context is of paramount importance, he noted.
Daoud said the focus was on the Bible and the love of Jesus Christ through a bouquet of programs, including talk shows, drama, news and music, with direct or indirect Christian messages aimed mostly at the working class.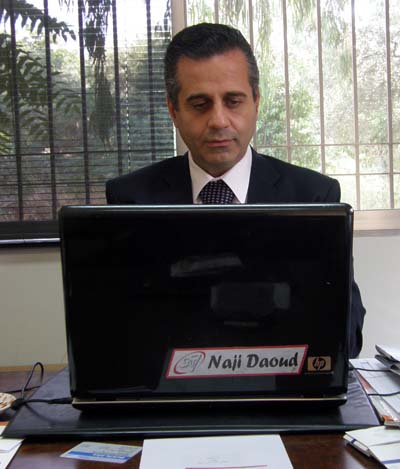 Lebanon executive director Naji Daoud (Abu-Fadil)
"You rarely see someone behind the pulpit and preaching," he added. "We appeal to the whole family and are of interest in a nice way."
At least 2-3 million viewers in Egypt watch Sat-7's programs -- most Egyptian Christians are adherents of the Coptic Church -- and some 15-16 million switch on region-wide.
"My husband, my family and I can't go to church all the time because of the situation in our country," wrote in Mona, a 24-year-old woman from Iraq. "I consider Sat-7 my church where I experience God's healing and comfort and where I hear the word of life."
Seeing how that on-air and online church has been busting at the seams, a magnanimous donor presented Sat-7 in Lebanon with a 6,000-square meter (64,585-square foot) plot of land not far from where it's currently perched in the hills above Beirut.
A groundbreaking ceremony on September 3 provided a boost to staffers in dire need of new centralized studios, equipment and offices, but it will be a while before the compound is ready.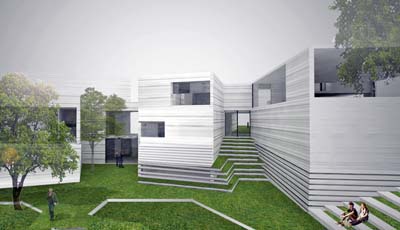 Rendition of new facilities (courtesy of Sat-7)
"We'll build five big studios using the newest technology," said Daoud. "It will be a three-story building and Sat-7 will be the owner of the project."
The local Baptist Society is managing the new turnkey project. But it will still require a regular infusion of funds to run and maintain the operation up to recognized professional standards.
Guiding the team with a steady hand is Rev. Habib Badr, chairman of Sat-7's international board and head pastor of Lebanon's National Evangelical Church.
"I'm not involved in execution, business or programs, I just oversee the policy and consolidated budgets," he said.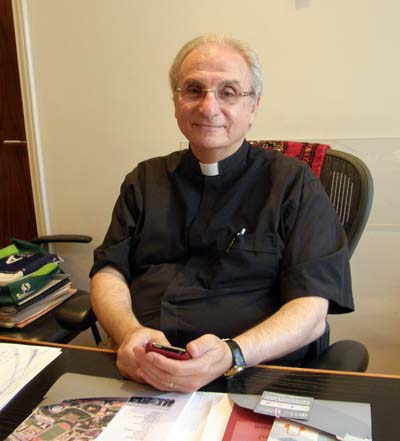 Rev. Habib Badr, chairman of Sat-7's international board
Badr said 10 competing Christian satellite stations had appeared in the region since Sat-7's launch, but they were mostly modeled on the Western Evangelical tradition.
"We remained faithful to our principles, our programs are 60 percent-70 percent locally produced," he said.
Being on the ground was important for the network's credibility and sustainability, he added.
For Naji Daoud, there's no question about Sat-7's raison d'etre. "It exists for the church, to better serve the church. We're here to stay."

Related
Popular in the Community