Only 43 percent of test-takers in 2013 met the SAT's definition of being prepared for college, a statistic that has remained stagnant since 2009.
The 1.6 million test-takers averaged 496 in reading, 514 on math and 488 on writing, according to a Thursday report released by the College Board, the company behind the notorious college entrance exams.
The College Board defines the college-ready benchmark as 1550 out of 2400, a score the organization says indicates a 65 percent likelihood of a student earning a first-year college GPA of a B-minus or above.
What, exactly, these numbers mean is up for debate. The college readiness statistics are just one more piece of the puzzle in assessing the state of America's schools, and the release comes amid a national hand wringing about just how bad public education really is and what direction it should take. Most states are beginning to teach to a new set of national standards known as the Common Core, but many parents and politicians are either unaware or skeptical.
For its part, the College Board is interpreting high schoolers' performance on its test as a call for improvement. To be truly prepared for college, the company maintained in a call with reporters, students need access to higher-level courses -- such as the Advanced Placement program, another College Board offering.
"While some might see stagnant scores as no news, we at the College Board see this as a call to action," College Board President David Coleman said during the call.
Schools need to "dramatically increase the number of students in K-12 who are prepared for college and careers," Coleman said in a press release about the results.
Coleman previously worked as a writer of the Common Core, which seeks to encourage teachers to teach fewer topics but with more depth and to spend more time on things like informational texts. "The daily work that kids are doing in this country needs to shift," he said.
Opponents of a focus on testing in schools were quick to pounce on the stagnant SAT results. "Proponents of 'No Child Left Behind,' 'Race to the Top,' and similar state-level programs promised the testing focus would boost college readiness while narrowing score gaps between groups," Bob Schaeffer, public education director of the National Center for Fair & Open Testing, said in a statement. "The data show a total failure according to their own measures. Doubling down on unsuccessful policies with more high-stakes K-12 testing, as Common Core exam proponents propose, is an exercise in futility, not meaningful school improvement."
Minority students showed some score increases in 2013. This year, 15.6 percent of African-American students taking the test met the benchmark, the College Board reported, compared to 14.8 percent last year. In 2013, 23.5 percent of Latino students met the benchmark, up from 22.8 percent in 2012.
Representatives of the education establishment were optimistic. "While certainly the flat scores are nothing to celebrate, when you dig down deeper into the data, we see a lot of encouraging news," said Jim Hull, a senior policy analyst for the National School Boards Association. "Our public schools are doing a much better job preparing our poor and minority students for college."
Secretary of Education Arne Duncan noted in a statement that the College Board report "affirms the decisions that states have made to raise their standards" -- a nod to the widely adopted Common Core state standards. He also lauded the gains of Latino and African-American students.
"What is encouraging is that more minority students are taking the SAT--and their scores are improving. We must sustain and build on recent gains in African American and Latino college-going and completion," said Duncan in a statement.
In its report, the College Board noted that 78 percent of those who meet the SAT college-ready benchmark enroll in four-year colleges, compared to 46 percent of those who don't.
Others were skeptical of the College Board. "No doubt that far too many students are not college-ready, and the College Board's appeals to have more students take a more rigorous curriculum is important," said Mark Schneider, a vice president of the American Institutes of Research who previously oversaw the U.S. Education Department's statistics arm."However, this does not mean that the CB's suite of products (PSAT/SAT/AP) is causally connected to college success. This report skirts way too close to that causal link than it should." (AIR offers some testing of its own, but it is not seen as an SAT competitor).
Last year, the College Board reported record-high participation numbers for the SAT, leading some to attribute flatline performance to increased diversity. But this year, there was a slight decline -- of 4,432 -- in how many students took the test. "There are those who tend to wave away the results because they say more diverse students are taking them," Coleman said.
"That kind of excuse … can dull the clear call to the country," he added, to turn increasing diversity among students into strength.
Since 1972, the first year from which the College Board lists comparable SAT results, scores have declined. In 1972, students averaged a 530 in reading and a 509 in math; in 1995, they scored an average 504 in reading and a 506 in math; in 2003, they scored 507 in reading and 519 in math, compared to 496 on reading and 514 on math this year. In 2006, the first year the writing portion of the test was offered, students averaged 497, compared to 488 this year.
This article has been updated to reflect a statement from Education Secretary Arne Duncan.
Before You Go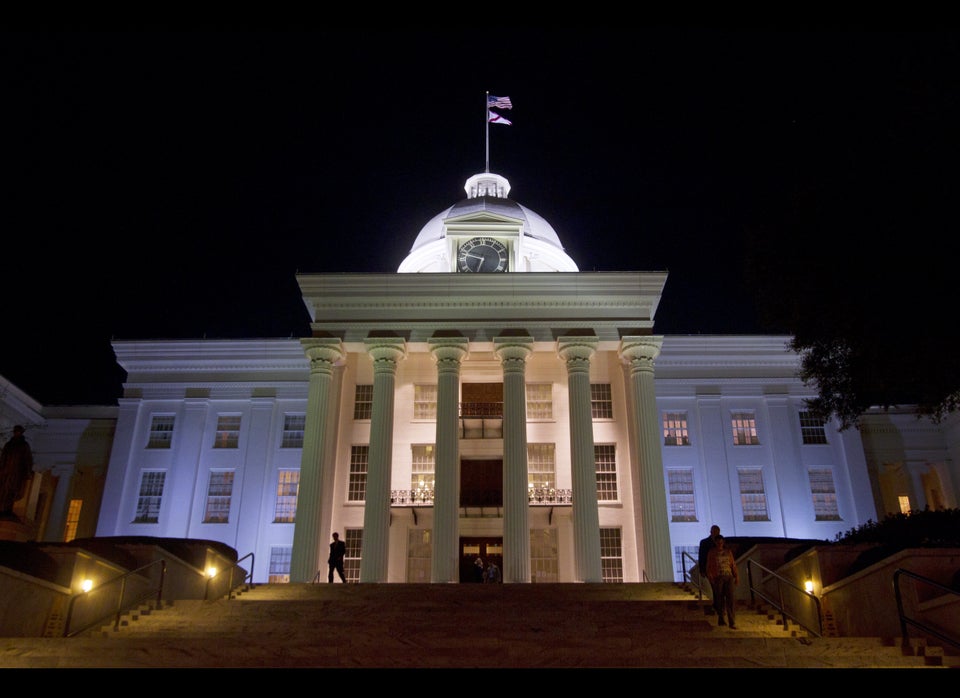 U.S. State Capitol Buildings
Popular in the Community