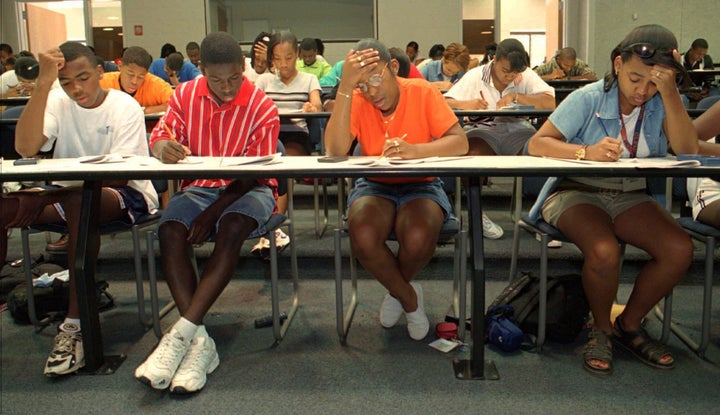 Last year, Harvard published a study arguing that SAT questions in the verbal section favored white students by using language with which they were more familiar compared to other non-white groups. The study said black students of equal academic aptitude scored lower on the section, Education Week reported.
But FairTest, an organization that focuses on fairness and accuracy in student testing and scoring, doesn't think it's just the questions on the SAT that are the problem. In a recent interview with CNN, Monty Neill, FairTest deputy director, says the issue is that schools rely too heavily on the SAT in admission decisions. He says that one test is not the best predictor of college success.
"In a technical sense, it's probably not a biased test. The problems become in how it gets used in admissions process," he said. "Most colleges will use the SAT as one piece of evidence, but a lot of them will use it to weed out a whole lot of kids who never then get a chance."
The problem is that the process hurts minority kids, who traditionally score lower on the test, he says.
"So what happens is kids of color -- black kids, Hispanic kids -- are going to get left out. They're going to be predicted to not do well."
However, Laurence Bunin, senior vice president of the SAT program at the College Board, tells CNN the SAT is, in fact, an indicator of college success:
"FairTest is mistaken on this point. The research is very clear and there are many, many many studies that say the SAT is absolutely predictive of how well students wil do in college as well as whether they'll stay in college."
Bunin says the questions are tested with students of different races and "walks of life" and says that score disparities can be attributed to the achievement gap nationwide.
"The test is a fair test that helps mirror what's going on in this country."
"If there's something better out there, we should use it. If there's something affordable that we can create, we should all by all means do it. But at the end of the day, that's a very serious proposition, deciding if a child gets in or not, and the SAT helps."
What's your take on the SAT? Weigh in on the poll below.
Popular in the Community