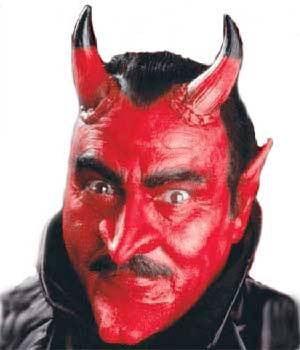 Image courtesy of www.costumeuniverse.com
Hollywood, California -- As a successful celebrity publicist, Michael Levine has dealt with numerous difficult personalities, but he may have just taken on his most challenging client yet: Satan. The Devil has just hired Levine to improve his image! "The Prince of Darkness has been misunderstood," claims Levine. "I find him to be quite a charming and charismatic individual with many positive qualities. And I'm not just saying that because I'm extremely well paid to say nice things about him."
Levine and his staff are currently developing a sophisticated global media campaign with the goal of promoting Beelzebub's admirable strengths. "Satan is powerful, handsome, wealthy, creative, resourceful, and successful," states Levine. "He's basically Donald Trump with better hair."
Inside sources reveal that for his publicity services, Levine is receiving a compensation package which includes $100 million, eternal life, and a no-holds-barred weekend with both Scarlett Johansson and Salma Hayek. "By the time I'm through with Satan's campaign, his new image will make the Pope, in comparison, seem like a sleazy, murdering pimp."
Asked why Satan is so interested in being perceived in such a positive light, Levine speculates,"I think he's getting older, maturing, and feeling that maybe his life can have more substantial meaning beyond simply being the source of all evil." But a Catholic Church official responds, "Hogwash! Satan's up to something; I wouldn't trust him as far as I could throw him!"
Popular in the Community