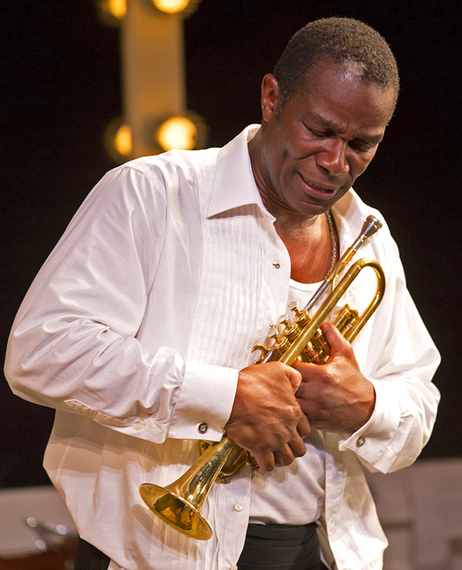 John Douglas Thompson as Louis Armstrong: His heart belonged to music.

Photos by T. Charles Erickson
Anyone old enough to recall Louis Armstrong's many gigs on the Ed Sullivan Show or curious enough to view his videos on YouTube knows the great trumpeter/singer as a jovial guy with a radiant smile and an ingratiating way with words. He was a master showman, aiming to entertain and almost invariably succeeding.
But anyone lucky enough to see Satchmo at the Waldorf, a one-actor, three-character show in ACT's Geary Theater, will discover a very different Louis Armstrong: a man who loved music above all else and suffered through poverty, incarceration, racism, gangland threats and ultimately, through declining health, to blow his horn in ways that few if any have equalled.
The production features classical actor John Douglas Thompson in a magnificent performance, seamlessly and instantly transforming between the personalities of Armstrong, his sleazy but intensely loyal manager Joe Glaser, and trumpet standout Miles Davis, who denounced Armstrong for refusing to join in public struggles for civil rights.
Written by Terry Teachout, the Wall Street Journal's theater critic, the play draws heavily on hundreds of personal tapes that Armstrong made over decades, using a reel-to-reel recorder to compile a diary that captured not only his own thoughts but also conversations with colleagues, friends, his wife and others. The tapes reflect his sense of his own place in musical history, and preserve little-known aspects of his life and music for posterity. They are archived at Queens College in New York.
The tapes and other sources that Teachout drew upon encompass a career that began in a bleak New Orleans ghetto and ended in the posh Waldorf Astoria Hotel in New York. The drama reveals a complex and determined man as well as a giant of jazz.
Teachout's narrative -- shaped in collaboration with Thompson and director Gordon Edelstein -- opens in the musician's dressing room at the Waldorf in March of 1971, a few months before his death. Returning from what would be his last performance, Armstrong staggers to an oxygen bottle, takes a few deep breaths while resting on a sofa, then begins his reminiscence.
The story skips back and forth from the early 20th century through to the '70s, recounted in gravelly tones that channel Armstrong to perfection. Chronologically, its pivotal events include childhood years working for a Jewish couple who fronted the cost of his first cornet; a stint in a Louisiana reform school where he honed his musical chops; the move north to join Joe Oliver's band in Chicago; gigs at clubs run by gangsters Al Capone in Chicago and Dutch Schultz in New York, and crucially his encounter with Glaser and their subsequent bond.
A medical school dropout, Glaser managed boxers, fixed fights and ran nightclubs before Armstrong appealed to him to become his manager in 1935. Their bond endured for more than 30 years.
He was tough, shrewd and loyal, and shaped the path that made millionaires of both men. Recognizing the marketability of Armstrong's voice and public personality, he convinced the trumpet player to sell himself as an entertainer first, a musician second. Glaser's mantra seemed to be, "Make people smile."
That image worked phenomenally with white audiences, though it lost much of the jazz-loving following and black fans that Armstrong had cultivated in small clubs. The gulf between races surfaces throughout the play as a constant irritant.
Thompson bristles with anger and irony as he describes tours where Armstrong and band members could not stay in the hotels where they played, or took their meals in cars or kitchens. But he voices no regrets at playing for crowds that paid top dollar, even if the throng seen from the stage looked "like a carton of eggs." Gazing out at first-nighters in the Geary, the actor draws a laugh by noting how little things have changed.

Thompson as Armstrong: He also plays manager Joe Glaser and antagonist Miles Davis.
The performance is equally convincing when Thompson metamorphoses into Glaser, a white Jew with mob connections who declares, "I have a terrible temper, and I always keep my word." The assertion was essentially truthful, until an episode that leaves Armstrong in agony and disbelief after Glaser's death in 1969.
The fluid transformation between characters draws substantial help from Lee Savage's set and Kevin Adams' lighting, which employ two-way mirrors to convert the dressing room into a high-rise urban office in seconds.
For Thompson's intervals as Miles Davis, the stage lights go dark and a narrow spot focuses on him, intensifying Davis' accusations that Armstrong was a cowardly Uncle Tom in an era when many black performers took prominent roles in the campaign for civil rights.
The charge pained Armstrong, but Teachout's script mitigates its impact by allowing Armstrong to recall his public denunciation of President Eisenhower during the battle over integration of Little Rock Central High School. The retort falls slightly flat, however, since that event took place in 1957, long before such words as "black power" were heard.
Regardless of such tiny quibbles, Satchmo at the Waldorf scores as a compelling and compassionate drama, and Thompson delivers one of the strongest, most humane and widest-ranging performances that audiences will be privileged to see.
Satchmo at the Waldorf runs through Feb. 7 in ACT's Geary Theater, 415 Geary St., San Francisco. Tickets are $20-$105, from 415-749-2228 or act-sf.org
Calling all HuffPost superfans!
Sign up for membership to become a founding member and help shape HuffPost's next chapter