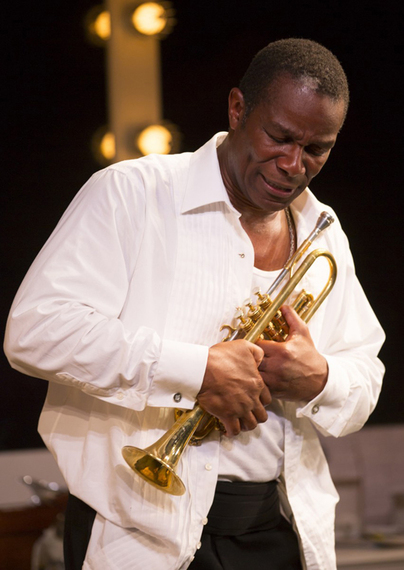 ACT's one-man play, "Satchmo at the Waldorf," is set, post-performance, in Louis Armstrong spacious dressing room at the ritzy Waldorf Astoria hotel. Why does it matter that the name of the hotel is in the title of the play? Was this a particularly memorable concert by Satchmo? Who knows? Curiously, we don't learn much about Armstrong's music in this stage bio.
What is significant is that the jazz legend -- a son of a prostitute, a grandson of a slave, is playing -- and sleeping and dining at The Waldorf hotel. "I'm not just playing here, I'm staying here!" Armstrong grins.
Like many oft-told accounts of world-class black entertainers treated as second class citizens, Armstrong played in all sorts of swanky segregated venues where he had to enter through the back door and eat at the kitchen door.
Written by Wall Street Journal drama critic Terry Teachout, Satchmo at the Waldorf conveys this trajectory -- from New Orleans' red light district to Manhattan's Park Avenue. Its 1971, four months before his death and Louis Armstrong shuffles around his dressing room reminiscing and reflecting -- as per convention -- about his show biz career. It's a familiar song, played very well, but, quite literally, without much music.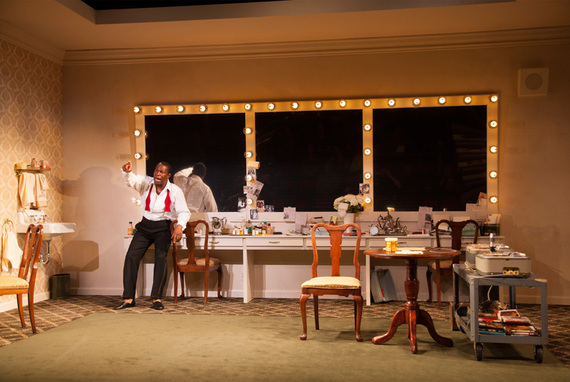 With the signature "saw mill" voice and an old man's hunch, John Douglas Thomson's Armstrong pulls down his pants and pulls up his beige old-man socks and tells us about the early days: his run ins with Al Capone, his wives and, to a much smaller extent, his relationship to his music. Satchmo rhapsodizes about his connection to his trumpet, to his love of the music, the melodies, the arrangements. He polishes his trumpet, he fondles his trumpet, but he never plays his trumpet. Thomson is a deft actor but, I imagine, he's not a singer or a musician. We get nary a scat.
Teachout focuses on Armstrong's conflicted relationship with his manager, Joe Glaser. Glaser was like a father to him, a father who screwed him out of money at the end. Louis' monologue takes turns with Glaser's, and the two get a chance to tell their sides of the story. Thomson will lose the gravely black voice, unslouch his posture, turn on the Jewish accent and embody Joe Glaser. The transformation is nifty and effective, if a tad parlor-tricky.
A break in the back and forth comes when Thomson becomes a third persona, Miles Davis. Under Gordon Edelstein's prosaic direction, Thomson-as-Davis is dimly lit in a menacing deep red with background smooth jazz. His cool jive contrasts with Louis' big, friendly persona. Its all a bit cartoonish Greenwich Village hep cat, but Miles introduces political substance; the younger generation of black jazz artists are making music by blacks, for blacks. Miles sees Louis Armstrong as an Uncle Tom. Armstrong acknowledges that his audience is uniformly white. He says its like playing to "a cartoon of eggs." But he defends his right to make people smile.
While the Miles/Louis (devil/angel) back and forth introduces a gripping and authentic tension, the play focuses on the less compelling relationship between Louis and his manager. As Louis, Thomson is indubitably likeable. And jazz fans will of course enjoy the tidbits and the yarns, the unexpected popularity of Hello Dolly, a song that toppled The Beatles on the charts but that Louis didn't like and could hardly remember. Requisite poignancy is delivered through Louis' sadness that Joe, a father figure, betrayed him and saw him, not as a friend but as a cash cow. Requisite humor is delivered by an unexpected barrage of profanity coming out of this sweet, smiley old man. Bringing in the noise and the funk would have surely helped. After all, acting about music is like dancing about architecture.
at A.C.T.'s Geary Theater (415 Geary St., San Francisco. Tickets (ranging from $20-$105) are available at the A.C.T. Box Office at 415.749.2228 or online at www.act-sf.org.

January 13-February 7, 2016
Calling all HuffPost superfans!
Sign up for membership to become a founding member and help shape HuffPost's next chapter