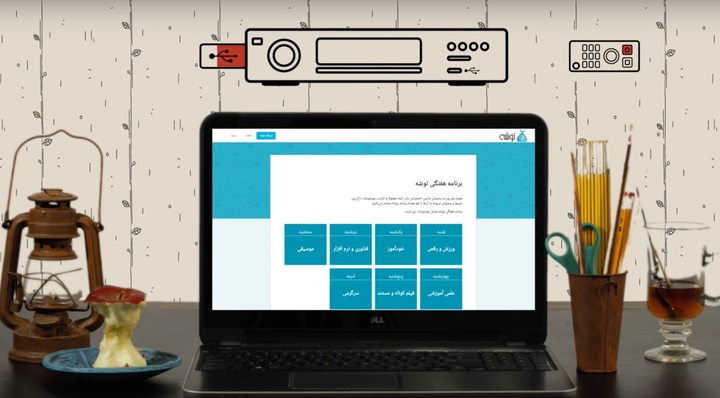 With Facebook, Twitter, Instagram, and Telegram banned or blocked in Iran, digital distribution of information has been severely limited in the wake of recent anti-government protests, but a one-way satellite transmission service called Toosheh, continues distributing content and the demand is said to be rising.
Mehdi Yahyanejad is founder of Balatarin.com, a user-generated news website in Persian that played a crucial role in the pro-democracy movement in Iran in 2009. He is also the director of NetFreedom Pioneers, a nonprofit organization that provides access to digital information via satellite to regions of the world with limited internet access. He has a PhD in Physics from MIT and is a researcher on anti-censorship tools at University of Southern California. Yahyanejad shares more about the inner workings of Toosheh.
1) How does Toosheh work?
We've labeled Toosheh technology as "satellite filecasting." Content comprising of text and audio files, images, and videos is embedded in a video stream and distributed via a broadcasted satellite tv channel. Audiences record this video stream from their common satellite tv receiver to a USB drive, transfer it to their smartphone or computer, and use Toosheh software to decode this video stream back into text, audio, or video files to be made available for viewing. This is free and doesn't require any equipment that is not already owned by the user.
2) Have you seen an increase in usage in the past week? How is it currently being used in Iran.
Toosheh is used by Iranian audiences for news, entertainment and most importantly for uncensored information and education. One user lost his job and as a result his family was falling into financial ruin. However, he used Toosheh content and tutorials to learn about photography and now makes an income with his photography skills. Another user said the LGBT community content Toosheh makes available helped them in their struggles as a transgender individual living in Iran. From these and other testimonials we find that audiences use Toosheh for a broad range of purposes.
Toosheh currently has more than 150,000 users, and its usage has tripled this past week. Users are seeking news and videos about the protests. Additionally, our Toosheh website traffic has doubled. This means that those who do have internet are checking out Toosheh and what it has to offer.
3) What kind of content are you sharing?
We share and deliver 3 GBs of content everyday that includes articles, podcasts, and videos centered on current events, education, human rights, civil society, and public health. This ranges from translated TED talks, English learning tutorials, articles from BBC Persian, information from community resource centers, health documentaries, women and LGBT rights. We aggregate much of this content from over 100 publishers that include news agencies, educational institutes, civil society organizations, and human rights agencies.
4) Tell us about NetFreedom Pioneers and your work around internet freedom.
NetFreedom Pioneers (NFP) is a tech nonprofit organization that uses innovative, digital technology to promote education, learning, and empowerment. Our work focusing on internet freedom mostly revolves around our Toosheh program, which distributes digital offline content to those who don't have uncensored or high-quality internet.
Related
Popular in the Community