Seeing is believing. For the past ten months, human rights organizations, political sources, eyewitness reports, and secret communiqués from remnants of Laurent Nkunda loyalists have reported that joint military operations between Rwanda and the Democratic Republic of Congo have been a catastrophic failure. Now DigitalGlobe and GeoEye satellite photos provided by The American Association of the Advancement of Science (AAAS) and released by Human Rights Watch (HRW) are irrefutable proof of atrocities perpetrated by the regular Congolese Army (FARDC) and Rwandan Rebels (FDLR) against innocent villagers. Satellite imagery of the Busurungi area in North Kivu clearly shows burned villages.
The statistics are overwhelming and hopefully these startling images from the heavens will galvanize the world to act. For every rebel combatant disarmed during the operation, one civilian has been killed, seven women and girls have been raped, six houses burned and destroyed, and 900 people have been forced to flee their homes.
Up to six million souls have lost their lives in the Democratic Republic of Congo since 1998. 800,000 to one million people have been displaced from their homes in eastern Congo since this January, when The United Nations Mission in Congo (MONUC) ostensibly partnered with Congolese and Rwandan military forces to drive out Ugandan, rebel Rwandan forces, and other militias from the Kivu Provinces.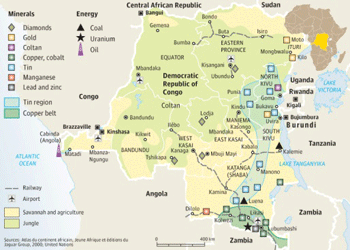 "To allow these troops to be led by commanders like Bosco Ntaganda, with a known track record of horrific abuse, creates a climate in which atrocities flourish," Ken Roth of Human Rights Watch said in July to deaf ears. MONUC has backed the Congolese army in the Kimia II operation since March, after Rwanda abandoned its commitment to Operation "Umoja Wetu," and after the ouster of rebel leader Laurent Nkunda of the CNDP.
Rwanda engaged in a secret agreement with the Congolese president Joseph Kabila to depose CNDP (National Congress for the Defense of the People) rebel General Laurent Nkunda and install Ntaganda in January. Why? For approximately four years Nkunda had erected a wall of protection for ethnic minorities and had also made significant military gains in territory and weapon seizures from the FARDC. Kabila was rapidly losing territory and support and turned to Rwanda to neutralize Nkunda. Rwanda was happy to oblige, since the rebel Tutsi leader had become too popular and too independent.
Now, HRW reports that FDLR militia are deliberately targeting civilians and burning their villages as punishment for the Congolese government's decision to launch military operations. Congolese government soldiers have also persecuted civilians through killings and widespread rape, looting, forced labor, and arbitrary arrests.
Sexual violence has grown even more brutal in areas affected by the Kimia II operation. "We're seeing more cases of mutilation, extreme violence, and torture in sexual violence cases against women and girls, and many more of the victims are children," said Immaculée Birhaheka of Promotion et Appui aux Initiatives Féminines (PAIF).

Some previously displaced people in the Kivus have returned home to areas that have become relatively secure. But the ongoing military operations have caused new displacement of civilians in Masisi, Rutshuru, Lubero, Walikale, Kabare, Kalehe, Walungu, Shabunda, and Uvira territories of North and South Kivu, as well as in southern Maniema and northern Katanga provinces. Many civilians who have recently left displacement camps around Goma and elsewhere have moved on to secondary displacement sites since they fear returning home.
The United Nations provided backing for the failed and incompetent Kimia II operation, including tactical expertise, transport and aviation support, as well as food rations, fuel, and medical support to Congolese army soldiers, at an estimated cost of well over $6 million.
"With an investment this big, the UN has clout and should not remain silent when abuses occur," said Anneke Van Woudenberg, senior researcher at Human Rights Watch. "The UN needs to make it clear that if the Congolese government wants its continued military support, the army should remove abusive soldiers from command positions and its soldiers should stop attacking civilians."
Reprisal attacks against unarmed populations by the FDLR militia have made the task of protecting civilians increasingly complicated for the Congolese government and UN peacekeepers. Yet the 3,000 additional UN peacekeepers authorized by the UN Security Council in November 2008 are only just arriving in eastern Congo, and the helicopters and intelligence support requested by UN officials have still not materialized, HRW reports.
The numbers do not add up if you are a civilian in DRC.
1,071 FDLR combatants were repatriated and 1,143 civilians were killed, including at least 10 local chiefs. An estimated 250-300 FDLR were combatants killed and 7,000 women and girls raped, the majority by the FDLR and FARDC soldiers deployed on military operations. 1,632 FDLR dependents have returned to Rwanda. Nearly 900,000 civilians were forced to flee their homes since January 2009 in North and South Kivu.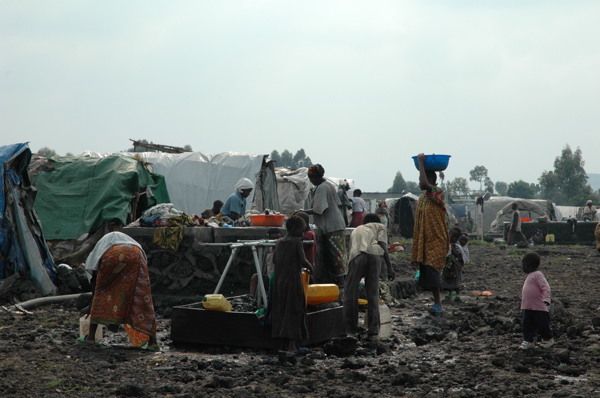 Image: IDP Camp (Georgianne Nienaber)
10,949 Rwandan refugees have returned to Rwanda, and 6,037 homes were burned (by both the FDLR and FARDC). There is new recruitment of children by the FDLR; armed groups are still not integrated, are maintaining parallel command structures, or are threatening to abandon the integration process.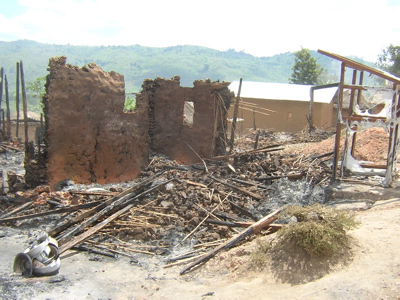 We have been writing since January about the corruption, embezzlement, rapes, murders, burnings, misappropriation of soldiers' salaries and other uncountable and unimaginable atrocities. The Huffington Post has been steadfast in its support for innocent Congolese citizens, but more is needed. What are required are outrage and an international force of will to end this madness.
Until then we are all trapped in the belly of Satan, whether we want to open our eyes or not. So far, the United States has been dumping money and not American blood into this cesspool. Will this change when SOS Hillary Clinton's AFRICOM puts boots on the ground?
Popular in the Community