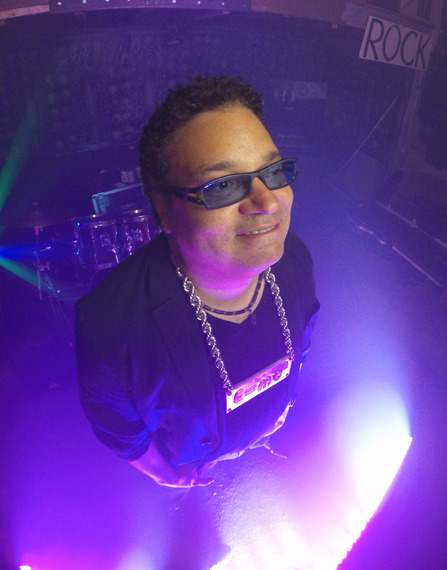 Imitating Stephen Hawking is a bold move, but doing it with wit and satire is an endearing statement. Hailing from Gloucester, Massachusetts is musician Ken Lawrence whose better known moniker is M.C. Hawking. In the early 2000s, Lawrence created this alter-ego by producing tracks using the synthesized text-to-speech program made famous by Hawking. Lawrence's music is not a parody of the great physicist but rather an act of reverence for his contributions to the world of science.
Lawrence quickly became an internet sensation, especially amongst the "nerdcore" community. Tracks such as "The Hawkman Cometh" and "Entropy" went viral and received international interest from both the music and science community. This lead to a record deal with Brash Music with whom he recorded and released his debut album, M.C. Hawking: A Brief History of Rhyme. Lawrence will be releasing the video for his newest track, "Fear of a Black Hole" with fellow nerdcore rapper, M.C. Lars, next week which is off of his forthcoming fall LP, The Hawkman Returneth.
Though his lyrics are insightful, witty, and humorous, his satirical style is most appreciated by a very niche community and so may not be understood by the everyday hip hop listener. That being said, M.C. Lawrence is not a manufactured superstar who is mass producing music and beats to sell out stadiums and records but instead is blazing his own path, a path whose foundation is science and those who tread upon it are its devotees.
While Lawrence's career was successfully taking off, the pinnacle occurred when he was invited to the 2016 STARMUS Festival in the Canary Islands of Spain to perform live for the actual Stephen Hawking. This year's festival, which will take place from June 27th to July 2nd, is being held to commemorate the many achievements of Stephen Hawking. The STARMUS Festival was founded in 2011 by world-renowned astrophysicist Garik Israelian as a place to celebrate science, culture and music with presentations from astronauts, cosmonauts, Nobel Prize winners and various other prominent figures. "It is an honor to perform not only for Professor Hawking, but to other legendary scientists, musicians, and world dignitaries," says Lawrence. "Professor Hawking is a pillar within the scientific community and it still feels surreal that I will be performing for him."
M.C. Hawking will be performing as part of a space-themed concert that will include other musicians such as Academy Award winning composer Hans Zimmer, Grammy Award winning soprano Sarah Brightman, Grammy Award winning musician and producer Brian Eno, as well as many more talented musicians who will be sharing their cosmic compositions. Retired astronaut Chris Hadfield who was the first person to record a song in space, will be performing his famous version of "Space Oddity" which was even given the David Bowie stamp of approval.
In addition to music, there will be a series of lectures by notable figures such as scientist/author/television personality, Neil deGrasse Tyson and of course from the man of the hour, Stephen Hawking himself. Attendees were even given an opportunity to submit questions in advance to be presented to and answered by Hawking during the lecture. The STARMUS Festival is not only for the scientific community but for the world, as it celebrates the achievements born of human curiosity. The people who followed their wonder and curiosity eventually reached great milestones in science and produced profound works of literature, music, art, and media. In the words of M.C. Hawking: "Maybe there is still hope for the young, if they reject the dung being slung from the tongues, of the ignorant fools who call themselves preachers, and listen instead to their science teachers."
Popular in the Community