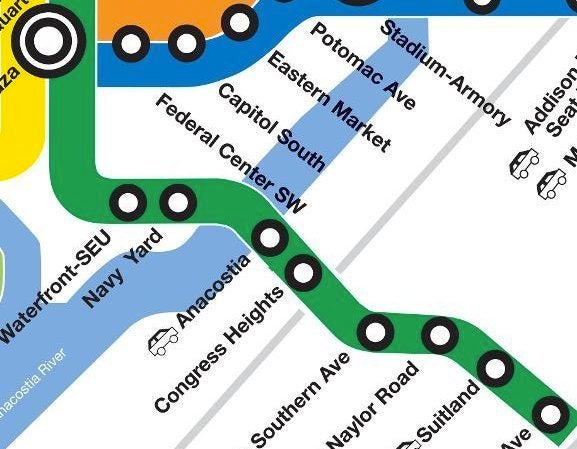 As far as D.C. weekend destinations go, Anacostia usually doesn't rank very high on anyone's list. That, however, may soon be changing.
Last Saturday, I ventured across the river to Lumin8 Anacostia, an event funded by ArtPlace and organized by D.C.'s Office of Planning, in conjunction with the local not-for-profit ARCH Development Corporation. Lumen8 is one of four projects that are shining a light -- pun intended -- on D.C.'s less-traveled neighborhoods.

Like many urban communities in the United States, Anacostia underwent a turbulent demographic upheaval during the 1950s and '60s that traded a nearly entirely white population for one that was almost exclusively African-American -- within the span of a few decades.
The so-called white flight left in its wake a torn economic and social fabric that has become a visible staple of many American inner cities. Local governments turned a blind eye to neighborhoods that were no longer lucrative sources of tax revenue, leaving a trail of dilapidated infrastructure and underfunded public services that only furthered a vicious cycle of disrepair and destitution.
During the 1990s, Anacostia and its surrounding neighborhoods gained notoriety for harboring the highest rates of violent crime and drug abuse in the city. Tourists and first-time visitors are still admonished by locals with a familiar warning: never travel to Southeast.
Gentrification -- perhaps the dirtiest word in the urban development lexicon -- is likely to remain a heated topic of conversation in the coming years. Many interpret the transformation of certain neighborhoods as a thinly veiled reversal of white flight. But the result, as seen in the cultural and ethnic diversity of revitalized areas like U Street and Columbia Heights, seems to indicate that the fear may be somewhat unjustified when the transition is handled with care.
Many signs seem to suggest Anacostia is next in line for resurrection. Homicide rates have steadily fallen for the past two decades. Despite the lingering effects of the recession, investment in residential and commercial property is surging. And projects like Lumin8 Anacostia are a sort of immersion therapy for the countless DMV residents -- myself included -- who would not otherwise venture eastward.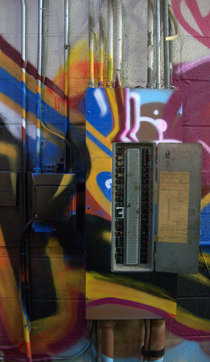 On Saturday, local galleries and restaurants along Martin Luther King Avenue opened their doors to passers-by. A colossal warehouse adjacent to I-295 hosted a smorgasbord of popup art installations and live performances, while local vendors such as Busboys and Poets sold food and other merchandise. Artists were brought in by the Alliance Francaise of DC and The Pink Line Project, two organizations well known for their endeavors in D.C.'s other quadrants.
My takeaway is that Anacostia is on the verge of an inevitable transformation. The vestiges of economic blight -- unkempt liquor stores, barred windows and condemned buildings -- are slowly vanishing as startup businesses, workspaces, art galleries and new restaurants take their place. As I strolled down MLK Avenue, I couldn't help but wonder if, in the not-too-distant future, we'll treat Anacostia as just another normal corner of our unique and rapidly evolving capital city.
REAL LIFE. REAL NEWS. REAL VOICES.
Help us tell more of the stories that matter from voices that too often remain unheard.