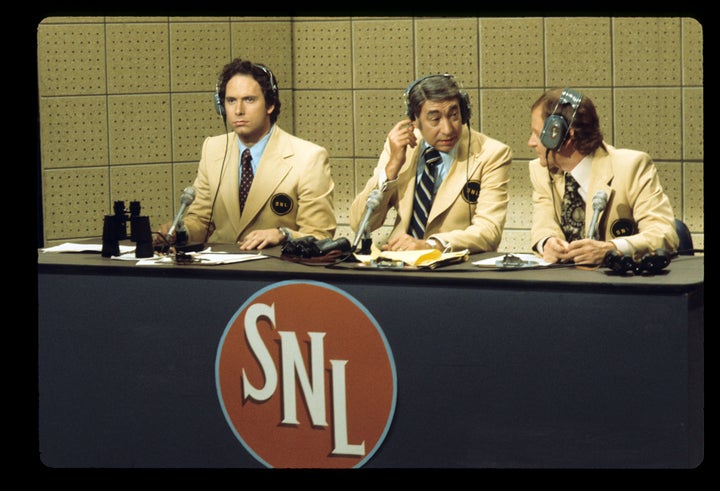 "Saturday Night Live" began its 44th season this weekend with a newly jostled cast, Adam Driver hosting and Kanye West performing. By about any metric — accolades, ratings, longevity — "SNL" is one of network television's greatest success stories. Its rollicking history has been recounted in numerous memoirs, oral histories and documentaries.
Little remembered in all this, and with some justification, is that "SNL" had a sibling show that also premiered in the autumn of 1975. This would be ABC's "Saturday Night Live with Howard Cosell," a variety program built around the well-known if not well-liked sportscaster. It was big-budget network cornball through and through, ambitious but hopelessly turgid, and it died after 18 episodes, the scrappier NBC show quickly absorbing its name and some of its talent — Bill Murray, for one — like a vanishing twin.
Especially in its early days, "NBC's Saturday Night," as it was then known, shaped itself in opposition to everything else on TV, defining itself by what it was not. And one of those things it defiantly was not was "Saturday Night Live with Howard Cosell."
Cosell was ABC Sports' unconventional and at times controversial on-air columnist who pledged to "tell it like it is" despite sports TV's traditionally cozy relationship with the events and athletes it covered. Stooped over, nasally voiced, pretentiously polysyllabic, flagrantly toupeed, the Jewish commentator struck a contrast with his square-jawed and mannequin-like gentile peers. "I am a journalist," Cosell insisted. "I am no house man, no shill and no pretty boy. I stand for frank, creative journalism in a business in which too many others are the essence of blandness." Moreover, Cosell claimed that responsible sportscasters had a duty to look beyond box scores. "In sports today a truly good journalist must know the black movement, the labor movement, the law," he said. "We have an obligation to do more." Cosell famously defended Muhammad Ali, Curt Flood, and John Carlos and Tommie Smith when most of the sporting establishment was quick to excoriate them for rocking the boat. His motives weren't entirely selfless: The thin-skinned and unceasing self-promoter also basked in the attention these polarizing athlete-activists garnered.
ABC Sports mastermind Roone Arledge thought Cosell's rabble-rousing style would complement his effort to "add show business to sports" — a then-distinctive approach he used to build "Wide World of Sports," "Monday Night Football" and the network's Olympics coverage. "This was still the time of the golden-throated announcer and the ex-jock," Arledge told Ron Powers, author of Supertube: The Rise of Television Sports. "Nobody ever criticized anything, nobody ever asked an athlete a difficult question. Howard stood all that on its head." In particular, Arledge thought Cosell would work well on "Monday Night Football," a primetime football broadcast that needed to attract a broader viewership than weekend sports telecasts to satisfy advertisers. Cosell joined the folksy former Dallas Cowboys quarterback Don Meredith and ABC play-by-play announcer Keith Jackson (who was replaced by NFL Hall of Famer Frank Gifford after the first season) in the "Monday Night" booth. "Howard's role is not unlike that of a newspaper sports columnist," Arledge explained. "He provides the kind of comments you normally get on the sports pages the day after the game. The big difference is that he is right there, live on camera."
"Monday Night" was an almost immediate hit. Cosell boasted that the program had become "bigger than the game" — a conceit The Sporting News substantiated by reporting that "fewer persons turned off one-sided Monday night telecasts than similar games on Sunday" and crediting this retention to the announcing team's unique ability to entertain as well as cover the game. Anecdotes emerged suggesting that fewer people went to the movies on Mondays, that bowling leagues scheduled around the day, and that water pressure dropped in major cities during commercial breaks. Bars and restaurants began installing television sets to win back the clientele who were staying home to watch football on Mondays. A tavern in Denver sweetened the deal by holding a raffle that allowed the winner to toss a brick through a TV set when Cosell appeared on screen.
The attention-hungry Cosell was suddenly one of TV's hottest and most ubiquitous stars. He endorsed Fruit of the Loom underwear and appeared on "The Dean Martin Show," "The Flip Wilson Show," "Laugh-In," "Sonny & Cher," various Bob Hope specials and seemingly any other program that extended an invitation. Mad magazine parodied Cosell, Woody Allen gave him cameos in "Bananas" and "Sleeper," and ABC had him guest-star in "Nanny and the Professor," "The Partridge Family" and "The Odd Couple" to force synergies across the network's properties.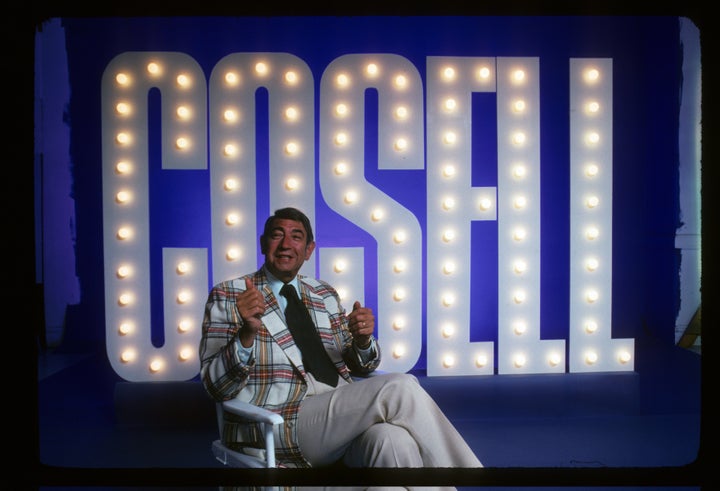 Cosell's rising celebrity inspired ABC to create an Arledge-produced Saturday evening variety show that would extend the sportscaster's act in the "Monday Night" booth. "He's familiar to most people and he has a great sense of showmanship," ABC TV president Fred Pierce explained. "Besides, he's a personality who has been developed by ABC and is associated with us." Cosell regularly appeared on talk shows and had even guest-hosted for Dick Cavett, Mike Douglas, David Frost and Merv Griffin.
Launched in September 1975, "Saturday Night Live with Howard Cosell" would indulge the star's broadening interests and, just as important, discourage him from seeking such opportunities elsewhere, as Don Meredith did after leaving "Monday Night" in 1973 to pursue acting (he returned in 1977). ABC sacrificed little by scheduling the show on Saturdays at 8 p.m. "We were having trouble on Saturday night anyway so why not give it a shot," Pierce said. What's more, CBS had moved "All in the Family" to Monday evenings the previous year to go head-to-head with "Monday Night." ABC surmised that it might exploit the scheduling void left by "All in the Family." "With weaker competition there, and with our ability to promote Cosell and his guests through all the sports programming we carry on Saturday afternoons," Pierce said, "we felt that we might be able to build a variety series into the kinds of unpredictable weekly events that the football games are."
The restless Cosell — who had seriously considered running for U.S. Senate in 1974 — thought "Saturday Night Live" would allow him to explore new and presumably more important topics. "I'm ready for the new challenge," he said. "You can't live your life in the dugout." The variety show's grand ambitions reflected Cosell's inflamed ego. It was staged in New York's Ed Sullivan Theater, a landmark of TV entertainment. Cosell even asked John Lennon, who had appeared as a guest in the "Monday Night" booth the previous season, to reunite the Beatles on his program and recreate their historic 1964 "Ed Sullivan Show" appearance. Lennon politely declined.
Arledge staffed "Saturday Night Live" with industry veterans like director Don Mischer and writers Walter Kempley and David Axelrod, who had respectively written for Johnny Carson and Dean Martin. Kempley and Axelrod were joined by New York Times sportswriter and Cosell apologist Robert Lipsyte, who sarcastically described himself as "the number three writer on a two-man team." Most notably, the program featured a group of young comics billed as the Prime Time Players that included Christopher Guest, Bill Murray and Brian Doyle-Murray.
A promotion teasing the premiere of "Saturday Night Live" combined Cosell's boastfulness and willingness to self-parody. It opens with a collection of his celebrity chums — Woody Allen, Mike Wallace and Barbara Walters — throwing lighthearted barbs in his direction. "The people you have just heard are throwing spitballs at a battleship," Cosell says. "In my time, I have sparred with Rickles, parried with Carson, quipped with Hope and flipped with Wilson. You talk about Woody Allen: I made a star of him in 'Bananas.'" (The promo immediately cuts to Allen shaking his head in exasperated disagreement.) "I have invaded prime time and won with 'Monday Night Football,'" Cosell continued. "We're going to translate to the world of entertainment the very same techniques that we have brought to 'Wide World of Sports,' where ABC is an unchallenged number one." The spot emphasizes Cosell's provocative image and previews the types of A-list celebrities his show would feature.
Despite the ad's playfulness, Cosell vowed that the program would push the stale variety show format in new directions through his dogged reporting and immense network of connections. "I'm after stars and personalities who have steadfastly refused to go on television. I'll invade every avenue of the world," he announced. "My interviews will be direct and succinct. Television desperately needs the bite it used to have."
"Saturday Night Live" staged a star-studded debut that opened with a performance by the cast of the Broadway musical "The Wiz." It continued with appearances by Paul Anka, Jimmy Connors, John Denver, Ted Kennedy and Frank Sinatra, who was repaying Cosell for hosting a live televised concert that Arledge produced the previous year. "Saturday Night Live" also borrowed from sports coverage by including live remotes of Siegfried & Roy's Las Vegas magic act and a performance from London by the Bay City Rollers, a Scottish group that Cosell foolishly dubbed "the next Beatles." Several weeks later, the show featured a live interview with Ali and Joe Frazier prior to their "Thrilla in Manila" bout in the Philippines. Such live performances and interviews were rare in the variety show genre. Arledge used the ABC Sports recipe to distinguish Cosell's program.
Despite these efforts, "Saturday Night Live with Howard Cosell" was a flop that attracted almost universal denunciation and was mercifully axed after 18 weeks. TV Guide declared it "dead on arrival," and media critic Sally Bedell called it "the most ill-conceived variety show of the decade." Arledge saved face and guarded Cosell's brittle ego by blaming the time slot. "You could have Elizabeth Taylor doing a striptease and it wouldn't get a 15 share," he said.
Others claimed the slapdash show would have failed at any time. Cosell avoided the cutting commentary and extemporization that made him so notable in sports. "He was doing a bad Ed Sullivan," recalls Lipsyte. Cosell fawned over celebrity guests, avoided thorny questions and relied on cue cards — practices that made his performance as wooden as the sportscasters he reveled in needling. "The Horrible Howard monster is now being marketed as the Cozy Cosell doll," wrote The New York Times of the transformation. "Howard was unwilling to really be Howard," Arledge admitted years after the show was put to rest. "He tried to be a nice guy all the time. The thing that made him Howard on 'Monday Night Football' was his fearless, outspoken, brash, opinionated approach to things. And on this program he was being just the opposite."
Arledge also made some rare creative missteps. "Roone was not the Roone I had seen in sports — quiet, authoritative, sure of what his next move would be," remembered ABC producer Jim Feeney. "He seemed to be a guy who lost his confidence." Arledge regularly scratched comic sketches that might have given the languishing program a jolt. "He wouldn't allow Bill Murray, Brian Doyle-Murray and Christopher Guest to do what they could do," says Lipsyte. "He didn't like the scripts that were being written. Everyone was afraid to do their job because it would be canceled Saturday morning." Lipsyte also speculates that Arledge was never particularly invested in the success of "Saturday Night Live" and simply wanted to get the experience out of Cosell's system so the fidgety star broadcaster could return his full attention to sports.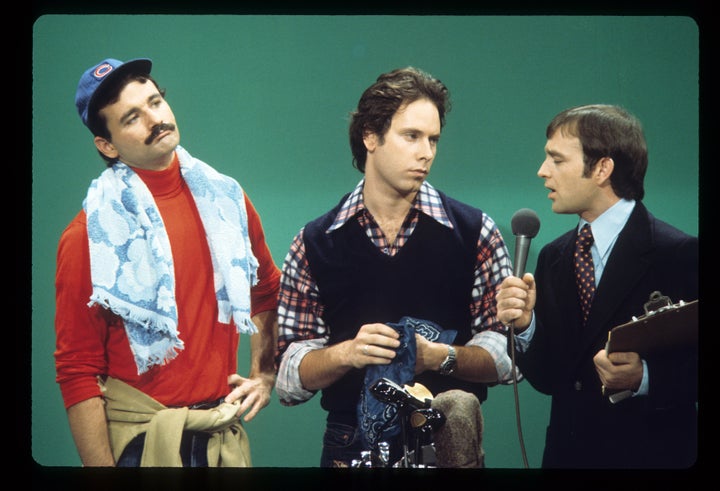 Mischer described "Saturday Night Live" as "one of the great disasters in the history of television." But the canceled program created an opportunity for a new sketch comedy show that debuted in October 1975, a few weeks into Cosell's short run. This one was titled "NBC's Saturday Night," and it was developed by Arledge protégé Dick Ebersol. The comparatively hip NBC production mocked Cosell's show by naming its featured comics the Not Ready for Prime Time Players. In fact, each member of Cosell's talented but creatively hamstrung troupe eventually joined Ebersol's program, which purchased the "Saturday Night Live" name in 1976 and adopted it the following year. "Saturday Night Live with Howard Cosell" demonstrates ABC Sports' perhaps hubristic belief that its practices and personalities could find an audience beyond sports coverage. It is now a piece of trivia whose principal legacy is that it died an unloved stepsibling to one of television's greatest successes.
Related
Popular in the Community