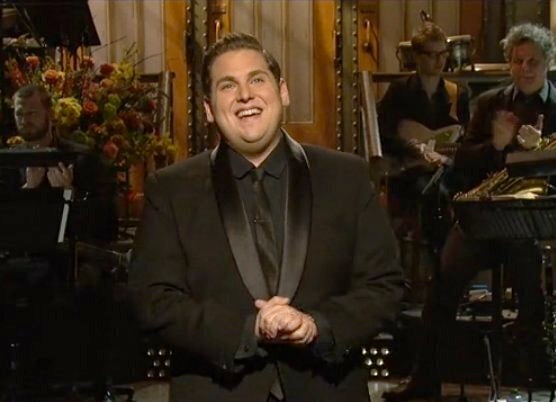 Have you always wondered how Saturday Night Live pulls off multiple sketches and a two-song performance by a musical guest in 90 minutes in real time? Tickets are hard to come by, so when a friend won a charity bid for a pair (a somewhat insane $2,000), I was excited to go and curious how the show unfolds when you're in the audience. The host was Moneyball/Superbad actor Jonah Hill and musical guest The Shins, but I didn't care who it was.
Ticket holders were asked to arrive at 30 Rockefeller Plaza, home of NBC Studios, by 10:30 p.m., an hour before showtime. As people were directed to the appropriate lineup according to how they got tickets, Tom Hanks and wife Rita Wilson were whisked by, a strong clue the Oscar-winning actor just might be a "surprise guest."
Having paid so much for our tickets, it seemed we were given some special treatment, as a friendly young man took us up to our seats, ahead of many people, to studio 8H. The attached yellow and blue chairs were like those in a hockey arena. Strips of masking tape were over each with the destined occupant's name written on. There are only a few rows and they overlook a long stage set -- on the same level as the stage lights and monitors. The seats only go half way around, in a J shape.
From our vantage point, there was the guest band's stage opposite, the house band stage next to that, and another adjacent stage for a sketch. One step down, there was room for more sketches and chairs to accommodate a small audience close to the action. One security man eyed everyone on the upper level to ensure no photographs were taken of the set. He seemed to catch everyone that sneaks one in (there are no consequences).
Our usher had mentioned the SNL cast has a full dress rehearsal from 8 p.m. to 10 p.m. and then chop out sketches. Various stage props filled up the set, including a '70s-style orange love seat, end tables and an American flag, but just as suddenly, they were all removed. At almost 11 p.m. and the SNL band took its place on its small stage. Someone came out and swept the area, and the band started playing. Sets were carted out -- they looked like room dividers that interlock -- including a night sky with moon and another with a cartoon bunny. A desk was also brought out.
Cast member Jason Sudeikis came out to say hello to the crowd, lay down the ground rules, and crack some jokes in the process. No phones ("We don't need Lady Gaga ringtones. They distract a lot of our gay crew"). No cameras ("We've got our own cameras -- HD"). Cast member Kenan Thompson, all dapper in a suit, then took the stage with three female backing vocalists, to bust out a version of The Doobie Brothers' "Long Train Runnin'."
Soon it was quiet, except for the crew bustling around moving all the sets and props again. The lights dimmed and we heard "30 seconds -- 20 seconds -- 15 seconds." The audience erupted in applause for the first skit, a Rush Limbaugh parody by Taran Killam, who capped it with SNL's famous line "Live from New York, it's Saturday Night!" As the intro music and voiceover kicked in, a huge number of crew members descended on the floor and dismantled the set.
Host Jonah Hill came out from behind the house band's stage and addressed the camera, reading, surprisingly, off hand-held cue cards, not a teleprompter. This, it emerges later, is likely due to the fact that skits can be chopped at a moment's notice and the lines would be too difficult to find if someone had to scroll through an abandoned skit. During his opening monologue and pre-taped video, in which he is seen as a pompous A-hole since being nominated for an Oscar, is when Hanks emerged with his Oscar in hand.
The show progressed with more of the same set-building and precision-quick tear-downs. The Shins took the stage and then it was time for Weekend Update with Seth Meyers. The backdrop was comprised of surprisingly long and interlocking walls. And just as soon as the piece ended, the crew got rid of it. On the far end of the studio, a Liza Minnelli skit ran, which was hard to see from our vantage point. Meanwhile, a Sports Center set was being erected in another area, but suddenly it is dismantled. The sketches must be running long and production decided to nix that one. Instead, The Shins play again.
When SNL drew to a close, show creator Lorne Michaels stood at the foot of the stage, shook Hill's hand and walked off. As we see at the end of all the shows, the cast, band, host assembled onstage -- Hanks too, still there roughly 85 minutes later, holding his Oscar -- and they slapped backs, shook hands, hugged and celebrated. At one point, cast member Bill Hader acknowledged family members seated a few rows in front of us, and points them out to Hanks, who seemed to mouth the words "He's a good boy" to them.
And there you have it, the mystery of SNL solved. It's a well-oiled machine, with people knowing their places, when to abandon them, when to dismantle and when to assemble.
Calling all HuffPost superfans!
Sign up for membership to become a founding member and help shape HuffPost's next chapter