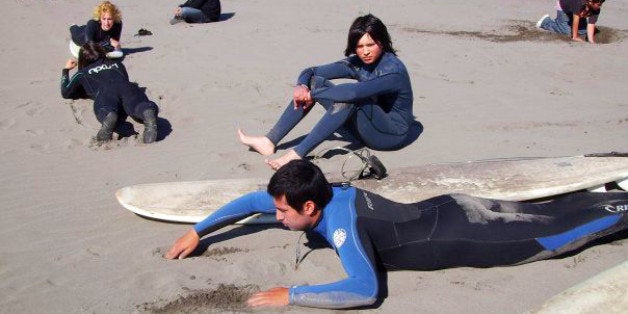 Everybody has a Saturday ritual. Some people sleep off their hangovers from the night before. Others catch up with the morning paper over coffee. My Saturday ritual? Every Saturday I wake up early to surf with a group of kids locked up in a juvenile detention center in my hometown of Valparaiso, Chile. It's by far the best day of my week.
The first time I went surfing with the Valpo Surf Project I was 15 years old and scared out of my mind. It wasn't that the waves were big or dangerous, but the whole experience was totally foreign to me. Getting into my wetsuit for the first time made me feel like I was wearing a skin tight super hero costume without any of the super hero muscle to back it up. As a city kid splayed out on the beach, practicing popping up on a surfboard for the first time, I knew that I was out of my element.
Approaching the waves with my surf instructor Andres, I was almost shaking -- I felt like a Jello mold holding a surfboard. We went deep into the ocean, much farther than I'd ever been in the past. I took a number of waves that sent me flying, then tumbling underwater, and came up sputtering but kept going. I can barely come up with the words to describe my first wave, but I still remember it. I felt like I was a part of this huge force of the ocean and also humbled by how small I was in comparison to it. It made me see the ocean -- something I've seen everyday growing up in a port city -- in a totally different way.
Five years have gone by since my first surf session. I'm now a part time instructor with the Valpo Surf Project -- an organization that uses surfing and educational opportunities to boost leadership skills in at-risk kids. Although the organization started out teaching kids in my neighborhood, which has its share of trouble with drug use and problems, it has expanded to work with much more at-risk groups of kids, including the kids living in the detention center. The possibility to reach out to these kids, and give them a similar opportunity to my first surf session, was my biggest inspiration to get involved as a mentor.
There are a lots of ways kids end up in the detention center. Some kids have committed crimes as minors and others have problems with drug and alcohol abuse. Other kids have been removed from their homes because they've been abused, abandoned or have parents in jail. You can see in their faces that they've experienced things that kids of their age shouldn't have to deal with. There's no denying that these kids are tough and the backgrounds they come from are even tougher. None of my students are bad kids, they've just been raised in circumstances that no teenager should have to endure.
All of these kids are products of their environments. They're growing up in neighborhoods where trouble is never too far away: every other corner has a dealer, liquor stores are all over the place, and in many cases their family members have fallen into similar vices. More than riding a wave, surf trips are a way to open these kids' minds to other possibilities. Every Saturday is a new chance to show them there are other opportunities apart from what they find inside the walls of the detention center, their broken family life, their neighborhood, or their city limits.
Removing kids from their urban environment -- or from the context of the juvenile detention center where they live -- takes them out of their element just like I felt during my first surf session. There's a barrier that breaks down when you take kids out of their comfort zone. One of my students, convicted of dealing crack-cocaine at 15, never showed any emotion when we were on land. He rarely cracked a smile and never dropped his tough thug facade. Fifteen yards into the ocean, he was nervously shouting that knee-high waves were too big. After riding his first waves he was smiling and ecstatic. Later, during a break between waves, he told me he missed the most mundane things about being home. He missed his mom nagging him to get out of bed to go to school. Surfing cracked the tough shell he showed the world and out came a young boy who wanted to simplest things in life. He's out of the center now and back with his family. We still keep in touch.
My Saturday ritual is more than just taking kids from the four walls of a juvenile detention center to go surf. It's about taking a kid who can't see beyond the end of the day and showing them there is a world of opportunity waiting for them. That's my Saturday ritual. What's yours?
REAL LIFE. REAL NEWS. REAL VOICES.
Help us tell more of the stories that matter from voices that too often remain unheard.