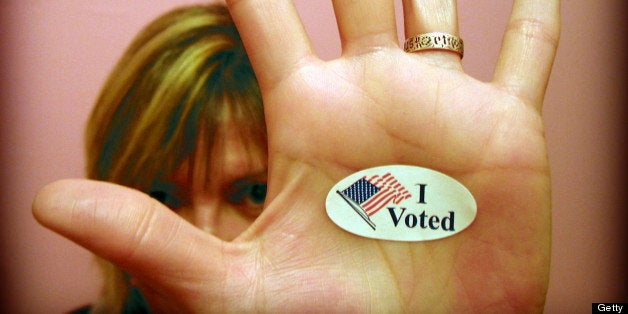 For over 150 years, citizens across the United States have traditionally voted on Tuesdays. However, for many voters, scheduling this most fundamental of constitutional rights on a weekday is problematic, resulting in many forced to forgo voting because of work.
One California legislator, state Sen. Leland Yee (D-San Francisco), is looking to increase the number of Golden State voters who actually to make it to their polling places by allowing them to cast ballots on Saturdays.
Yee's bill, which was approved by the California Senate's Elections Committee earlier this month, would require all municipalities in the state to open up polling stations for at least one Saturday during the month preceding each Election Day.
"The fact that elections are held on a workday leaves many Californians in a situation where they have to choose between voting and fulfilling personal and professional obligations," Yee said in a statement. "Allowing people to vote on Saturdays will allow a wider range of citizens to make themselves heard at the polls."
Yee is in the process of running to replace Deborah Bowen as California's Secretary of State, a position that administers the state's electoral system.
Many California counties already have similar laws for voting day alternatives on the books, but implementation of Saturday voting has often proved tricky. For example, San Francisco voters passed a proposition in 2010 creating a pilot program implementing weekend voting at polling stations around the city. However, it didn't immediately go into effect because the millions of dollars in private funds that were supposed to be raised to cover the cost never materialized.
"The city would have to persuade property owners and institutions that host polling stations to provide space for two days instead of one. Then there are the issues of securing the ballots and voting machines for an extra day and having enough poll workers available for both days," Arntz said. "To have all those polling places would be a big deal."
Even before the passage of the 2010 San Francisco law, the city had opened up its polling station at City Hall on the weekends before Election Day for years.
But some critics of the weekend voting have charged that people who can't make it to the polls on Tuesdays already have the option of voting absentee.
However, Dan Schnur of the University of Southern California's Unruh Institute of Politics told the Sacramento Bee that anything with the potential to boost turnout should be given serious consideration. "The state ought to do everything it possibly can to encourage voting without compromising ballot security," Schnur said, "and this is another example of a reform that accomplishes both of those goals."
Why Tuesday?, a national non-profit working to increase voting rates by moving elections to weekends, bemoans that the Unites States ranks dead last in voter participation among G8 nations. The organization notes that a 2010 poll showed nearly one-third of non-voters said the reason they didn't cast ballots was they couldn't get time off from work to vote.
REAL LIFE. REAL NEWS. REAL VOICES.
Help us tell more of the stories that matter from voices that too often remain unheard.
BEFORE YOU GO
PHOTO GALLERY
100 Years Of Election Night Winners