Saturn's hexagon is a six-sided jet stream barrier, according to scientists, who have proposed various theories to explain its shape.
In one image NASA shared, from 2012, the hexagon appears to be bluish. But in another photo taken four years later, it looks golden.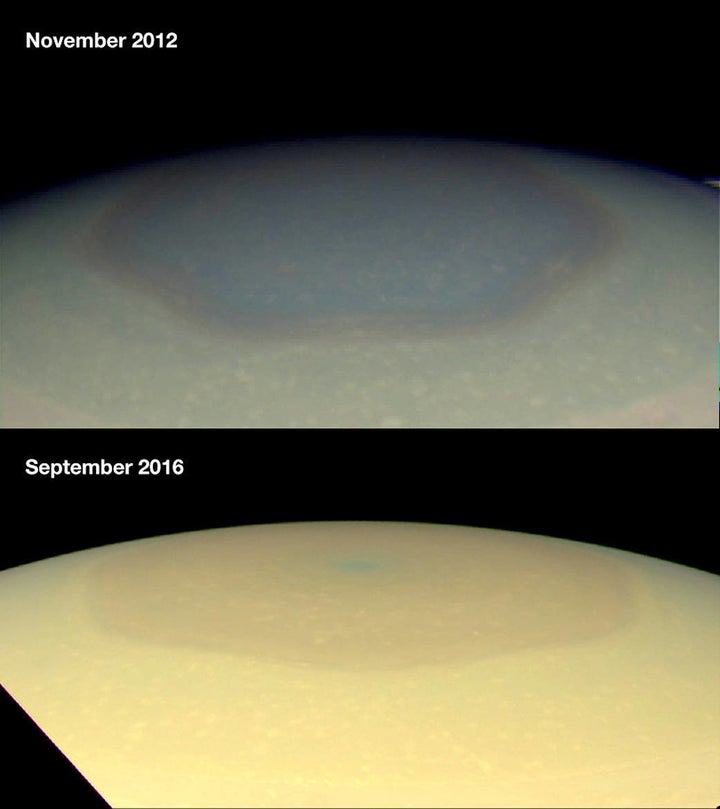 Saturn's changing seasons and increased exposure to sunlight might have caused the color change, scientists theorize.
"During the polar winter night between November 1995 and August 2009, Saturn's north polar atmosphere became clear of aerosols produced by photochemical reactions ― reactions involving sunlight and the atmosphere," NASA explained on its website.
"Since the planet experienced equinox in August 2009, the polar atmosphere has been basking in continuous sunshine, and aerosols are being produced inside of the hexagon, around the north pole, making the polar atmosphere appear hazy today," the website stated.
Both images were obtained by NASA's Cassini spacecraft, which launched in 1997 and orbits Saturn, studying the planet and its moons.
REAL LIFE. REAL NEWS. REAL VOICES.
Help us tell more of the stories that matter from voices that too often remain unheard.
BEFORE YOU GO