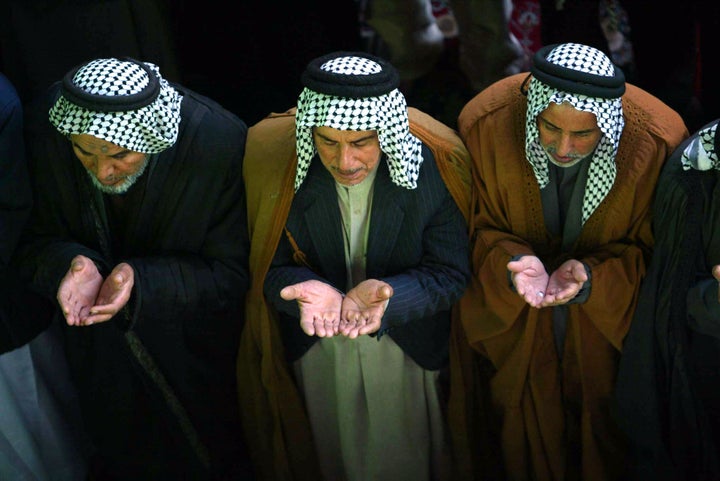 DUBAI (Reuters) - Saudi security forces have detained at least 22 minority Shi'ites who protested last week against discrimination, activists said on Sunday, as the kingdom tried to keep the wave of Arab unrest outside its borders.
Saudi Shi'ites have staged small demonstrations in the Eastern Province, which holds much of the oil wealth of the world's top crude exporter.
The province is near Bahrain, the scene of protests in recent weeks by majority Shi'ites against their Sunni rulers.
"Twenty-two were arrested on Thursday plus four on Friday ... This was all in Qatif," said rights activist Ibrahim al-Mugaiteeb, who heads the independent Saudi-based Human Rights First Society. He later said one had been freed.
Mugaiteeb said the interior ministry had released Shi'ite cleric Tawfiq al-Amer, arrested last week.
A Shi'ite activist in the province's main town of Qatif, who did not want to be named, also said he knew of 22 arrests. Interior Ministry officials could not be reached for comment.
Protests started in the area of Qatif and neighbouring Awwamiya and spread to the town of Hofuf on Friday. The demands were mainly for the release of prisoners demonstrators say are held without trial.
Saudi Shi'ites complain they struggle to get government jobs and benefits given to other citizens.
The government of Saudi Arabia, an absolute monarchy without an elected parliament that usually does not tolerate public dissent, denies the charges.
The kingdom's Council of Senior Clerics issued a statement on Sunday backing an interior ministry warning on Saturday that said demonstrations violated Islamic law. They also said signing reform petitions "violates what God ordered."
The authorities are used to Shi'ites taking to the streets in their communities but fear protests catching on in major cities such as Riyadh and Jeddah.
"Reform and advice should not be via demonstrations and ways that provoke strife and division, this is what the religious scholars of this country in the past and now have forbidden and warned against," said the statement carried by state media.
Democracy activists say peaceful protests are their right.
"We are really worried by the detentions and harassment that people who take part in protests are facing," a statement by 15 rights activists said on Sunday.
"These practices conflict with the right of peaceful association that the kingdom committed to ... at the U.N. Human Rights Council."
The activists said wives and other relatives of men detained since a 1996 attack on U.S. military in Khobar were ejected from the office of the local governor, Prince Mohammed bin Fahd, on Saturday when they tried to petition for their release.
"They met first on Wednesday with an official and he promised they would have a meeting with the governor. But when they went, he declined to meet and security guards intervened," the Shi'ite activist said.
The Shi'ite website Rasid said they were verbally abused, as an official told them they were lucky the detainees had not been executed. The women started chanting "freedom, freedom."
The unrest has toppled regimes in Egypt and Tunisia and has spread to Saudi neighbours Yemen, Bahrain, Jordan and Oman.
More than 17,000 people backed a call on Facebook to hold two demonstrations in Saudi Arabia this month, the first one on Friday.
A loose alliance of liberals, moderate Islamists and Shi'ites have petitioned King Abdullah to allow elections in the kingdom.
Last month, Abdullah returned to Riyadh after a three-month medical absence and announced $37 billion in benefits for citizens in an apparent bid to curb dissent.
(Reporting by Andrew Hammond; editing by Andrew Roche)
Popular in the Community