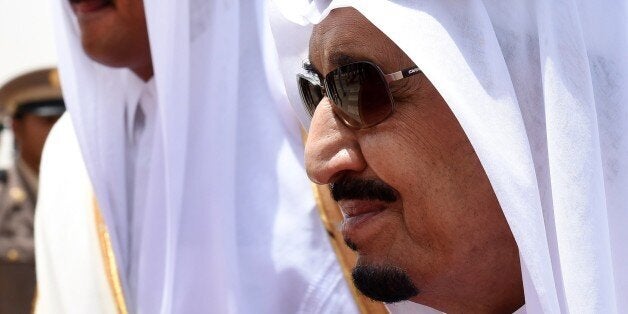 Saudi Arabia executed two prisoners on Monday, the kingdom's 99th and 100th execution of 2015. The state has killed more prisoners in the first six months of this year than in all of the previous year, and is on pace to top the country's record 192 executions in 1995.
Syrian Ismael al-Tawm and Saudi Rami al-Khadi were the latest two to receive the death penalty in Saudi Arabia. Al-Tawm was convicted of trafficking large amounts of amphetamines into the country, and was beheaded in the northern region of Jawf, according to Agence France-Presse. Al-Khadi was executed in the country's west, in Taef province, for stabbing another Saudi man to death.
This year's sharp rise in executions has mostly occurred under the new King Salman bin Abdul-Aziz Al Saud, who took over rule in the nation after the death of King Abdullah in January. But the use of capital punishment increased in Saudi Arabia last year as well: 19 people were beheaded in the space of 17 days in August, and total numbers were the highest in at least five years.
Activists and human rights organizations haven't been able to pin down a specific cause for this boom, The Guardian reported.
Saudi Arabia's harsh laws allow for the death penalty for a range of crimes including apostasy, adultery and sorcery, with public beheading the common method of killing. The majority of Saudi Arabia's executions stem from murder and drug-related crimes -- 47 of the 100 people killed in 2015 were convicted of nonviolent drug crimes, according to Human Rights Watch.
However, over half of the people executed this year were convicted of crimes that did not mandate the death penalty under Saudi Arabia's interpretation of Islamic law, but judges opted for capital punishment in these cases based on their own discretion, HRW reported.
Rights groups have condemned the growing rate of executions, calling attention to the lack of access to fair trials and criticizing death sentences for being handed down without judicial restraint.
Last year, Saudi Arabia ranked third among nations for most executions. According to Amnesty International tallies, it was topped by Iran, which killed at least 289 people, and China, where numbers are too difficult to confirm but are believed to be in the thousands. Iraq and the United States were the next closest countries, executing at least 61 and 35, respectively. Saudi Arabia is the least populated of any of these nations.
Calling all HuffPost superfans!
Sign up for membership to become a founding member and help shape HuffPost's next chapter
BEFORE YOU GO
PHOTO GALLERY
Saudi Airstrikes Yemen