WASHINGTON ― President Donald Trump's trip to Saudi Arabia this month encouraged the kingdom to expand its controversial use of the death penalty, including toward peaceful protesters, a top human rights advocacy group says.
The state has executed 39 people so far this year, according to Reprieve, a London-based nonprofit, which exclusively shared its latest statistics on Saudi executions with HuffPost this week. At the current rate, the kingdom is on track to have executed 2,020 people between the coronation of a new king, Salman, in 2015 and 2030, the target date for a loudly promoted reform plan that promises a more progressive Saudi Arabia but is viewed with skepticism by human rights advocates.
Reprieve noted that a contentious terrorism court upheld on Thursday the death sentence of a 23-year-old man with disabilities for protesting in 2012. It's the first time the Saudis have taken such a step since they included detained dissidents in a mass execution  last year, sparking global outrage.
Maya Foa, Reprieve's director, blamed Trump for the Saudis' apparent new sense of impunity.
"International condemnation of the mass killing is thought to have been a key factor in the kingdom's decision to halt the executions of protesters," Foa told HuffPost in an emailed statement on Wednesday. "But it appears that president Trump's recent visit, and his explicit approval of the Saudi regime despite gross human rights abuses, may have emboldened Saudi authorities, who are now signalling their intention to resume protest-related executions." 
The jailed protester, Munir Adam, is being punished on the basis of a forced confession he made under torture in a Saudi prison, according to Reprieve. He has one more opportunity to appeal before the king signs his death warrant and he is placed on death row.
Trump speaks of the Saudi leg of his first foreign trip as its highlight, and he celebrated the U.S. relationship with the kingdom by delivering a speech parroting Saudi rulers' worldview and offering them a huge, potentially illegal arms deal. He and his team seem at best blind to the way the authoritarian Saudi regime rules: After Trump returned from the kingdom, Commerce Secretary Wilbur Ross told CNBC he was impressed with the lack of protesters on the streets. When an anchor said that might simply reflect the way the Saudis punish dissent, Ross said, "In theory, that could be true."
The Trump administration has said it wants to raise human rights concerns only in private.
But critics believe foreign governments will understand that preference to mean that that the U.S. does not care if other countries respect rights, universal standards or the rule of law.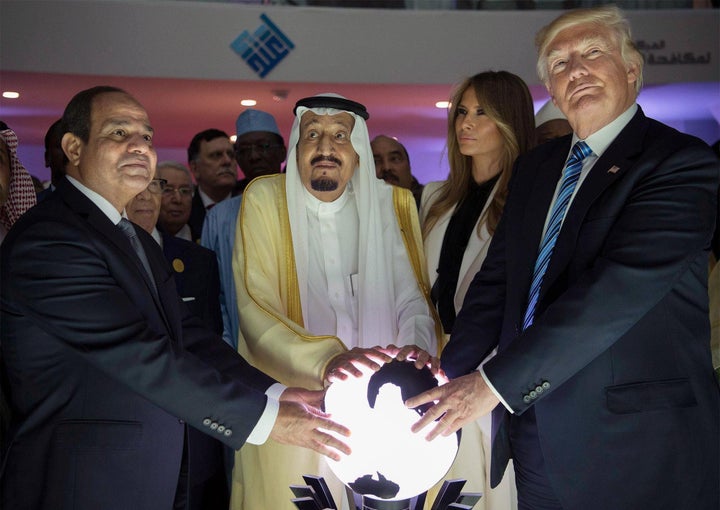 Three days after Trump's May 21 photo op with the king of Bahrain, Bahraini security forces raided the home of an activist cleric, killing at least one person and arresting hundreds involved in a sit-in demonstration. Officials said the action was necessary because the protesters were harboring fugitives aligned with Iran and refusing to disperse peacefully, but rights watchdogs were not convinced. "Yet again the architects of bloody destabilizing violence in Bahrain appear to be the [U.S.-friendly] Al Khalifa government, and the timing of this operation ― two days after King Hamad's convivial meeting with President Trump ― can hardly be a coincidence," Human Rights Watch said.
On Wednesday, a Bahraini court prompted further concern when it dissolved a major political opposition group known as Waad or the National Democratic Action Society. "Bahrain is now heading towards total suppression of human rights," said Lynn Maalouf, an Amnesty International official, in a statement. "The suspension of Waad is a flagrant attack on freedom of expression and association, and further proof that the authorities have no intention of delivering on promises of human rights progress."   
Authorities shut down the chief opposition party, Al Wefaq, last summer.
Egyptian President Abdel-Fattah el-Sisi has also been busy since the Saudi conference. He authorized new media controls and the arrests of political opponents last week, and on May 29 ratified a brutal new law allowing for far greater government interference in civil society.
Foreign criticism, particularly from top members of Congress like Sen. John McCain (R-Ariz.), appeared to have prevented the ratification for months. But Sisi clearly now feels that the time is right to crack down on dissidents. "Grave damage will be done to U.S. strategic interests in the region if Mr. Sisi is allowed to pocket billions in American aid even as he consolidates what amounts to a totalitarian state," The Washington Post warned in a May 30 editorial. McCain and Sen. Lindsey Graham (R-S.C.) blasted the ratification in a statement Wednesday.
Meanwhile, the Egyptian ruler's strongman tactics continue to brutalize Americans: At least nine U.S. citizens are in Sisi's crowded jails. One turned 18 years old there last week.
And Saudi executions and other abuses, including the targeting of religious minorities, continue unabated. Reprieve said the kingdom is using capital punishment on people arrested over non-violent alleged crimes, despite international prohibitions on that policy. Many of those put to death this year, it noted, appear to be Pakistani nationals ― which means they may be victims of human trafficking.
Trump's State Department was flummoxed this week when a reporter asked a top official why he would condemn the lack of democracy in Iran but not in Saudi Arabia. A viral clip shows Stuart Jones, the acting head of the agency's Middle East bureau, pausing for 20 seconds before condemning Iran further.
The Saudi Embassy did not respond to a request for comment for this story.
Calling all HuffPost superfans!
Sign up for membership to become a founding member and help shape HuffPost's next chapter
BEFORE YOU GO
PHOTO GALLERY
President Donald Trump's First Trip Abroad