WASHINGTON ― Saudi Arabia is lifting its ban on women driving, officials said Tuesday, prompting applause from progressive Saudis, especially women who have battled the policy for years, and international commentators.
The royal decree from King Salman bin Abdul-Aziz Al Saud was announced almost simultaneously in Saudi Arabia, via state television, and in the capital of its most important partner, the United States, by the king's son and ambassador, Prince Khalid bin Salman ― a reflection of the Saudis' desire to improve their image abroad.
A statement from the state-run press agency spread the news online, saying women can begin applying for licenses just like men. They will be officially allowed to drive starting next June.
The driving policy was the best-known aspect of the conservative Muslim kingdom's broad restrictions on women's rights, which include requiring women to secure a male family member's approval for actions such as working and traveling. Saudi women will not need such approval before applying for a license, Prince Khalid told reporters.
"I'm just trying to hold back the tears," Sara Althari, a 26-year-old Saudi completing a doctorate at Oxford University, told HuffPost. "It's been a long time coming. ... I'm full of hope and optimism and joy and very proud today to be a Saudi woman."
Female activists in the kingdom had been challenging the ban with increasing fervor, including by staging demonstrations that sent some to jail and others to face threats. Manal al-Sharif, who was arrested in 2011 after publicizing footage of herself driving, said activists have the entire system of male "guardianship" in their sights next.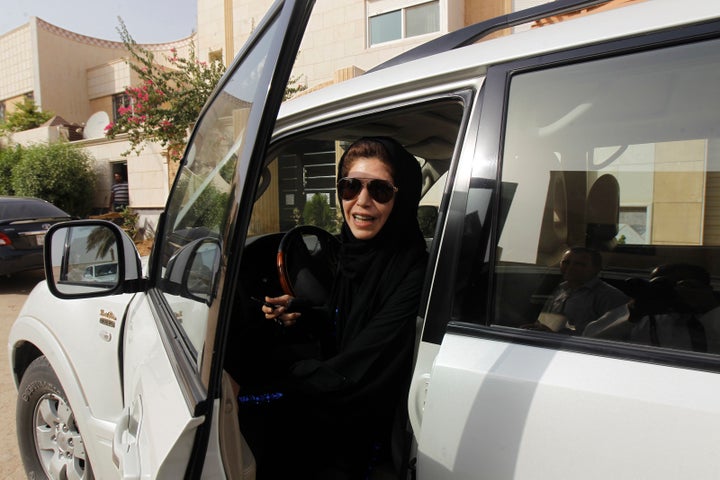 Although the policy change came from a king who seems open to liberalizing Saudi society in some ways, Middle East watchers emphasized that the efforts of Saudi women were responsible for turning the issue into a priority that decision-makers had to deal with.
Analysts have noted that the ban was a problem for the Saudis in the U.S. and other liberal societies that the kingdom counts as essential friends.
"I've said this to the Saudis many times: You really want to improve your image? There's one simple thing to do: Let women drive cars," former CIA analyst Bruce Riedel told HuffPost last year. "I understand that's easier said than done."
Crown Prince Muhammed bin Salman, the 32-year-old heir who is expected to take over from his elderly father in a matter of months, has invested heavily in trying to change perceptions of Saudi Arabia abroad, as well as pushing to modernize society at home. This reform is seen as one he has been lobbying for behind the scenes for months.
But it's still a controversial step, given the power that hardline clerics and ultra-conservative interpretations of Islam have long held in a kingdom shaped by the relationship between the royal family and key religious leaders.
It's unlikely that scholars opposed to gender equality or their followers will stage public protests against the king's decision, not least because the kingdom recently arrested some 20 prominent critics of the government, said Andrew Bowen, a visiting scholar at the American Enterprise Institute. But there is a risk of growing polarization between Saudis in urban areas who support progress and those in less developed provinces, as well as fresh enthusiasm for armed militancy against the Saudi government from groups like the Islamic State.
The eventual popularity of Crown Prince Muhammed's reform agenda also depends on the success of his economic proposals to improve young Saudis' job prospects and make the country less reliant on oil revenue, Bowen said. Some Middle East experts have cast doubt on the feasibility of the prince's plans, which recently had to be rejiggered.
Saudi Arabia also appears to be backsliding in other areas, leading some analysts to suggest the step forward for women was in part a public relations ploy.
"In the starkest terms, Saudi Arabia is trying to moderate the extreme viewpoints of both liberal reformers and conservative clerics. And the arrests span that spectrum," Khashoggi wrote. "Regardless of who is being targeted, this is not what Saudi Arabia needs right now. We are going through a major economic transformation that is supported by the people, a transformation that will free us from total dependence on oil and restore a culture of work and production. This is a very painful process. [Crown Prince] Mohammed bin Salman is best served by encouraging constructive, diverse opinions."
Still, Tuesday's announcement seemed to suggest an upward trajectory and many Saudis are keen to celebrate.
"Headlines from Western media outlets are trying to downplay the magnitude of the moment by focusing on technicalities and logistics. ... Cut us some slack and join the party at least for once," Althari said.
Slow, steady progress in Saudi Arabia has made a difference for her family, she noted. In 2013, then-King Abdullah appointed her mother, cancer research scientist Khawla Al Kuraya, as one of the first women to sit on his advisory Shura Council.
Althari credits Crown Prince Muhammed for his role in lifting the driving ban and plans to return to the kingdom after earning a Ph.D. in genetics to work for more positive change. That's something she believes most young people ― who constitute the majority in Saudi Arabia ― want to see.
"Over 50 percent of university graduates are women in the kingdom, and there are tens of thousands of university students sponsored abroad, many of whom are women. If we come back and use our degrees, be part of the workforce and energize each other, we will eventually see the outcomes that we hope to achieve," Althari said. "It is an opportune time to go back as a Saudi woman."
Popular in the Community