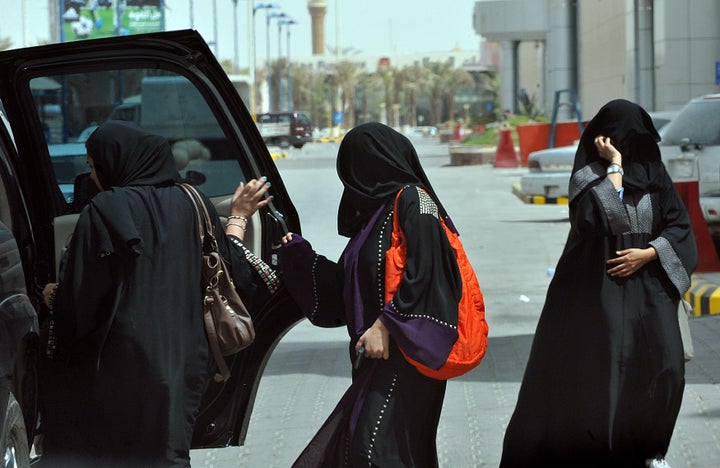 Saudi Arabian "freedom drivers" plan to take to the streets friday -- in their cars. It's the official start of the Women2Drive campaign, in which some Saudi women intend to ignore threats of arrest and reactionary civilian violence and assert their right to drive in the only country in the world that bars women from getting behind the wheel of a vehicle -- bicycles included. The campaign marks the resurgence of a movement that began with a 1990 demonstration, followed by another protest in 2008. But the protests haven't succeeded in winning Saudi women permission to drive legally.
There are already reports of individual victories: One man tweeted at about 4 a.m. this morning Eastern time (11 a.m. in Saudi Arabia), "We just returned from supermarket, My Wife decided 2 start the day by driving to and from the store." Supporters are using the Twitter hashtag #Women2Drive to track the progress of women drivers throughout the day.
The campaign gained traction last month when 32-year-old engineer Manal al-Sharif was imprisoned for over a week after she defied the unwritten but heavily enforced ban by driving in Riyadh -- twice. Her trips were chronicled in videos posted to Youtube in which al-Sharif urged women to protest the ban on June 17, saying: "A woman has the same right as a man to live her daily life. In dignity." According to Amnesty International, she was released from prison on the condition that she would not partake in today's protest drive -- local papers even portrayed her as apologetic. Following al-Sharif's release from jail, Deputy Minister of Interior Prince Ahmad announced that it is officially illegal for women to drive in Saudi Arabia, although the ban is still not written into Saudi law.
Al-Sharif's videos, however, inspired six other Saudi women who met over Twitter to challenge the ban and drive on June 9. One told NPR that she loves to drive and "used to dress like a man and drive in the streets of Riyadh." The six were arrested but quickly released.
The women's driving movement has since garnered immense international support. It has received more than 100,000 Internet users from 150 countries who showed their support for Saudi Women for Driving campaigns by endorsing petitions on Change.org.
Yet many activists are cautious in their hopes for actual change.
Wajeha al-Huwaidar, who rode shotgun during al-Sharif's first drive and even held the camera that filmed the now famous Youtube video, has reason for skepticism. She participated in a similar protest drive (and posted a similar Youtube video, shown below) on International Women's Day in 2008.
When she found out al-Sharif was going to drive, al-Huwaidar, 49, told The Huffington Post, "I thought, that was me. [Al-Sharif] was very optimistic that after [her videos came out] maybe we'd be able to drive. I thought maybe this time ... but I'm now afraid it will be the same."
Al-Huwaidar recalls watching the first Saudi women publicly disobey the driving ban in 1990 when she was living with her family in the United Sates, where she earned her PhD. Forty-seven women piled into 15 cars to defy the ban at that time.
The 47 women were arrested and severely punished for their drive. They lost their jobs for two and a half years and, although rehired, haven't been promoted to this day. They were banned from traveling and condemned by the clergy as harlots. Their fathers and husbands were chastised as well.
There have been other challenges to the ban for over the last 20 years that resulted in brief public awareness of the issue, but these have always ended with a return to the status quo.
Al-Huwaidar's husband taught her to drive in Tuscon, Arizona. "We thought that when we got back, then maybe something would change," she said. "It didn't."
Al-Huwaidar won't be participating in this month's protest. She told The Huffington Post that none of her personal acquaintances will either. Her international license, which Women2Drive asks women drivers to carry while breaking the ban, has expired. Others are afraid of the violent backlash threatened by local men. Following al-Sharif's May drive and arrest, a Saudi Facebook page was created calling for men to beat women found driving today that eventually received 6,000 "likes". (It has since been removed due to its violent content.)
Al-Huwaidar notes that the timing of the campaign isn't ideal. Final exams are underway in Saudi schools and universities, so female students may be less inclined to participate, as might mothers who don't want an arrest, or fear of it, to disturb their children's studies. Some women plan to participate, just not today. Prominent Saudi human rights blogger, Eman Al Nafjan, who is not driving because she does not own a car, says many women have said that they may not drive today but will soon.
'This Is The Point Where We Have To Cross In Order To Ask For Anything Else'
In 2005, Saudi Arabia's Minister of the Interior, Prince Naif, told the Saudi Press Agency that the controversy over driving is an exaggerated one. He believes "that this is a controversy which has no meaning because it is a social matter to be decided by society. It looks like some people want to make it an issue, but it's not," he said.
Because Saudi Arabia doesn't have reliable public transportation, women are wholly dependent on male relatives or hired drivers to go to the grocery story, school, work or even the hospital.
Al-Nafjan, the human rights blogger, said that even with the long list of basic rights the Saudi government denies women -- including suffrage -- lifting the driving ban is a crucial step forward in the expansion of women's broader rights as Saudi citizens.
"This is the threshold; this is the point where we have to cross in order to ask for anything else," Al Nafjan, 32, told The Huffington Post. "I can't say I want to go into government buildings like male citizens or I want women to be recognized as a lawyer when I can't even drive my own car."
She believes that the current system cannot hold. "It is very unreasonable to think that Saudi Arabia can sustain this," she said. "We are educated. We own cars. How can you own a car and not get behind the wheel?" According to 2006 figures published by state oil company Saudi Aramco, female car ownership increased by 60 percent from 2003 to 2006, when 75,522 women owned 120,334 vehicles.
Yet the only areas where women can drive without penalty in Saudi Arabia are rural Bedouin areas and certain private compounds surrounding the city. The latter include the state-owned oil company Saudi Aramco and the King Abdullah University for Science and Technology (KAUST), Saudi Arabia's first coeducational university, which functions without the presence of the religious police.
American expatriate Jennifer Crawford, 32, teaches 2nd grade at KAUST, and while she can borrow a friend's car to drive across the 14-mile campus, she is dependent on men to transport her outside its walls, or it costs her $100 to take a taxi to and from Jeddah, the closest city, located 90 minutes south by car.
"I have to plan a trip to the vet with my two dogs like I would for a family daytrip," Crawford said. "I've been driving since I was 15 years old, and I'm used to a lifestyle where I can go somewhere if I need to without being entirely reliant on men."
According to Al Nafjan, the blogger, taxis are unreliable, expensive and potentially dangerous. "There is no central station that knows where all of the taxis are," she said, adding, "It's scary going in the car alone as a woman. You could disappear and no one would know."
The only other option, she continued, is to get a driver. Families often use services that import drivers from South Asia. Saudi women told The Huffington Post that drivers costs approximately $2,000 to bring into the country alone, not including the cost paid to the government to secure his visa and all of his living expenses once he arrives. "The pay of my first job was so low that my whole salary went into getting a driver for my family," Al Nafjan said.
Families do not take part in the process of selecting their drivers, which means that complete strangers become live-in employees. Al Nafjan has had what she describes as "uncomfortable moments" with past drivers. A Saudi woman was raped by her driver at gunpoint two weeks ago.
With acceptable drivers and a father willing to transport her as well, 25-year-old Riyadh native Najila Barasain, who is currently working toward her MBA in North Carolina, has never been personally inconvenienced by the driving ban. "But the [movement] isn't about people like us," she said. "My aunt is divorced and lives on her own because her two sons are older and have moved elsewhere. What if she is sick and needs something urgent? She is too poor for a driver -- should she have to wait for a taxi?"
If Not Today, Maybe Tomorrow
While there is skepticism about whether Women2Drive will have any impact on the ban, activists are cautiously optimistic.
Saudi activists told The Huffington Post that international campaigns of solidarity -- including 24-year-old Trisha Calvarese's Honk for Saudi Women movement, in which people from around the world submit videos of themselves honking their support -- have inspired hope that change will occur, if slowly.
2008 driver al-Huwaidar is careful to clarify that today is not an organized protest -- which the Saudi government announced is illegal earlier this month -- but rather a jumping off point of embracing their basic right.
"It's a day to start practicing your rights until you hear from the King."
Popular in the Community