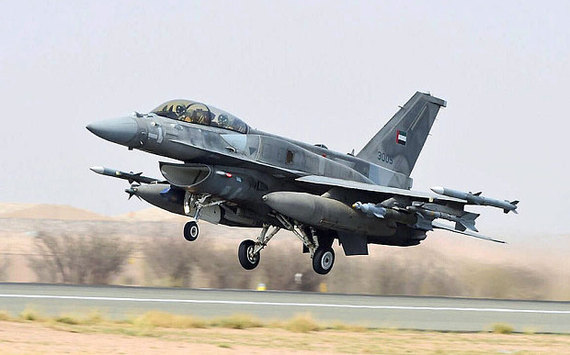 UAE Air Force F-16E departing on mission over Yemen
On December 15, Prince Mohammed bin Salman al Saud, Deputy Crown Prince and Defense Minister of Saudi Arabia, announced the formation of a new, 34 member, Islamic military alliance to combat "any terrorist organization that appears in front of us," and in particular to coordinate efforts to fight terrorism in Syria, Libya, Egypt, Iraq and Afghanistan. Prince Salman went on to add that the coalition would coordinate its efforts "with major powers and international organizations."
According to a statement later released by SPA, the Saudi state news agency, the coalition would have a joint operations center based in Riyadh to "coordinate and support military operations." The statement went on to add that the purpose of the alliance was to "protect the Islamic nation from the evils of all terrorist groups and organizations, whatever their sect and name."
In a press conference in Paris later that day, noting that Muslims had suffered disproportionately from jihadist violence, Saudi Foreign Minister Adel al-Jubeir, said that the new, Saudi-led, Islamic coalition would share intelligence among its members and would jointly train, equip and, when necessary, deploy military forces, against Islamic State militants. Speaking specifically about the deployment of ground troops, he remarked that no option "is off the table."
The coalition includes Egypt, Jordan, the United Arab Emirates, Pakistan, Bahrain, Bangladesh, Benin, Chad, Togo, Tunisia, Turkey, Djibouti, Senegal, Sudan, Sierra Leone, Somalia, Gabon, Guinea, the Palestinian Authority, Comoros, Qatar, Ivory Coast, Kuwait, Lebanon, Libya, Maldives, Morocco, Mauritania, Niger, Nigeria and Yemen.
The announcement was welcomed by the Obama administration. U.S. Defense Secretary Ash Carter described the proposed coalition as "very much in line with something we have been urging for quite some time, which is greater involvement in the campaign to combat ISIL by Sunni Arab countries." Carter went on to add that the United States looked forward "to learning more about what Saudi Arabia had in mind" for the coalition.
The U.S. words of support notwithstanding, the announcement marked the latest move in Saudi Arabia's increasingly assertive and, from Washington's standpoint, independent foreign policy. It is the latest in a series of Saudi moves that underscore a significant foreign policy shift.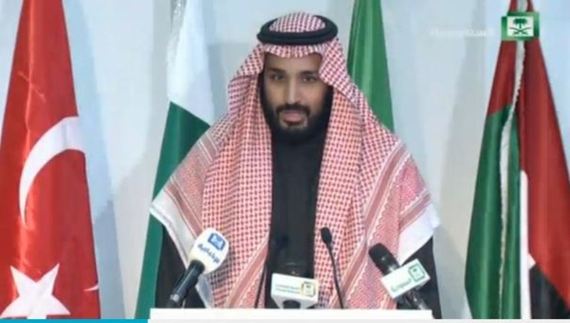 Prince Mohammed bin Salman al Saud announcing the creation of a new Saudi-led, 34 nation coalition. December 15, 2015
On Oct 18, 2013, just one day after being elected to a two year term on the U.N. Security Council, the Saudi government unexpectedly turned down the seat. The reasons cited by Riyadh were the Security Council's impotence in dealing with the Assad government's continued atrocities against Syrian Sunni Muslims as well as its ineffectiveness in making any measurable progress in the impasse over the Israeli-Palestinian conflict or in ridding the Middle East of weapons of mass destruction. This was the first time that Saudi Arabia had been elected to a seat on the Security Council and the first time that a newly elected member had rejected its seat.
Some 17 months later, on March 26, 2015, Saudi Arabia announced that it would lead a coalition of Arab states made up principally of Kuwait, the United Arab Emirates, Turkey and Egypt in a military intervention in Yemen designed to restore the legitimate government of President Abd Rabbuh Mansur Hadi. That government had earlier been overthrown by Houthi rebels backed by Iran. The original announcement had included Pakistan, but that government subsequently distanced itself from an active role.
Serious planning for the actual operation, "Decisive Storm," had only begun in early March. Although the Saudi Foreign Ministry had claimed that Riyadh had been in close consultation with Washington for months, sources at the White House confirmed that the Saudis did not begin having detailed, top level discussions with the White House's national security staff till Sunday, March 15. General Lloyd Austin, head of the U.S. Central Command, in testimony in front of the Senate Armed Services Committee on March 26 disclosed that he had been advised by the Saudi military of the impending operation only one hour before it was launched.
Dubbed an example of the new "Salman Doctrine," the intervention formalized the Saudi response to the "Arab Spring" civil unrest that had gripped the Arab world since the winter of 2011 and which, in particular, had resulted in a number of violent demonstrations in Bahrain and elsewhere in the Gulf. Simply put, Riyadh made it clear that any attempts to overthrow Sunni Muslim governments in the Arabian Peninsula by Iranian backed, Shiite militant groups would be met by a Saudi-led armed military intervention.
Some pundits were quick to characterize this new, 34 member, Saudi-led coalition as an "Arab NATO," That assessment was premature. It's unclear at this point whether there is a formal treaty between the various parties in the coalition. It does not seem that there is one. Riyadh has made it clear that "participation" in any operation is voluntary. Nor does it appear that the agreement, formal or otherwise, has any binding provisions for mutual defense. As of yet, there is nothing similar to the Article 5 provisions of the NATO treaty that binds each party to come to the defense of any of its members.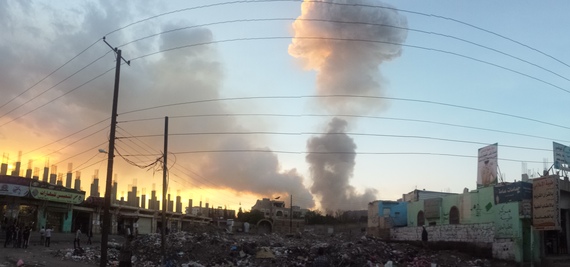 Saudi air strike in Sana'a Yemen, November 5, 2015
There is no standardization of arms or equipment among the various members and little history of joint training or the coordination of joint operations. Organizing joint air operations will prove easier than effectively deploying a combined ground force. Moreover, those countries with the strongest militaries, Turkey, Egypt, Nigeria and Pakistan will likely face considerable domestic opposition to the foreign deployment of their troops, although both Egypt and Pakistan have a history of deploying troops, at Saudi request, in the Arabian Peninsula. The organization may well evolve into a NATO like, mutual defense treaty, but for now it represents more a commitment for cooperation than it does a binding defensive alliance.
Nonetheless, the creation of such an organization is significant. At the very least it represents an expansion of the Salman Doctrine beyond just the defense of the Sunni governments in the Gulf to include a much broader array of Sunni governments across the Muslim world. The addition of African and Asian nations further highlights its "Sunni character "over that of its Arab one.
The point is underscored by the absence of any Shiite-led governments, notwithstanding the supposed participation of the Lebanese government. Moreover, although the stated purpose of the alliance is to combat "terrorism," its potential role as an anti-Iranian, anti-Shiite coalition is unmistakable. As such it is further evidence of the continued and growing realignment of Middle East polities along a Sunni-Shia fault line.
The announcement of the proposed alliance underscores a much more assertive, much more militaristic Saudi policy in the Middle East; a foreign policy willing to act unilaterally, one less reliant on American security guarantees and one far less willing to operate under an American security umbrella. As one Arab commentator put it in an article in al-Arabiya on April 1, 2015, "Saudi Arabia no longer cares if this U.S. silence is the passing weakness of a president whose term ends in two years." U.S. Senator John McCain, echoed much the same sentiment when, hours after the launch of Operation Decisive Storm, he said that "Arab countries no longer trust the U.S. and that is why they planned this alliance on their own."
The continued weakness in oil prices may also be a factor that is shaping the Saudi response. At current price levels, Riyadh's budget deficit is around 21% of GDP. That level would be unsustainable for most countries. Only the existence of Saudi Arabia's extensive financial reserves makes it possible for the government in Riyadh to avoid, at least for now, a financial crisis. The Saudi willingness to consider more aggressive military options may simply be a reflection that Riyadh's traditional response of spreading copious amounts of cash to resolve disputes will be less of an option in the future.
Finally, the new alliance further underscores the Saudi intention to position itself as the leader of the Sunni world and, more significantly, what appears to be Turkey's willingness to set aside its own ambitions to lead the Sunni world and to support the Saudi initiative.
Saudi Arabia's unique position as the caretaker of Islam's holiest shrines and its considerable petroleum wealth has always given it considerable influence in both the Arab and Muslim world. Historically, however, it has preferred to exercise that leadership quietly, through back channels. Under King Salman, that leadership is increasingly visible, assertive, and, when necessary, willing to pursue military options either with or without the United States. As such, this new Sunni alliance represents nothing less than a Saudi declaration of independence from America's Middle East policy and a clear signal that in the absence of American leadership, Riyadh is willing to go it alone.
Related
Popular in the Community