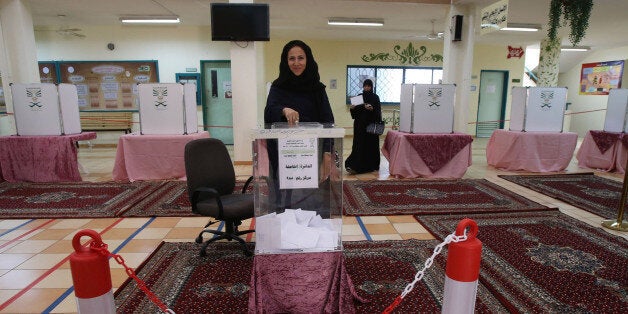 By Allee Manning and Leon Markovitz
Saudi Arabian women flocked to the polls for the first time in Saudi Arabia's history on Saturday, electing at least 20 female candidates. It's a significant step for a kingdom with intense restrictions on women's rights, including a ban on driving. (Uber offered women free lifts to the ballot box to help.)
Though this year marks the first time women in Saudi Arabia have been able to take part in municipal elections, and the monarchy is led by men in cabinet positions, a 20 percent quota for women in the country's legislative branch, the Shura Council, was imposed in 2013. According to the World Bank, this puts Saudi Arabia squarely in the middle of the 187 countries they count in terms of female representation in parliament. Notably, there is a higher percentage of women serving in the Saudi Arabian Shura council than in the U.S. Congress.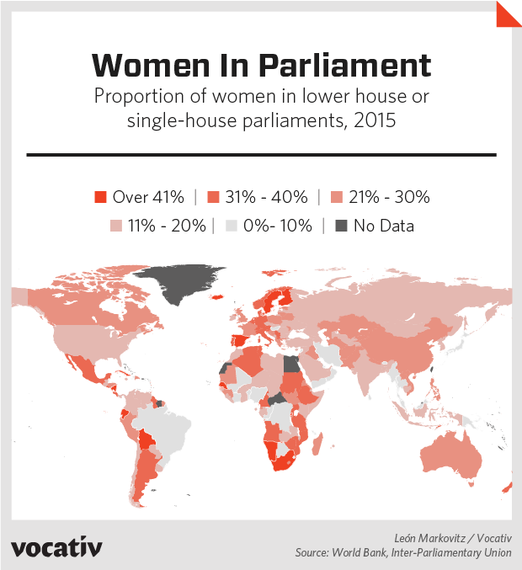 Globally, there are only two countries where the lower house of parliament has a female majority: Rwanda (64 percent female), and Bolivia (53 percent female). Cuba ranks a close third at 49 percent. According to the World Bank, the current world average of women in lower or single houses of parliaments is roughly 20 percent. Where a country also has an upper house of parliament (known as a bicameral system), they're more likely to have a greater proportion of women in that upper house than in the lower house, but the numbers are still very low. No Senate (or equivalent) has a female majority, and the average proportion is just 22 percent.
Good news, though: female representation in parliament has been on the rise over the past 15 years. Female representation in Arab countries has risen by 13 percentage points, surpassing Pacific nations this past year. That's quadruple the growth rate of Nordic countries, which have consistently elected a higher percentage of women to parliament over the last 15 years.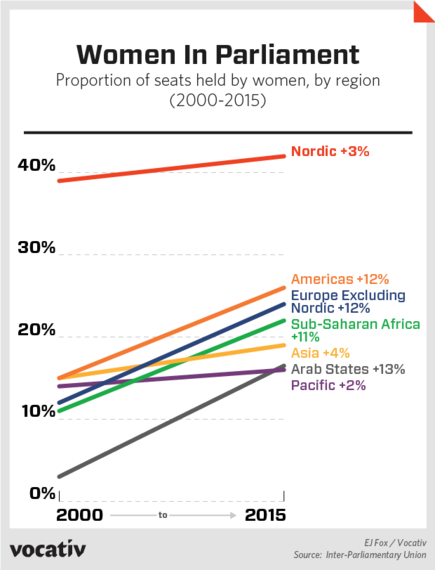 While they may have ink-stained democracy fingers and some freshly-elected compatriots in parliament this week, for women in Saudi Arabia, their overall treatment remains a major issue. The most recent report on the country from Amnesty International shows that Saudi women have a "legalized subordinate status" when it comes to family matters. In the World Economic Forum's Global Gender Gap Index for 2015, Saudi Arabia ranked 134th out of 145 countries.
More Stories from Vocativ:
Related
Popular in the Community