Turkish authorities said they believed that Khashoggi, a former insider who grew increasingly critical of the Saudi royal family, was killed inside the Saudi consulate in Istanbul last week and his body removed from the premises.
There was a detailed plan to entice Khashoggi back to Saudi Arabia, according to the Post, which cites intelligence documents outlined by U.S. officials. Crown Prince Mohammed reportedly offered Khashoggi government protection and a high-level job if he returned to the country, an offer the journalist was deeply skeptical of.
"He said: 'Are you kidding? I don't trust them one bit,'" Khaled Saffuri, who spoke with Khashoggi in May, recounted to the Post.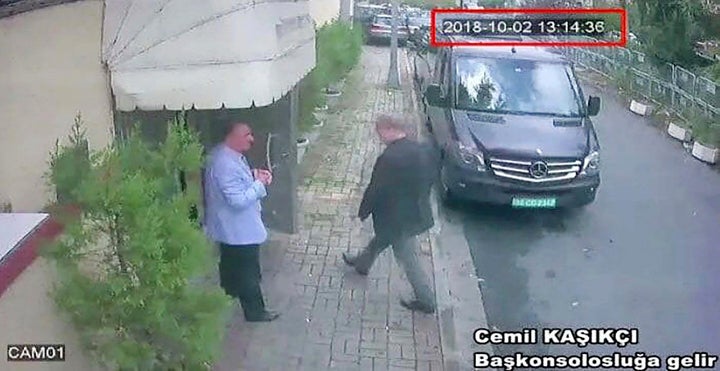 Officials in multiple countries said that if Khashoggi was killed inside the consulate last week, it may have been because a plan to capture the man went awry, the Post reported.
Saudi Arabia has denied any involvement in Khashoggi's disappearance and said he left the consulate shortly after he entered last Tuesday. The only available CCTV footage appears to show him entering the building but not leaving.
On Tuesday, The New York Times first reported that Turkish officials believed Khashoggi was assassinated under orders from senior members of the Saudi royal court. Those unnamed officials said they believed the operation was carried out by a squad of 15 people flown into Turkey on two charter flights ― something that could only have been ordered by the country's leadership due to its complexity and risk.
Turkish officials said the event reminded them of the film "Pulp Fiction," and said one of the men wielded a bone saw they suspect was used to dismember the journalist's body.
Calling all HuffPost superfans!
Sign up for membership to become a founding member and help shape HuffPost's next chapter