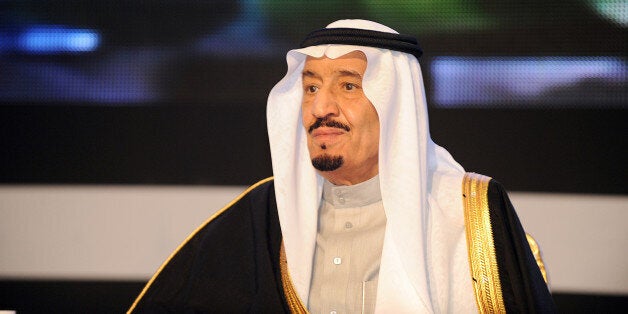 After years of considering Saudi Arabia as a major ally and economic benefactor, Pakistan may be on the verge of losing its erstwhile patron to archrival India. Prime Minister Narendra Modi arrived in Riyadh last week for an official visit full of diplomatic significance.
Despite giving billions of dollars in aid and employing millions of Pakistanis, the Saudis have never bestowed their highest civilian honor on a Pakistani leader.
For their part, India and Saudi Arabia base their relations on mutual interests, not on the basis of taking sides in a rivalry most outside the Indian subcontinent no longer care about. Ties between India and the oil rich Gulf countries have been expanding due to economic interests as well as growing military and counter-terrorism cooperation.
Pakistan's civilian and military leaders have, however, been oblivious to these changes. Islamabad -the seat of civilian authority -- and Rawalpindi -the headquarters of Pakistan's all-powerful army - still prefer to see the world from the same lens that they have been using for the last six decades. Opposition to India and demands for settlement of the Kashmir dispute remain paramount in Pakistan's foreign policy, as does the view that India's gain is Pakistan's loss.
This attitude has blinkered Pakistan's vision, inflated its sense of self-importance and prevented the country's leaders from understanding the subtle changes that have occurred in how most countries view both Pakistan and India.
Pakistan's orientation towards the Muslim world was supposed to provide allies in its struggle against an existential threat from 'Hindu' India. There was a view that the bonds of Islam would prevent close relations between Muslim countries and 'Hindu' India while benefiting Pakistan.
Pakistan's leaders hoped Muslim countries would help Islamic Pakistan attain parity with 'Hindu' India by providing strength in numbers.
Even before partition in 1947 and the creation of Pakistan, the leaders of the All India Muslim League viewed the Muslim Ummah both as a source of numerical as well as ideological support for the about to be created state. At a conference in Cairo in 1946, Pakistan's founding father Muhammad Ali Jinnah stated that Pakistan would be the bulwark against the spread of 'Hindu imperialism' and would expect support from the rest of the world's Muslims.
However, Jinnah's views were not widely accepted by leaders in Muslim countries. Most secular Arab governments, including those in Egypt, Iraq and Syria preferred anti-imperialist India to western-aligned Pakistan. Even then, among Muslim countries, Saudi Arabia held a special place in Pakistan's worldview. Both Saudi Arabia and Pakistan emphasized Islam in global affairs and both were allied to the United States.
Saudi Arabia tried to balance relations with India because of shared membership of the non-aligned movement. When Prime Minister Jawaharlal Nehru visited Saudi Arabia in September 1956, he received a warm welcome and was greeted by crowds chanting the slogan "marhaba rasool al salam [Welcome, prophet of peace]." But Saudi Arabia tended to be closer to Pakistan, especially from the 1970s onwards, playing the role of financier for the anti-Soviet Jihad in Afghanistan and even for Pakistan's nuclear program.
Criticism in Pakistan over Saudi Arabia's financing of orthodox religious madrasas and charities, which are now blamed for fueling terrorism, also irked the Saudis. The Saudis now seem to have decided to pay less attention to Pakistan's sensitivities in relation to India.
Counter terrorism cooperation has also increased. During the 1990s, Pakistani Jihadi groups raised money in Saudi Arabia with impunity and boasted of connections with the Muslim holy land. Now, the Saudis have put Pakistani groups on lists of terrorist groups deemed a threat to the Kingdom.
Prime Minister Modi's Riyadh visit, and the warm reception he received, is the latest reminder to Pakistan's leaders that international relations are based on national interest, not vague religion-based ideology. Economic and strategic issues are bringing India and Saudi Arabia closer, just as they are working to the advantage of India with other countries.
Pakistan could stick to its guns and see these developments as a threat. Or it could change its own approach to India and seek rapprochement to take advantage of economic and strategic opportunities that are making India a desirable partner for Pakistan's erstwhile friends.
Related
Popular in the Community