The king of Saudi Arabia told President Donald Trump on Saturday that he's optimistic about the U.S. leader's ability to broker peace between Israelis and Palestinians, according to Saudi Foreign Minister Adel Al-Jubeir.
At a press conference alongside Secretary of State Rex Tillerson, Jubeir said Trump and King Salman bin Abdulaziz Al Saud had a "very, very good and very wide-ranging conversation" that covered United States-Saudi relations, common concerns about Iran and combating extremist groups, the Syrian civil war and the Saudi war in Yemen.
The king "expressed the kingdom's optimism that President Trump, with a new approach and determination, can bring a conclusion to this long conflict," Jubeir said, referring to the Israeli-Palestinian conflict.
"He certainly has the vision and we believe the strength and the decisiveness," Jubeir continued. "And the Kingdom of Saudi Arabia stands prepared to work with the United States in order to bring about peace between Israelis and Palestinians, and Israelis and Arabs."
Trump has yet to clarify his plan to oversee peace between Israel and the Palestinians who have been living under Israeli occupation since 1967. As a candidate, he vowed to repair ties with Israeli Prime Minister Benjamin Netanyahu, who clashed bitterly with former President Barack Obama over West Bank settlements and the Iran nuclear deal. Trump even pledged to move the U.S. embassy in Israel to Jerusalem, a move that previous administrations had said they would make only when Jerusalem's status is resolved in Israeli-Palestinian negotiations.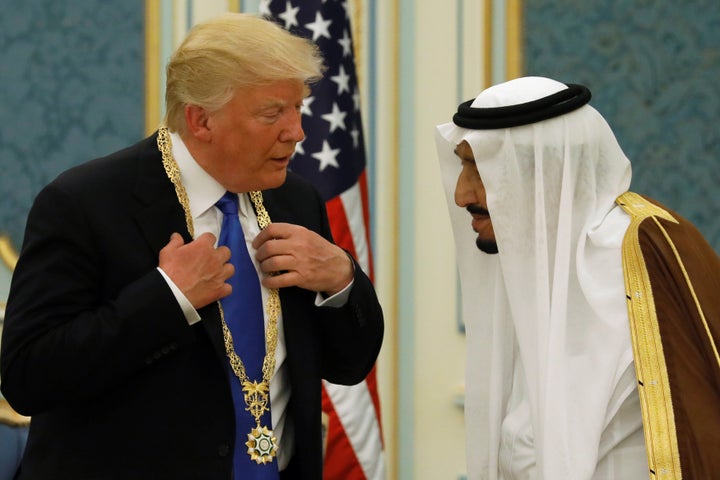 Trump is set to head to Israel after he leaves the Saudi capital of Riyadh early on Monday. He is scheduled to meet with Netanyahu in Jerusalem on Monday evening, and due to meet with Abbas on Tuesday.
The visit follows an awkward moment in U.S.-Israeli relations. In a meeting with Russian officials last week, Trump reportedly revealed classified information provided by Israeli intelligence about an ISIS terror plot.
Trump's first trip abroad as president is providing the White House with an opportunity to draw attention from mounting scandals surrounding him at home. On Friday afternoon, The New York Times broke the latest in a string of revelations suggesting that Trump fired FBI Director James Comey to quash the agency's investigation into Russian influence in the 2016 election. Trump reportedly told Russian officials that Comey was a "real nut job," and that he had fired him to ease the "great pressure" the Russia probe had put on him.
Saudi Arabia spared no pomp and circumstance in welcoming Trump, sending a formal royal delegation to greet him when he arrived on the tarmac and putting his face on billboards across the city. 
The Saudi government is eager to start fresh with the U.S. after several major disagreements marred its relationship with Obama. The Obama administration's attempts at rapprochement with Iran, namely through the landmark agreement halting Iran's nuclear program, and refusal to intervene against Syrian President Bashar Assad, rankled Riyadh. 
Unlike the reception given to Trump, the Saudi king notably refused to greet Obama at the tarmac during his last visit to the kingdom in April 2016. 
Still, the Obama administration provided crucial logistical support for Saudi Arabia's controversial invasion of Yemen, which human rights groups say has resulted in a massive humanitarian crisis.
The Obama administration had already committed to much of the $110 billion new weapons sales deal that Trump and Salman signed on Saturday. A new report commissioned by the human rights arm of the American Bar Association, and presented to the U.S. Senate, argues that the weapons sale is illegal under U.S. law in light of "recurring and highly questionable" Saudi airstrikes that resulted in civilian deaths.
Calling all HuffPost superfans!
Sign up for membership to become a founding member and help shape HuffPost's next chapter
BEFORE YOU GO
PHOTO GALLERY
Donald Trump Meets With Russian Officials