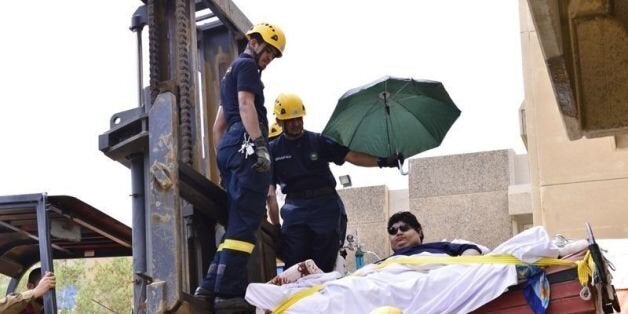 In Saudi Arabia, a morbidly obese man who had to be airlifted to a hospital six months ago has lost more than half his body weight and is on the road to stable health, according to Saudi media reports.
Khalid Bin Mohsen Shaeri weighed 1,345 pounds (610 kilograms) when he was taken, via forklift and aircraft, to a medical facility in Saudi capital Riyadh in August 2013.
Shaeri's doctor said the patient has lost 700 pounds (320 kilograms) through a combination of surgery, nutrition and rehabilitation, according to an interview in Sayidaty, a women's magazine in Saudi Arabia.
Now now able to sit upright after the hospital had a wheelchair custom-built to his size, Shaeri has seen organ function and muscle strength greatly improve, and according to doctors, his mental health has also made strides.
In fact, the slimmer Saudi's sunny manner has earned him the nickname "the smiling man" at the hospital, Sayidaty reported.
The magazine also said Shaeri is well on his way to earning a world record for the largest-ever weight loss, lauding him as the face of its nationwideanti-obesity campaign.
Rosalie Bradford of Florida previously held the world record, losing 736 pounds, according to her LA Times obituary.
Related
Popular in the Community