Media outlets are being faulted for their handling of the so-called "Saudi national" who was eventually cleared of any connection in the Boston bombings.
The New York Post infamously dubbed the man a "suspect" in the attack, before it was revealed that he was not a suspect, and was in fact not connected in any way with the blasts. (He was questioned by police, and his home was searched.) He had been tackled by another man when he was seen running away from the bombing.
On Tuesday afternoon, Fox News cornered the man's roommate outside his home.
"Do you think your friend did it?" the producer asked.
"No, I don't think so," the roommate said. The producer kept asking questions until the roommate put his hands in front of his face and said, "let me go to school, dude."
Despite the producer's leading questions, anchor Bill Hemmer then said that the man was not a suspect.
The network's own Megyn Kelly briefly raised the idea that there may have been "racial profiling" involved in the man's apprehension. Her fellow co-hosts did not seem to take to the notion.
In a widely read piece, the New Yorker's Amy Davidson criticized the media, and the government, for its fixation on an Arab man:
What made them suspect him? He was running—so was everyone. The police reportedly thought he smelled like explosives; his wounds might have suggested why. He said something about thinking there would be a second bomb—as there was, and often is, to target responders. If that was the reason he gave for running, it was a sensible one. He asked if anyone was dead—a question people were screaming. And he was from Saudi Arabia, which is around where the logic stops. Was it just the way he looked, or did he, in the chaos, maybe call for God with a name that someone found strange?
On Wednesday morning, Slate's David Weigel wrote about a talk that CNN's Christiane Amanpour had given at the annual dinner of the Arab American Institute Foundation. She spoke about the fear among some Arabs and Muslims that the perpetrator of the attacks would turn out to be one of them, lest every Arab or Muslim be tarred with the same brush:
"How many of us feel this burden of association and hope beyond hope that this doesn't turn out to be what it might be?" said Amanpour. "No conclusions yet." She read from a New York Times essay published that day by Haider Javed Warraich, a medical resident in Boston who fretted that he didn't run into the action because "I look like Hollywood's favorite post-cold-war movie villain."

[...]

"There are no conclusions," said Amanpour. "Is it international? Is it domestic? But like all of you—I'm not Pakistani, and I'm not Arab, but I am part Iranian. And I do understand the burden of association. And I know when we know who did this, we will all unite in strong condemnation."
Related
Before You Go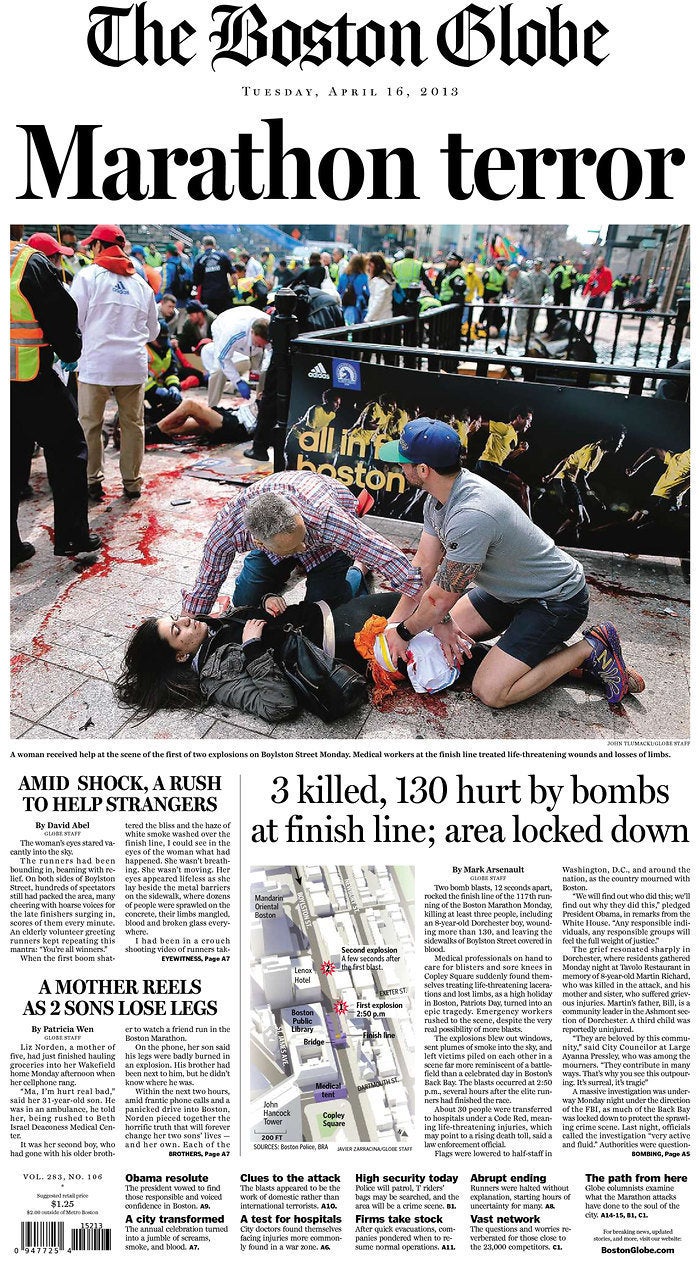 Boston Bombing: Front Pages
Popular in the Community