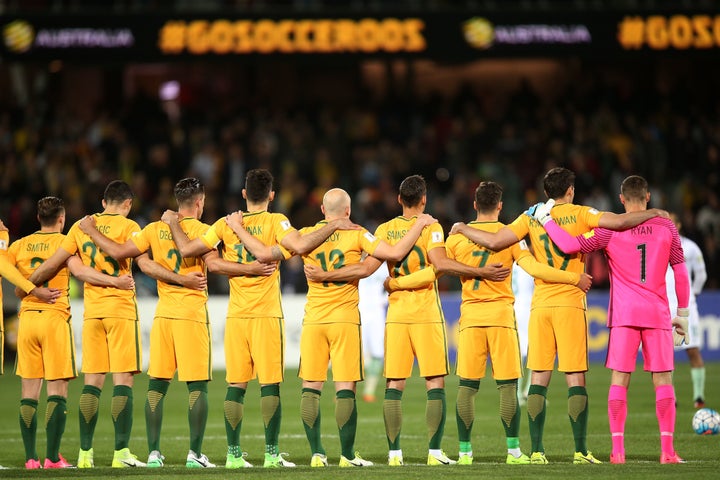 Soccer fans in Adelaide, Australia, booed the Saudi Arabian team Thursday when the players didn't line up for a moment of silence to honor the London terror victims ― and social media followed in the condemnation, the Telegraph reports.
But what seemed to some a show of disrespect before the Aussies and Saudis played their World Cup qualifying match appeared to be ― at least in part ― a cultural misunderstanding.
A statement from the Football Federation Australia afterward noted that the Saudis approved the tribute beforehand but emphasized they would "respect" the rite in their own way ― on their side of the field.
The image of Australia's team linked in arms while the Saudis took their positions prompted outrage.
"Both the AFC and the Saudi team agreed that the minute of silence could be held," the statement said, according to Fox Sports Australia. "The FFA was further advised by Saudi team officials that this tradition was not in keeping with Saudi culture and they would move to their side of the field and respect our custom whilst taking their own positions on the field."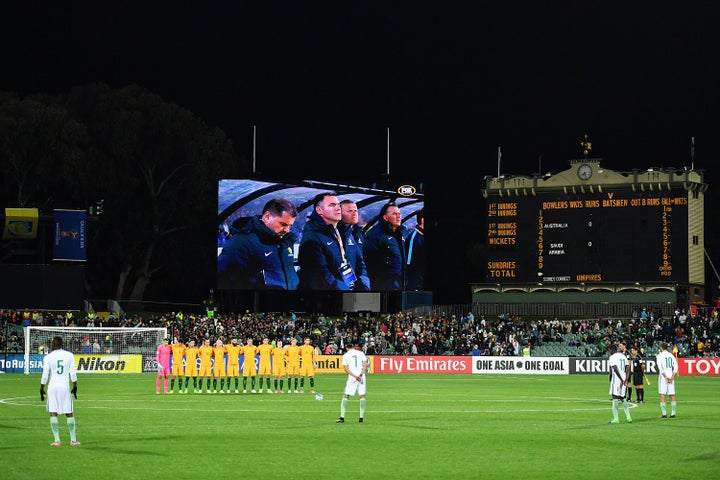 According to some scholars, a moment of silence is not a common practice in Islam. Muslims often pay tribute to the dead with a prayer or by giving charity in their name.
However, the Independent pointed out that Saudi teams have participated in moments of silence before, including Al-Ahli Saudi FC in a 2016 match against Barcelona to honor Brazilian soccer players killed in a plane crash.
The Saudi Arabian Football Federation later apologized for any offense caused by the failure of some team members in Adelaide to formally observe the tribute. (See its statement below.)
Two of the victims in last week's attack on London Bridge were Australians.
Australia defeated Saudi Arabia, 3–2.
Here's video that appears to be right before the moment of silence:
Adil Ezzat, the president of the Saudi Arabian Football Federation, said in a statement emailed to the Washington Post: "The Saudi Arabian Football Federation deeply regrets and unreservedly apologizes for any offense caused by the failure of some members of the representative team of the Kingdom of Saudi Arabia to formally observe the one minute's silence in memory of the victims of the London terrorist attack on June 3rd, 2017, prior to the World Cup Qualifying match against Australia in Adelaide.
"The players did not intend any disrespect to the memories of the victims nor to cause upset to their families, friends or any individual affected by the atrocity.
"The Saudi Arabian Football Federation condemns all acts of terrorism and extremism and extends its sincerest condolences to the families of all the victims and to the Government and people of the United Kingdom."
This post has been updated with a statement from the Saudi Arabian Football Federation.
REAL LIFE. REAL NEWS. REAL VOICES.
Help us tell more of the stories that matter from voices that too often remain unheard.