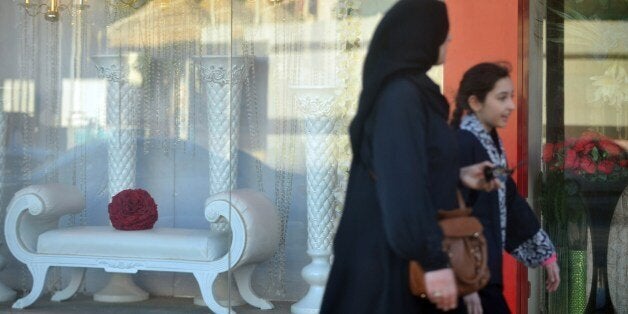 Red roses lurk hidden in flower shop back rooms and heart-shaped chocolates are sold under the counter, but Saudis still manage to buy Valentine's gifts and defy the religious police.
Florist Hussein came up with a simple solution to a ban on red tokens of love: he filled his window with white roses, orange irises and violet hydrangeas.
"I've hidden everything red in the shop, so when a religious police patrol comes along, they find nothing to complain about," he said.
Anti-Valentine's Day patrols by the Muttawa religious police -- formally known as the Commission for the Promotion of Virtue and Prevention of Vice -- started on Wednesday.
They began entering premises stocking chocolates, flowers and souvenirs to warn proprietors against selling anything red or heart-shaped and linked to the annual "infidel celebration" of matters romantic.
Saudi Arabia applies a rigorous interpretation of Islam under which the sexes are strictly segregated and any public display of affection is completely taboo.
It is also the only country in the world where women are not allowed to drive.
Hussein's shop window may be blooming with white, orange and violet, but he still has the real thing -- red roses -- out the back.
"I've sold at least 350 red roses at 20 riyals ($5, 3.90 euros) a pop," he said.
"Many women call us on the phone to order roses, because they fear the religious police."
Kumar, another florist, was persuaded by a Muttawa visit not even to consider flouting the Valentine's Day ban, however.
"We're going to sell these to a chocolate shop," he said, pointing to bouquets of red flowers in a back room of his store.
Confectioners do have chocolate hearts for discreet sale, but only to the right people.
"Of course we have them, but the religious police came by and warned us against selling them," said one chocolate shop owner who asked not to be identified.
- 'It's only chocolate!' -
"We hid them because we don't want any problems," he added, smiling, indicating that an illicit transaction involving the chocolate contraband would be more than acceptable.
In another shop in a commercial district of the capital, an Egyptian employee said the religious police had told them not to sell heart-shaped chocolate or sweets wrapped in red paper.
One man browsing in the shop was clearly unhappy: "Why are they forbidden? It's only chocolate!" he complained.
Another customer -- an older man -- shot him a dark look.
Only a liberal fringe of Saudis actually celebrates Valentine's Day in an ultra-conservative society in which clerics and their pronouncements are widely respected.
One of the most popular, Mohammed al-Oreifi, this year took to Twitter where he has hundreds of thousands of followers, decreeing that those in the kingdom who celebrate Valentine's Day "want to copy the infidels".
However, not everywhere in Saudi Arabia is the ban strictly enforced.
In the Red Sea port of Jeddah, the country's commercial capital in the west, a more liberal attitude towards the lovers' festival can be noted.
This year, some florists have been openly selling red roses, and are unafraid to give their names.
"The religious police didn't come. We're doing nothing wrong anyway," said Abu Zakaria, who runs a flower shop in the north of the city.
Another man, Thamer Hussein, said some people with romantic yearnings marked the Valentine's festival a day in advance, to ensure the experience was hassle-free.
"Some young people celebrated St Valentine's Day on Wednesday evening, with small parties and exchanges of gifts," he said.
In this way they managed to avoid the attentions of the Muttawa, who are expected to perform their duties religiously on Friday, ensuring that for unmarried couples a quick canoodle is definitely unacceptable.
Copyright (2014) AFP. All rights reserved.
Related
Popular in the Community