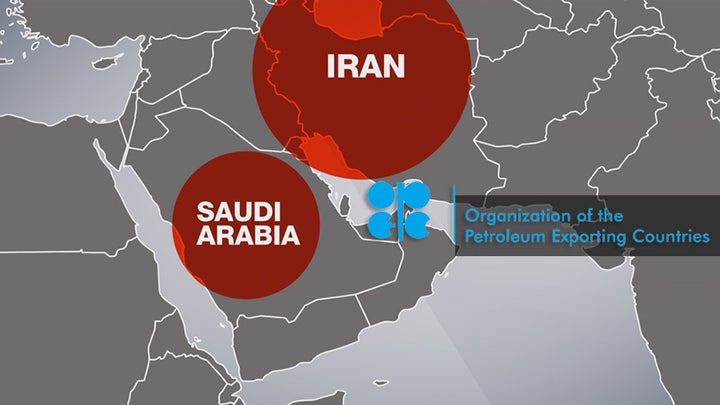 The Kingdom of Saudi Arabia's (KSA) policies toward Yemen, Syria, Qatar, and Iran are failing. But the policy toward Iran shows the kingdom's desperate attempt to lessen the Islamic republic's growing power. The KSA is trying to choke Iran's economy by steeply cutting its own oil output, hoping to halt Iran's overtures to international businesses. Oops, too late!
Despite the tensions with its archenemy, the KSA, the Iranian regime is excited about its engagement with other countries after its nuclear agreement with the West. Asian and European companies are now investing in Iran's energy sector, which suggests potentially high returns on investment. Iran's oil minister, Bijan Namdar Zangeneh, states that Iran is negotiating with BP, Russia's Gazprom and Lukoil, and Malaysia's Petronas, among other international companies. France's Total already signed a $5 billion gas deal with Iran earlier this month.
Iran's latest deal with Total is only the beginning: "I can assure you this isn't the last one. We'll see other contracts being made within the next few weeks," Deputy Minister of Petroleum for International Affairs Amir Hossein Zamaninia said on the sidelines of a conference in Istanbul this past Tuesday. Mr. Zamaninia was referring to Austria, Norway, Sweden, the United Kingdom, Germany, and Denmark, who expressed interest in investment opportunities in Iran. Denmark, for instance, proposed a $1 billion investment contribution to Iran's development plans. Iran itself already stands to reap about 65% to 70% of the international investments so far, estimated at $200 billion. Thus, Saudi Arabia's strategy of choking Iran's economy through oil prices is a failed one.
Between petrochemicals and gas exports, Iran is looking to have a major impact on the global oil market. Iran's oil industry officials previously put total investments required in various sectors of the oil industry at $445 billion: $230 billion in oil, $130 billion in gas, $20 billion in refining and delivering oil products, and $65 billion in the petrochemical industry. Mr. Zangeneh's disclosure of these investments comes at a crucial time as the political landscape of the Middle East is shifting faster and faster. Also, do not write off China and Russia, key supporters of Iran. I'm certain Chinese and Russian companies will win lucrative contracts that ensure access to Iran's oil and natural resources. Meanwhile, Iran is capitalizing economically on its growing influence in the region at the expanse of the KSA's botched policies.
To solidify its economic influence in the region, Iran aims to export its goods to its neighbors: Iraq, Pakistan, Oman, the UAE, and Kuwait. Iran already has engaged Turkey in negotiations regarding the transfer of its gas to Europe. I can see how a project such as this will benefit not only Iran, but also Russia and Turkey.
What the KSA has failed to foresee is that the demand for gas is expected to grow in countries like China, India, Iran, the US, and even their own country (KSA).
What about the prospect of sanctions on Iran? Unlikely! Someone forgot to tell KSA decision makers that Iran has about 18.2% of the world's proven gas reserves, ahead of Russia and Qatar, according to the BP Statistical Review of World Energy. China and the Middle East are expected to lead the way in gas demand growth, 28% and 24% respectively, over the projected period to 2035, according to Cedigaz, a research group that specializes in the energy industry. Given Iran's supply and the international community's demand, sanctions against Iran won't happen.
I agree with a recent statement from Foreign Affairs magazine that the KSA is licking its wounds after its disastrous, unrealistic, and flat-out ill-conceived campaign against Qatar. The latter is forging economic ties with Iran and Turkey.
One thing is sure: The region's geopolitics play to Iran's favor. The KSA needs to accept that it can't influence oil prices to return to their pre-2014 level of $120/barrel. That's a bygone era!
The KSA's plan to target Iran economically has failed miserably. International corporations are seizing the opportunity to forge economic ties with Iran. What might happen when China's Silk Road project is completed? Will all roads lead to Tehran?
Related
Popular in the Community