It is no longer a secret that Saudi Arabia is undergoing a massive economic transformation.
This transformation is so essential to Saudi Arabia's security and stability, that it is taking every measure possible to make sure that it succeeds.
What is not yet known, however, is that Saudi Arabia is also taking a new approach in its relentless efforts to combat strains of extremism that are continuously threatening both local, regional, and global stability.
What makes this approach novel is that it confronts extremism to where it really matters: the ideological and intellectual battlefield.
By examining the issue closely, and based on several reports, at the forefront of this effort appears to be the current Secretary General of the Muslim World League and a member of the Saudi Council of Senior Scholars, a key figure, an up and coming star in the Saudi religious establishment: Dr. Mohammed Al-Eissa.
In addition, He oversees the day-to-day operations of the Ideological Warfare Center (IWC), which aims to confront the roots of extremism and promote the true understanding of Islam. According to a new report prepared by the Saudi American Public Relation Affairs Committee (SAPRAC), Dr. Al-Eissa recently welcomed representatives of different sects "along with the Vatican delegate in this spirituality focused meeting, where the values of respect, tolerance and openness towards other religions and sects were emphasized".
There were some others in the religious establishment who would not participate in this gathering unless they "would act as debaters or opposers..". The report states that the Secretary General of the Muslim World League has stressed that "Islam warned against the forceful imposition of views, and that Islam has coexisted peacefully with other religious in the past. This has set the tone of the religious dialogue to that of politeness and respect for the other side's humanity and dignity."
A concise overview is given, in the report, of the current Secretary General of the Muslim World League's efforts to emphasize Islam's values of peace, tolerance, and coexistence, all of which are antithetical to the fundamentalist view of Islam that extremists are using to further their terrorist activities. Accordingly, Al-Eissa is the main figurehead for promoting the true version of Islam, which encourages peace, tolerance and coexistence.
Finally, while critics may suggest that these values are also incompatible with the predominant and traditional Saudi religious establishment, nevertheless, one should look at the issue more meticulously as it has become clear that Saudi Arabia is taking the ideological war against extremism seriously, especially through the narrative that the current Secretary General of the Muslim World League, Al-Eissa, brings to the fore; an accepting, welcoming, and pluralistic narrative.
You can sign up for Dr. Rafizadeh's newsletter for the latest news and analyses on Here.
Harvard-educated, Dr. Majid Rafizadeh is an American political scientist, president of the International American Council on the Middle East, business advisor, and best-selling author. He serves on the advisory board of Harvard International Review. Dr. Rafizadeh is frequently invited to brief governmental and non-governmental organizations as well as speak, as a featured speaker, at security, business, diplomatic, and social events. He has been recipient of several fellowships and scholarships including from Oxford University, Annenberg, University of California Santa Barbara, Fulbright program, to name few He is regularly quoted and invited to speak on national and international outlets including CNN, BBC World TV and Radio, ABC, Aljazeera English, Fox News, CTV, RT, CCTV America, Skynews, CTV, and France 24 International, to name a few. . He analyses have appeared on academic and non-academic publications including New York Times International, Los Angeles Times, CNN, Farred zakaria GPS, The Atlantic, Foreign Policy, The Nation, The National. Aljazeera, The Daily Beast, The Nation, Jerusalem Post, The Economic Times, USA Today Yale Journal of International Affairs, Georgetown Journal of International Affairs, and Harvard International Review. He is a board member of several significant and influential international and governmental institutions, and he is native speaker of couple of languages including Persian, English, and Arabic. He also speaks Dari, and can converse in French, Hebrew. More at Harvard. You can also order his books on HERE. You can learn more about Dr. Rafizadeh on HERE.
You can contact him at Dr.rafizadeh@post.harvard.edu or follow him at @Dr_Rafizadeh.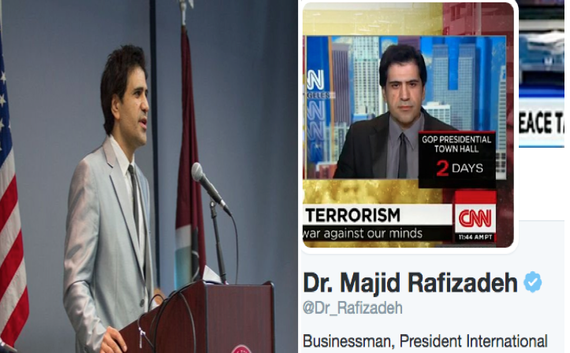 Calling all HuffPost superfans!
Sign up for membership to become a founding member and help shape HuffPost's next chapter