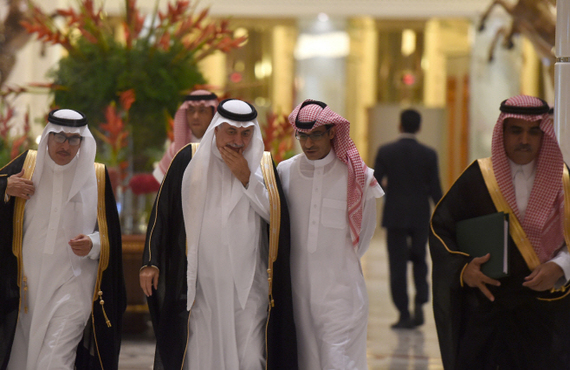 [Dr. Ibrahim Al-Assaf, Minister of Finance for Saudi Arabia, talks with an advisor after arriving to a Gulf Cooperation Council (GCC) meeting in Riyadh on Oct. 26./ Source: AFP, Yonhap News]
By AsiaToday reporter Jina Koh - Silicon Valley, the Mecca of the startup world, is facing a new challenger from Middle East with big money in its hands. And the challenger is "Silicon Desert" of Saudi Arabia.
Troubled by plunging oil prices, Saudi Arabia is turning to information technology (IT) industry.
Recently, Saudi Arabia teamed up with Japanese telecommunications and technology group SoftBank to launch a new tech fund that will manage as much as $100bn (KRW 113.9 trillion), shocking the IT industry.
The new fund, dubbed the SoftBank Vision Fund, will be seeded with $45bn from Saudi Arabia's Public Investment Fund and $25bn from Softbank over the next five years. Doors are open to other global investors. The Qatar Investment Authority sovereign wealth fund has already decided to invest billions of dollars, according to Bloomberg.
Saudi Arabia also made a $3.5 billion investment in U.S. ride-hailing company Uber Technologies Inc. in June.
Charles Kane, a senior lecturer at the MIT Sloan School of Management, suggested in an interview with Seeker that the Saudi strategy will involve other major investments in American tech hotbeds like Silicon Valley as well as tech booming regions in Europe. Saudi Arabia is aimed at leveraging its influence to encourage companies to establish startups and rum them within the kingdom. In other words, its ultimate goal is to create the next Silicon Desert.
Saudi's such ambition is in line with Vision 2030 Reform Plan, launched by Saudi Deputy Crown Prince Mohammed bin Salman in April. The plan sets out goals to further develop the promising new generation by improving education from a young age, tailoring education to meet market requirements and ensuring a good supply of quality graduates in emerging markets. The Saudi government is aiming for a minimum of five Saudi universities to be ranked among the top 200 internationally by 2030. In order to implement its strategy, Silicon Desert may be the best choice.
However, it is unclear whether the Saudi strategy will bring a rosy future. As the Saudi government started cutting subsidies for education, health, gas and water amid economic slowdown caused by tumbling oil prices, the realization of Silicon Desert ambition will be a long time coming. "You don't magically start Silicon Valley in Saudi Arabia," Kane pointed out.
Silicon Valley's engines of innovation are driven by local research universities that graduate resourceful entrepreneurs and attract the venture capitalists looking to fund them. In Saudi Arabia, most students attend religious schools and the talent at private companies is typically imported. Of course, the government is seeking to shift educational priorities toward engineering and technology, but this will take time to bear fruit.
The most important thing is that Saudi's massive financial support at tech startups could artificially inflate their value and produce a bubble - the problem that Silicon Valley is experiencing at the moment.
Calling all HuffPost superfans!
Sign up for membership to become a founding member and help shape HuffPost's next chapter