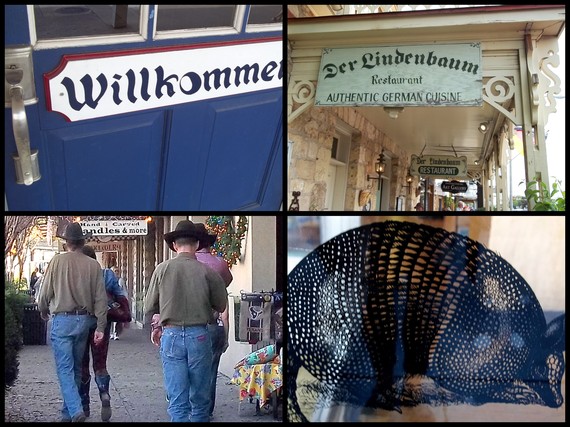 The tiny town of Fredericksburg certainly knows how to display its charming German heritage. Sauerkraut and bratwurst sausages, schupfnudeln, potatoes and apple strudels buried in cream, beer à-gogo -- the comfort food was all we needed after a day of hiking.
The amount of beer brewery with tasting, along with the many vineyards shop and their samples were enough to require a designated driver (me) to return safely to the city, about one hour and a half from our away-from-home stop of Austin, Texas.
Sidewalk sightings were fun. Everyday cowboys and cowgirls in boots and hats were walking the streets, sometimes followed by always well-trained and friendly dogs, curiously a lot of them German shepherds! The streets here could be mistaken for the backdrop of a western-genre movie set.
German beers is served here in the proper traditional beer glass it belongs in, for best flavor. The amount of food and treats digs, as well as bars and German pubs makes Fredericksburg a foodie destination for tourists and Texans as well. Several stores sell homemade jams and jellies, as well as all sorts of pickled vegetables.
We ate German food such as sauerkraut (fermented cabbage), wieners (hot dogs), strudel (layered stuffed pastry), kasespatzle (cheese noodles), and torte (cake), my favorite. You can also pretty much order anything in beer batter. The perfect amalgam of German flavor and cowboy culture make this town a special place to visit, at the same time familiar and foreign.
Many antique stores, vintage finds and unusual objects we did not know we needed were found at the unique shops lining Main Street. A few art galleries display the creativity of local artists. This town at Christmas must be a heaven for shoppers. I imagine it all rigged up in festive lights and Christmas greens, with joyful music in the streets and all things holiday beaming.
This is Sunday, so a lot of people are meandering around, looking for the human interaction we simply cannot find with social media, you know? The old-fashioned way, by talking, smiling and chit-chatting with strangers, a happy feeling indeed. We were greeted by the friendly sheriff, in public relation mode.
Fredericksburg has a population of about 10,500 and was founded in 1846. Named after Prince Friedrich Wilhelm Ludwig of Prussia (30 October 1794 - 27 July 1863), a Prussian prince, general of the royal cavalry, and division commander. Born in Berlin, his name was anglicized to become Frederick.
A few old-time German residents sometimes call the town Fritztown. Home of Texas German, the dialect spoken by the first generations of German settlers who initially refused to learn English. In 1970, the Fredericksburg Historic District was added to the National Register of Historic Places in Texas.
Museum of The Pacific War.
Another interesting thing in town was the National Museum of the Pacific War, an important and complete story line of the more than two million men and women who were involved in that war. Several buildings enclose the various exhibits, including one named after Admiral Nimitz, a native child of Fredericksburg.
Reenactments, featured WWII weapons, some of which are on display outside, such as the large tanks and flamethrowers, along with large black and white photographs taken during, before, and after action, recreate what it must have been like to live through the horrors of that war.
Another attraction of Fredericksburg is located about 15 miles outside of town. It's a large rounded naked rock that people climb for the view of the surrounding Hill Country. The massive pink granite dome is one of very few of this kind in the United States. Tonkawas, Apaches, and Comanches believe in the magical and spiritual powers of the rock.
We did not climb it this time, as my friends came with their dogs, not allowed, on the rock. So this will have to be another visit, another occasion to return and eat some more sauerkraut!