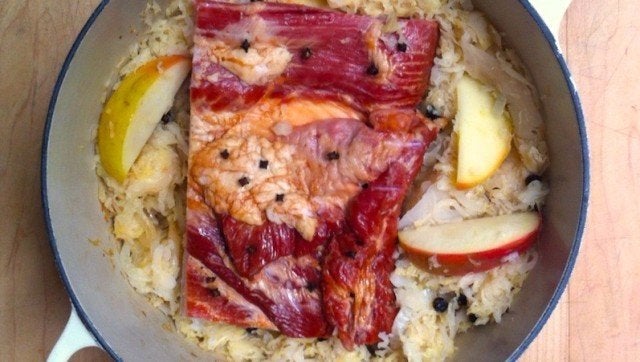 Contrary to common belief, sauerkraut is not a national German dish. It's considered a traditional specialty in many regions and countries, including Alsace, Poland, Russia, and... the United States.
Preparations thereof vary greatly. Americans don't seem to mind the watered-down sauerkraut glop that's all-too frequently topping their beloved, guilt-laden hot dogs (possibly because it makes them feel like they're having a vegetable component with their junk food), and Russians favor their sauerkraut as part of a soup. The Foodcommander has something else on his mind: Braised Sauerkraut with Bacon, an easy-to-make down-home dish that will cut the sweetness of the cookie season with a welcome counterpoint.
First, know your product: Don't ever buy the watery mush sold in sealed plastic bags, found in the cooling aisle in your supermarket; it has as much in common with real sauerkraut as iceberg lettuce has with arugula (or, for that matter, an industrially-produced ballpark frank with artisanal sausages). Find a place that sells fresh barrel sauerkraut or buy imported German, Alsatian or Polish sauerkraut, sold in jars or cans in specialty stores. Barrel sauerkraut is cut thinner than the mega brand's, has a refreshing level of acidity, and packs a pleasing crunch. For a first taste, try it raw, garnished with fresh chives, alongside a slice of buttered rye bread, and you will be one step closer to understanding the sophistication of simplicity.
In order to be able to prepare braised sauerkraut, however, you will need a mid-size, heavy-bottomed, oven-safe, lidded pot, like a cast iron dutch oven or good quality stainless steel pan (whose handles, of course, should never be made of plastic). If you don't own one, put it on your wish list for the holidays. Unlike the newest digital gadget, it will last you for a lifetime.
Squeeze the sauerkraut dry, catching the juices in a bowl. Sauté one thinly sliced, large white onion with a tablespoon of butter until light golden, add the sauerkraut, sauté some more until it all begins to brown. Deglaze with the pickling juices and a cup of white wine or Champagne -- this would be a good opportunity to utilize the rest of that wine or Champagne bottle that's been stuck in your refrigerator door since your last party. Add a generous tablespoon of dried juniper berries, a teaspoon of caraway seeds, a dry but still fragrant bay leaf or two, and some whole black peppercorns. Stir. Scatter thick slices of a cored tart apple over it and add a slab of smoked (or better yet, double-smoked) bacon, previously spiked with several cloves. Submerge the slab halfway in the sauerkraut.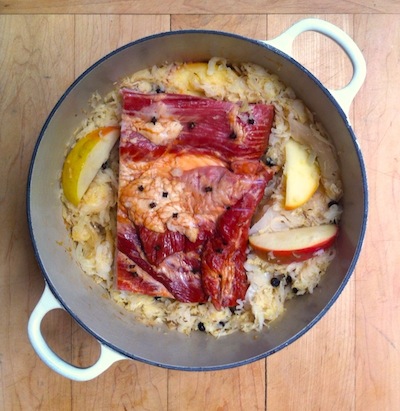 Bring to a light simmer, cover with a round piece of parchment paper (cut a one-inch-hole in its center to let the steam escape), put the lid on the pan and braise in a 300º F oven for up to 3 hours. The sauerkraut will caramelize in its own juices whereas the bacon will get so tender you'll be able to eat it with a spoon.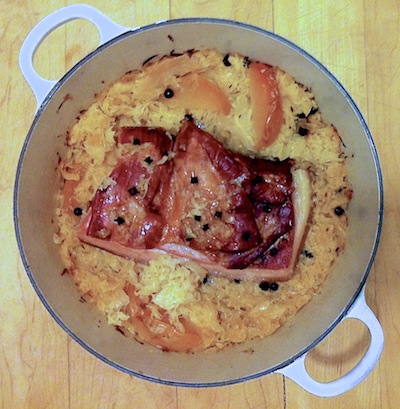 Carefully lift the bacon out, cut off and discard the pork rind (or store it in the freezer for that rainy day when you'll suddenly find yourself overcome with a craving for crunchy pork rinds -- but making those is a different story) and carve the bacon into hefty slices. Serve atop a heap of the braised sauerkraut. The ideal side dish for this are simple steamed, peeled potatoes, dusted with finely chopped parsley. Strong yet refined mustard like Dijon is an imperative condiment -- regular deli mustard would be too vinegary for this surprisingly subtle dish.

Note: Refrigerated, the braised sauerkraut keeps getting better, like a good Italian ragù. However, you're advised to eat it within three days. Freezing it would be a crime.
Übernote: Even falstaffian epicures would be wise to balance this rich dish off with a refreshing green salad as an appetizer or follow-up course.