I had a dream. A rather ridiculous dream, but whatever. I wanted a movie poster interpreted as a cocktail. And not just any movie poster, mind you -- a Saul Bass movie poster. You may not know the name, but you know his work, whether it's the opening title sequences to classic films like Psycho, Goodfellas or West Side Story; or the corporate logos of AT&T or Kleenex, to name just two -- many of which are still used today, twenty years after his death. He's one of the great graphic designers of the 20th century, if not the greatest, with all due respect to Milton Glaser.
But it's Bass' movie posters with which I'm really obsessed. He designed film posters from the mid-'50s until shortly before his death in 1996. His style was, and is, instantly recognizable. The bold colors, the silhouetted paper cut-out style which reminds me of Matisse's collages, the distinctive hand lettering, are all as arresting today as they were when he designed them. Bass' influence is still felt, everywhere from the opening credits to Mad Men to record covers to sequences in cartoons.
As far as I know, however, Bass had never been immortalized in a cocktail. So I made the request of the bartender who I figured had the best shot at pulling it off, Schuyler Hunton of Tiger Mama in Boston. Schuyler also happens to be the winner of Bombay Sapphire's "Most Imaginative Bartender" competition. He was due in New York to talk about his winning cocktail, so I made my request and attached a link to a bunch of Bass' movie posters along with it. I gave Schuyler no guidelines; I didn't even tell him which poster to interpret. I figured, hey, you're the imaginative one. You don't need me telling you what to do.
Schuyler led off the proceedings with the cocktail that nabbed him the Most Imaginative Bartender crown, called "Breakfast In Bombay." In addition to Bombay Sapphire, it's got a grapefruit/Earl Grey tea compound oleo saccharum (essentially a syrup), along with shaken egg white, which is then served in an egg cup on a breakfast tray. As Hunton puts it, "It's the reimagining of the classic serving of toast, marmalade, butter, and then a soft boiled egg, with a cup of tea." I'll take a cocktail this good over a soft boiled egg any morning. On the nose, it has an almond/marzipan sweetness, while on the palate the botanicals of the gin mix with the tart grapefruit and slightly bitter tea notes to create a drink that, unlike most competition cocktails, actually holds up well from first sip to last.
The tea part of Breakfast In Bombay isn't quite what you'd expect. Hunton says, "In this teapot, I put a large scoop of dry ice, and then I oversteeped Earl Grey tea, and then I put 6 or 7 drops of bergamot essential oil into the tea, boil it up, and then pour it over the dry ice. The hotter the liquid is, when it touches the dry ice, the more fog it creates. So it's like a super-scented Earl Grey tea fog. Then you cap it really quickly, and each judge gets poured a cup of Earl Grey tea fog. With water that hot, it lasts about a minute or two.
"So when I was in London [for the Most Imaginative Bartender global finals], I was like, how far away is the room that the judges are in? It's like 100 yards away. And I told them the issue, and they were like, no, we can get it from here to there in 30 seconds. I was like, that's perfect. They were standing there, and I scooped up the dry ice and I was like, are you ready? I poured it in, capped it, and said, 'Go!!' It was really funny and really amazing."
I'm not normally a fan of competition cocktails, which I find to be generally overly complex, so the Breakfast In Bombay was a pleasant surprise. I asked Hunton if his competition cocktails are different from what he'll serve at Tiger Mama: "Competition cocktails in general don't make sense. Do I think this is my best cocktail? No. But I think it's the one I worked hardest at. I think it's the one I put more of me into than any other cocktail I've done. And I think without the full presentation, having other people make it, it doesn't mean as much. And that's what MIB is about - making the most creative, most original cocktail."
Why did he get into competitions in the first place? "There's very few professions on this planet that you can show up and beat people at the job you do, right? And as a bartender, it forces you to really raise your game up." Something tells me that had he come along a little earlier, before cocktail competitions became all the rage, Schuyler would have channeled his competitive fire into something far less appealing and positive for mankind. Ultimate frisbee, perhaps. Maybe investment banking. Whatever. I'm just glad he's found his calling behind the stick.
With Breakfast In Bombay, Hunton had showed me his razzle. And now he showed me his dazzle. He whipped out a knife, wrapped a napkin around most of the blade, and began to delicately filet a slice of orange peel, holding the knife like he'd hold a pencil. "I brought you a cocktail I knew was going to work," he said, because it's already on the menu at Tiger Mama. I was hoping for an all-new exclusive drink, but my disappointment was mitigated by the fact that he'd had the glasses made especially for this cocktail by his friend, glassblower extraordinaire Emery Wenger.
The gin, which makes up the lion's share of the drink, is complemented by cranberry syrup and vermouth, which Hunton considers "a fall riff on the Martinez" (in its slightly adulterated form at Tiger Mama, it's called the Autumaniac). It's delicious -- a big, bold flavor with undercurrents of smoke and bitterness, which applies to not only Bass' posters but to many of the films on which he worked, from The Man With The Golden Arm to Advise & Consent.
But the look of the damn thing... that's what floored me. Here's Saul Bass' poster for Alfred Hitchcock's classic film Vertigo (image copyright Saul Bass):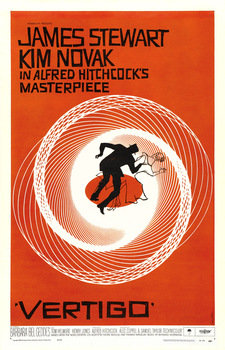 And here's Schuyler Hunton's cocktail, "Saul Bass In A Glass" (name entirely my fault):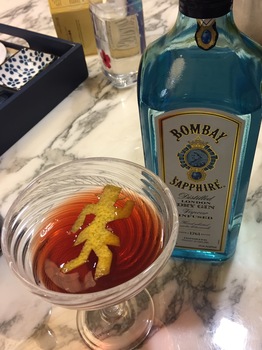 My favorite way to sip Saul Bass In A Glass is while reading about the man and his genius, in articles like this one or this one. And since his cinematic title designs were of a piece with his posters, it's fun to check this out while tippling, too.
Here's the recipe so you don't have to go to Boston to get it (although when in town, you should look Schuyler up at Tiger Mama. Tell him Saul sent you).
SAUL BASS IN A GLASS (created by Schuyler Hunton)

2 oz. Bombay Sapphire Gin
½ oz. cranberry syrup*
½ oz. Alessio Terino vermouth
1 dash Fee Brothers Whiskey Barrel Aged Bitters
Rinse cocktail or coupe glass with Laugavulin or other smokey Scotch.
Stir with ice, strain into whisky-rinsed glass.
Garnish with an orange swatch and/or lemon swatch, preferably in the shape of the character in the Vertigo poster.
Cranberry syrup:
4 oz. frozen cranberries
4 oz. white sugar
5 oz. water
Bring to a boil and let simmer for 5-10 minutes until cranberries start to pop.