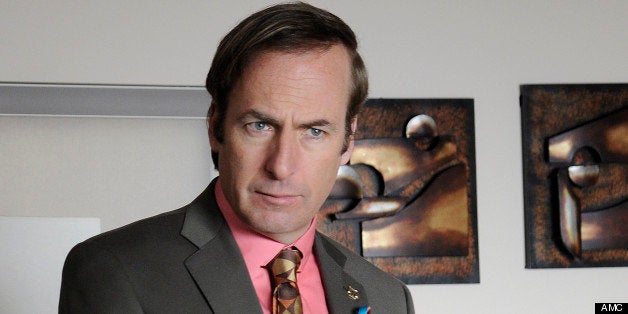 "Breaking Bad" may be coming to an end, but the legend could still live on with a Saul Goodman spinoff. Series creator Vince Gilligan cautioned it's still in early stages when asked whether or not the spinoff could dilute the "Breaking Bad" brand.
"Well, you never assume lightning is going to strike twice. Having said that, I think a Saul Goodman show would be a great deal of fun, and a great challenge, and something I would look forward to doing," Gilligan told Empire of a spinoff starring Bob Odenkirk. It's definitely not set in stone yet, it's definitely the early days of the process, and it may happen or it may not."
Gilligan first started talking about a spinoff centering on Saul in 2012. "I would love to see a Saul Goodman spinoff show when it's all said and done," Gilligan told EW in November 2012. "I think that would present itself pretty nicely, storywise ... I think a Saul Goodman show could have great legs. I love the idea of a lawyer who will do anything to avoid going to court. He's always going to settle on the courthouse steps."
"I personally would like to see it happen, because I think it would be its own creation and its own creature, and I think it would exist in a 'Breaking Bad' universe, as it centres on a character that was integral to 'Breaking Bad,' but I think it's its own thing. It's like comparing an apple to an orange. Or white meth to blue meth," he told Empire.
Spinoffs of popular TV shows have been hit or miss. For every "Facts of Life" -- a spinoff of "Diff'rent Strokes" -- there's a "Joey" -- a spinoff from "Friends."
"Worst case scenario, it's like the spin-off to 'M*A*S*H,' 'AfterMASH,' that nobody remembers -- and I don't think it hurt 'M*A*S*H' any that it existed," Gilligan told Empire. "I don't think we're going to have that problem, though. Anything based around the character of Saul Goodman and any show starring the wonderful Bob Odenkirk has more than an even chance of being quite good indeed."
"It was a great season to shoot, but it was tough. They're so good," she said of the final episodes. "You feel so satiated and just well-fed as a viewer [at the end]."

"Breaking Bad" returns for its final eight episodes on Sunday, August 11 at 9 p.m. ET on AMC.
PHOTO GALLERY
Breaking Bad Season 5 Gallery Images
REAL LIFE. REAL NEWS. REAL VOICES.
Help us tell more of the stories that matter from voices that too often remain unheard.
BEFORE YOU GO